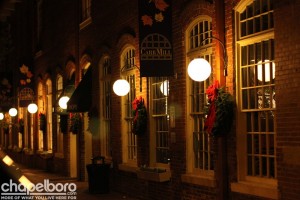 Carr Mill Mall, located in the heart of Carrboro, is home to more than 25 local and family-owned businesses and offices. It's also on the National Register of Historical Places, and even acts as a live music venue from time to time!
Built in 1898, Carr Mill Mall was originally known as the "Alberta Mill Complex," as it was built around the former Alberta Cotton Mill. In 1909, the Carr family purchased the former mill and current crosstie manufacturer. The mill closed in 1930, re-opened in 1945, and was renovated into its current form in the '70s, when community opposition rose up against a plan to tear the mill down and build a shopping center.
On today's "This is Tourism," WCHL's own Ron Stutts is joined by Nathan Milian, president of N.L. Milian & Associates. Milian is extensively involved in the day-to-day operations of Carr Mill Mall, and works to keep the location a bustling hub of Carrboro life.
Podcast: Play in new window | Download