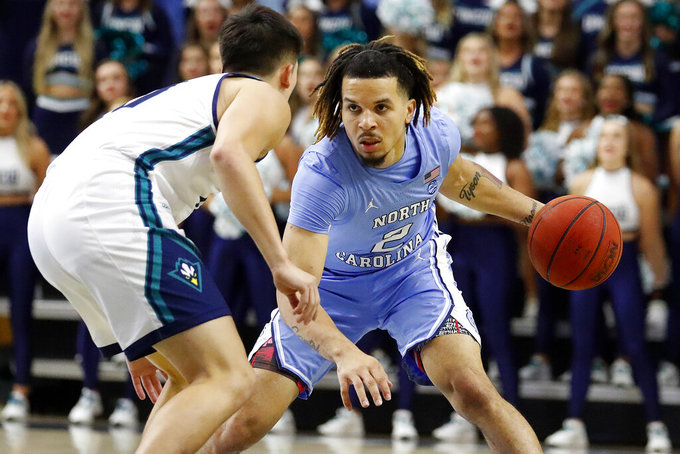 Even with star freshman Cole Anthony struggling with his shot on Friday night in Wilmington, the ninth-ranked UNC men's basketball team had three players record double-doubles in a 78-62 victory over the UNCW Seahawks.
It wasn't the prettiest performance, but Anthony and forwards Garrison Brooks and Justin Pierce did enough individually to carry a shorthanded Tar Heel team to the win.
Anthony made just seven of his 24 shots from the field, but still finished the game with a team-high 20 points to go with 10 rebounds and three assists.
Both Brooks and Pierce added 18 points and 12 rebounds apiece in a game where UNC (2-0) struggled to pull away from a UNCW squad (1-1)coached by former Tar Heel assistant C.B. McGrath.
Those three players combined nearly matched the Seahawks' team scoring total, but the rest of head coach Roy Williams' team has struggled to keep pace so far early in the season.
"Justin, he's been having a difficult time because he's been playing the three some and the four some—makes it more difficult for him," head coach Roy Williams said afterwards. "But I do like the fact that they had 12 rebounds. Twelve rebounds, I like that a heck of a lot more than I like the scoring.
"Garrison, you look at that, he was 5-for-9 and he was the only one who shot free throws well, he was 8-for-10" Williams added. "But we need more scoring."
UNC shot just 37 percent as a team on Friday, and used only seven players for the majority of the game after freshman forward Armando Bacot left in the first half with what Williams said was a suspected concussion.
In the three minutes he played, Bacot was scoreless and grabbed just one rebound.
This forced Pierce into a major role, while leaving junior guard Andrew Platek as the team's main substitute off the bench. What had been an already short seven-man rotation was shrunk to six.
With the Tar Heels already dealing with injuries to guards Brandon Robinson, Anthony Harris and Jeremiah Francis as well as forward Sterling Manley, this presents a unique challenge.
Williams has typically favored playing at least 10 players regular minutes in early-season games, but will likely have to change his style up a bit over the next few weeks at the very least.
"I think it is something we have to deal with all season," Williams told reporters. "It concerns us a great deal. They don't let us go out and draft, and there's list where we can take anybody off the waiver list. It's who we have."
Up Next:
The Tar Heels return home to the Smith Center for their next game on Friday, Nov. 15 against Gardner-Webb. Tip-off for that contest is set for 9 p.m.
Game Notes:
The rest of UNC's scoring consisted of eight points from Leaky Black, six from Andrew Platek, and four apiece from Christian Keeling and Brandon Huffman.
Garrison Brooks' 12 rebounds were a career high.
Cole Anthony now has a double-double in each of his first two college games.
Only six Tar Heels played at least eight minutes.
Cover photo via Associated Press