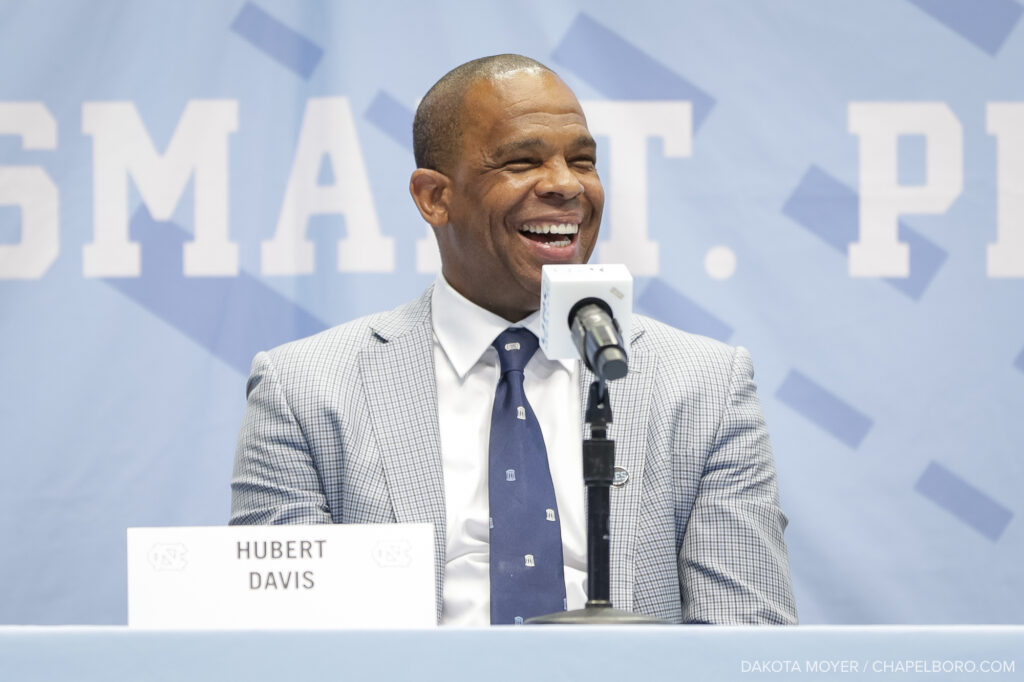 With Roy Williams sitting in the front row, Hubert Davis took the stand for the first time as UNC's head coach on Tuesday afternoon in the Dean E. Smith Center.
Davis takes over as head coach after spending the past nine season as an assistant coach on Williams' staff. Williams announced his retirement last week after 48 seasons of coaching — the past 18 of which were spent with the Tar Heels.
In his introductory press conference, Davis spoke about everything from his style of play to plans for recruiting. He was effusive in his praise for Williams but said he didn't feel the pressure to fill the shoes left behind by his mentor.
"I don't feel pressure because I'm not comparing myself to anybody," Davis said. "Coach Williams is the greatest. I'm Hubert."
All smiles for new #UNC head coach Hubert Davis in his introductory press conference.#GDTBATH pic.twitter.com/TgF6dZPdz6

— WCHL & Chapelboro (@WCHLChapelboro) April 6, 2021
Davis played for the Tar Heels and legendary coach Dean Smith from 1988-92 and joined Williams' staff for nine seasons. The fact that he has ties to UNC's two greatest coaches wasn't lost on Davis — especially as he sat on the Roy Williams Court in the Dean E. Smith Center.
"The foundation is set here at Carolina and it's a foundation that I believe in," he said about the playing style and tradition of relationship-building. "It's a foundation that has been tested and tried and proven successful through Coach Smith, Coach [Bill] Guthridge and Coach Williams. I've got no desire, I've got no plans of going away from that foundation, because I believe in it."
Throughout the search process, many wondered if athletic director Bubba Cunningham would stay within the Carolina Family or hire someone from outside. Ultimately, he chose to stay within the family — a notion that Davis agreed with when asked about his potential staff.
"You can't do this job unless you're a Carolina guy," Davis said. "It's impossible. You can't coach here, you can't recruit here, you can't work here unless you have been here, you've experienced it, you have lived it."
Davis continued on this thought, saying he wants staff members who had experienced the teachings of Carolina greats across generations.
"I want to have guys on staff that played for Coach Smith," he said. "I want to have guys on staff that played for Coach Guthridge, and I want to have guys on staff that played with Coach Williams. I want to be able to connect all those because I think bringing all those coaches together is what makes Carolina, Carolina."
Davis ended his press conference to thunderous applause from those in attendance.
The first person to stand up while applauding? None other than Roy Williams.
---
Chapelboro.com does not charge subscription fees. You can support local journalism and our mission to serve the community. Contribute today – every single dollar matters.