Welcome to Woman Crush Wednesday!
This week, join 97.9 The Hill's Ali Evans for a conversation with Megan Williams — a Chapel Hill resident and clinical associate professor in the UNC School of Nursing who is working on a project, "Invest in Nursing" that focuses on educational redesign that will help strengthen the primary care workforce.
"One of the things we recognize is that there's a shortage of nursing faculty, and we want to make sure that nursing faculty have the right skills and the right training to be able to be leaders in our community-based primary care settings and our community health centers," said Williams. "… Our nursing students have a great place to have a clinical experience and gain the knowledge so that when they graduate, they can step into those leadership roles in community-based primary care settings."
Williams' varying roles as an educator, professional, wife and mother all usually end up involving caring for others, in some form or fashion. With only so many hours in a day and days in a week, it's important to maintain balance. According to Williams, connections to friends — through her "Back Porch Book Club" and beyond — and family are a big part of that balance.
"I think it's having that connection to individuals who really have similar journeys with me and they understand the pressure and the stress that comes along with all those different roles," said Williams. "I also really enjoy spending time with my family … and we just really feel, although there's a lot of uncertainty still in front of us, I think it has been a good time for us to slow down and really pay attention to each other."
Listen to the full conversation between Ali and Megan below, and hear more about Invest in Nursing's efforts to strengthen primary care in our community.
---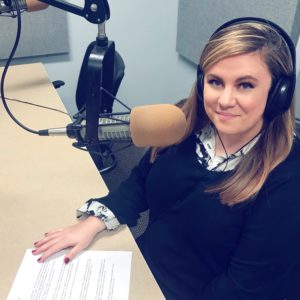 Join 97.9 The Hill's Ali Evans every Wednesday for another edition of "Woman Crush Wednesday," a three-minute weekly recurring segment made possible by Mosaic Comprehensive Care that highlights motivated women and their impact both in our community and beyond. If you'd like to nominate someone to be featured on WCW, email ali@wchl.com.
---
Chapelboro.com does not charge subscription fees. You can support local journalism and our mission to serve the community. Contribute today – every single dollar matters.
Podcast: Play in new window | Download