The Forest at Duke is a community for retirement-aged residents that encourages opportunities for residents to keep growing by leading purposeful, active, healthy lives. The last Friday of every month, join Ron Stutts and guests from The Forest for a conversation about what's going on in and around the community during "What's Up at The Forest!"
In this edition, Ron speaks with guests Alia Granger, sales counselor at The Forest, and Joe Harvard — one of the community's distinguished residents, who recently hosted a panel discussion at The Forest concerning parallels between national crises, from the Civil Rights Movement to today ,called "Where Do We Go From Here: Chaos or Community." You can listen to the full conversation below, and hear about not only what makes The Forest special, but about the kinds of activities, conversations, meetings and more that you can find there on any given day!
---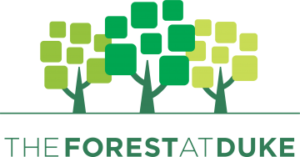 "What's Up at The Forest" is a monthly segment that explores the residents of and the goings-on at The Forest at Duke. The Forest is a vibrant community that presents residents of retirement age with opportunities to keep growing independently by enhancing their ability to lead purposeful, active, healthy, and secure lives. The residents at The Forest are professors, gardeners, authors, CEOs, community volunteers, opera buffs, engineers, librarians, homemakers, artists – folks from all walks of life who embrace and celebrate the rich dimensions of their diversity.  Nestled in the beautiful central part of North Carolina, over 800 residents from 38 different states have chosen to call The Forest home since its opening in 1992.
Podcast: Play in new window | Download
Subscribe: RSS