The Forest at Duke is a community for retirement-aged residents that encourages opportunities for residents to keep growing by leading purposeful, active, healthy lives. The last Friday of every month, join Ron Stutts and guests from The Forest for a conversation about what's going on in and around the community during "What's Up at The Forest!"
In this edition, Ron speaks with guests Alexandra Sheaffer, the human resources manager at The Forest, and April Ravelli, director of sales and marketing. Listen below for their full conversation about what it's like to be part of the team working to make The Forest the best that it can every single day!
Since 1992, The Forest has been encouraging residents to "keep growing" through active and social lifestyles later in life. Over 800 residents are currently living in The Forest, hailing from 38 different states and all walks of life. But a community like The Forest doesn't just happen — it takes a literal and figurative village!
Working at The Forest means fulfilling its mission and being part of a larger team effort, and this month of "What's Up at The Forest," Sheaffer and Ravelli speak with Ron about what it's like to be part of that team — from the work itself, to company culture, to the benefits offered to team members! If you'd like to learn more after listening to their conversation, you can explore joining the team at The Forest here. 
---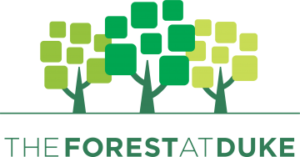 "What's Up at The Forest" is a monthly segment that explores the residents of and the goings-on at The Forest at Duke. The Forest is a vibrant community that presents residents of retirement age with opportunities to keep growing independently by enhancing their ability to lead purposeful, active, healthy, and secure lives. The residents at The Forest are professors, gardeners, authors, CEOs, community volunteers, opera buffs, engineers, librarians, homemakers, artists – folks from all walks of life who embrace and celebrate the rich dimensions of their diversity.  Nestled in the beautiful central part of North Carolina, over 800 residents from 38 different states have chosen to call The Forest home since its opening in 1992.
Podcast: Play in new window | Download