By Randall Rigsbee, Chatham News + Record Staff
By definition, any museum houses items of historical, scientific, artistic or cultural interest and the Chatham Historical Museum certainly squeezes lots of historical items into its space.
Located on the first floor of the historic Chatham County Courthouse at 9 Hillsboro St. in downtown Pittsboro, the modest museum — it's mostly confined to one large room on the northwest corner of the building, though the Chatham County Historical Association, which operates the museum and owns its contents, also has office space for its volunteer staff and another first-floor room in which items not on display are stored — is brimming with facts and artifacts of Chatham interest.
Its permanent exhibits include a Chatham County timeline which traces life in Chatham County from its earliest inhabitants through recent times; a display on the "Voices of Chatham," highlighting historic figures like George Moses Horton, the slave poet; a display entitled "Valor" about those from Chatham County who fought in conflicts from the Civil War through Vietnam; and displays about the county's social fabric through the decades and how folks have made their livings here, from timber, cotton poultry and tobacco to rabbits, mills, furniture and organic farming.
"There's a back story for pretty much everything in the museum," said Cindy Schmidt, a Chatham County Historical Association volunteer since moving to Chatham five years ago.
But for Schmidt, the highlight of the museum is something else entirely.
"It's the floor," she said. "The yellow heart pine you're walking on here was probably harvested in about 1878 or so."
The yellow heart pine wood flooring is original to the courthouse, built in 1881; and the wood upon which visitors to the museum step is also a survivor of the 2010 fire that destroyed much of the courthouse and its contents. Salvaged after the destructive blaze, there was enough of the vintage wood remaining to floor the northwest corner room and for a couple of other projects in the upstairs courtroom.
"The pine, I've been told, doesn't really exist anymore," she explained. "The growth rings are very close, which means it's a slow growth pine. Today's pine is engineered to grow very quickly because most of it is made into particle board or some kind of pulp.
"Because we don't have a lot of space for a huge number of artifacts, I like to think of this as the biggest artifact we have," Schmidt said. "It's functional today as it was then."
And the floor continues to see a lot of action.
While the courthouse still sometimes functions as a courthouse ("It's a Superior Court courtroom," Schmidt said, "and they do still have court there — not very often — but they do and they can schedule court there any time they want to") and is used for meetings of the county's Board of Commissioners and Board of Education, the most routine use of the courthouse these days is housing the museum.
Those vintage floors still see a lot of foot traffic.
"We do about 3,500 visitors a year," she said.
That figure includes an annual field trip for fourth graders (from public, private and charter schools), which accounts for about 1,000 of those annual visitors. The rest are "people walking through the door."
The museum itself has some history.
It's first incarnation was merely a wooden cabinet — it made its debut in 1958 — containing all the artifacts it could hold. It was located, Schmidt said, "somewhere in the building."
The cabinet was eventually replaced with a single room about 30 years later.
"The museum actually became a place in 1990," Schmidt said. That year, during a renovation of the courthouse, the Chatham County Historical Association (CCHA) was given a small room for county artifacts.
"We had the little room right back there," Schmidt said, "and that was the first museum."
The more expansive museum that visitors enjoy today was created after the 2010 fire, after the CCHA, through a variety of fundraisers, raised $155,000 for the museum's creation.
Of the thousands who visit, some are local folks and some come from other places. With some regularity, Schmidt said, a judge passing through Pittsboro bound for another place will stop and ask to see the courtroom.
"A lot of people from here sill come into the museum and learn things they didn't know, even though they're from here and know a lot about Chatham County history," she said. "And people not from here who may have recently moved to Chatham County come here to learn about where they've chosen to live."
One of the things visitors learn is that history isn't "just one thing," Schmidt said. "It's multi-faceted."
For instance, those 4th grade visitors filing through the museum year after year are always asked by a CCHA volunteer tour guide when Chatham County was born.
The answer has nuance.
"On the outside of the building it says 1770," Schmidt said. "But on the inside, in this museum, it says 1771. So what's right? Both dates are right because in October of 1770, that's when the legislation was put forward to have the county, but it wasn't ratified until 1771."
The museum is only one component of the CCHA, whose membership is approximately 200 people, though its likely the organization's most visible undertaking. CCHA volunteers also throughout the year conduct outreach programs, speaking at various organizations in Chatham (including a number of Homeowners Associations), talking local history.
The CCHA is also actively engaged in a variety of ongoing historic preservation efforts, such as the preservation of the Gov. Charles Manly Law Office in Pittsboro.
History, Schmidt says, is important.
"My perception of history is that everybody deals with history, and it's nice if we can know a little bit more about it," she said. "For instance, if you take a job some place, somebody probably had that job before you did and if you know the history of that you can not do the same mistakes in that job, you can learn from the history of that job and you can usually perform before if you the history As a county, it's great knowing its history so people can understand where they live."
The Chatham County Historical Museum (which also includes a gift shop where visitors can purchase books about Chatham County's history as well as reprints of early county maps) is open, staffed by volunteers, from 11 a.m. to 4 p.m. Wednesdays, Thursdays, and Fridays and from noon to 4:30 p.m. on the first Sundays of the month March through December.
---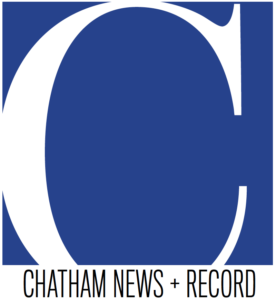 Chapelboro.com has partnered with the Chatham News + Record in order to bring more Chatham-focused stories to our audience. 
TheChatham News + Record is Chatham County's source for local news and journalism. The Chatham News, established in 1924, and the Chatham Record, founded in 1878, have come together to better serve the Chatham community as the Chatham News + Record. Covering news, business, sports and more, the News + Record is working to strengthen community ties through compelling coverage of life in Chatham County.