As we have touched on in previous articles, in a small business, almost everything you do will require a business and personal guarantee. Given that many suppliers, including your lease will have those requirements, it is important to go in understanding your risk and exposure. It can be long after you sell your business that one of those can still come back and cost you thousands of dollars.
This week I will share a personal example that while we "won" was an expensive lesson well after we sold multiple locations. I hope by sharing this experience it will save you money and the stress that goes along with it. The background begins when we sold our three restaurant operations to a new owner. Each lease had a different set of transfer conditions and potential continuing liabilities after the transfer. With some leases we had burned off the business and personal guarantees. Others had a very short period of exposure on either the corporation or personal side. This example is where we had both business and personal liability and how that may have hidden costs associated with an unexercised option.
Background
The oldest location had less than one year left on the original 10 year lease. As we were getting ready to close on the sale / transfer of the business operation, the Landlord required us to pay several thousand dollars in attorney fees to run credit reports and "transfer" the lease. Our attorney made it clear we were at risk until the end of the initial term. We were not concerned based off the strength of the business and at this point only slightly over 9 months left on the original term. Seemed to be within our risk tolerance.
Shortly after the transfer the new owner struggled and closed one location. The second location began to falter and was shuttered. Finally the flagship location was at risk. There was only ~ one month left on the original term. We expected that at this point our exposure to be covered by the security deposit worst case a few thousand dollars. While unfortunate – expected to be free and clear.
Situation Leading $600k+ Risk
That is where the situation changed. The new owner renewed the first 5 year option a few months before things really started to implode. The landlord allowed this to be done even with late and missed payments and other issues. The doors on the final location were shuttered not too long after that and the new owner began personal bankruptcy proceedings.
This is when the landlord decided to look for money from any place they could. Mind you – we were concerned several months prior to the closing knowing our potential liability and the landlord would not respond to our calls to check on payments status and health of the location. They actually said we were not on the lease and they could not and would not talk with us. Fast forward 6 months and a slew of legal services from the sheriff for personal and corporate lawsuits…they were seeking full payment for the five year option in excess of $600k.
Bottom Line
I will spare the excruciating details – but dealing with an unreasonable landlord is not fun. There were legal arguments on both side for and against the liability. The money it cost to defend ourselves and personal property is not for the faint of heart. This could have put our family and home in financial peril and possible bankruptcy. After a yearlong ordeal – along with a great attorney – we were finally able to close the chapter but incurred very expensive legal fees to defend ourselves. The amount of printed documents and many in small font filled several legal boxes and looked like we were reviewing a nomination for the Supreme Court!
Recommendation
At the start of any personal / business guarantee work with your attorney and accounting professional to create the matrix similar to below to understand your financial exposure. You may think you understand everything when you sign but the dollar amount is not typically calculated and can be sizable. This matrix is a focused on leases and can be adapted for other guarantees: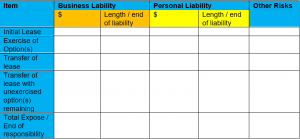 Think through
Work with your legal and financial professions to understand your financials risk with guarantees. Try to build in burn off clauses or buy out clauses on transfer. Better to pay a fee on transfer to end you liabilities than to have that looming over you for the duration of the term.
Tell me about any issues you have had with leases and landlords and how you managed through the situation. Small business – onward and upward!
About the Author: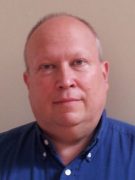 Gregory Woloszczuk is an Entrepreneur and experienced tech executive that helps small business owners grow their top and bottom line. Gregory believes in straight talk and helping others see things they need to see but may not want to with a focus on taking responsibly for one's own business. He and his wife, Maureen, started GMW Carolina in 2006.
Gregory has been fortunate to have been part of building teams for companies that went through hyper-growth as well as his own company. He also has experience in working through economic downturns and taking responsibility to fix what is in his control. The focus has always been working with partners, customers, and building a successful business channel. His range of experience includes marketing, sales, support, training, and operations. Gregory holds an MBA from Nichols College.