I hope everyone is taking the advice to increase social distance seriously. It is sad to see the global impact in lives lost. COVID-19 has changed us forever. Once we get through the health crisis, and I know we will, what will happen to the small businesses and people employed by them? Our economy is consumption and services driven. Think about the number of people out of work that were waiting tables, staffing hotels, hair stylists, dentists and more – what will happen to them?
You may have read recently on some local establishments that seemed healthy and vibrant on the outside but had a cancer deep inside. They appeared to be winning awards, expanding and receiving accolades. Unbeknownst to their clientele, however, they are in debt — including back taxes of over $250k. So many small businesses are like so many people – one "paycheck" (or a day of not being open) from disaster.
Having had a small business that survived the financial crisis of 2008/09 and managed to even grow after a few tenuous years, I can't even imagine what the business owners are going through today. When we had to close even for a single day due to weather – it was painful and resulted in juggling payments. In all cases we made people and payroll priority.
What do you say to a small business owner today closed for weeks, owing rent, payroll, vendor payments to give them faith they will be in business in 30, 60, 90 days? What happens to employees when their rent is due and they need to purchase groceries? What are the safety nets for this unprecedented time?
1)    Government – We need SBA loans to ensure small businesses maintain the working capital to make payroll (paid sick leave) and provide working capital. The only string I would attach is to make sure the funds are invested in the business and not misused.  The business doors must remain open after receiving the funds. Require the same personal guarantees as for student loans. Similar to student loans, defer the payments for a year after allowed to reopen. Provide a debt forgiveness scale to cover a reasonable amount as business continuity insurance. Waive the traditional waiting period for unemployment payments for people not allowed to work. Encourage able bodied people to fill temporary openings and not reduce their unemployment payments.
2)    Suppliers and vendors – Share the pain. Everyone wants to be paid in full – at times – it may be better to take a partial payment and write off what you can to share the pain. Think long term – is it better to break even (cover your costs) and have a long-term customer? In particular, some landlords found the wisdom to defer or waive some rent in 2009 verses incurring the cost of replacing a tenant.  Others pushed their tenants into bankruptcy and the space sat empty for years. For a franchise – will the franchiser share in the pain and cut royalties? Everyone will argue why the other person needs to take the pain – all I am suggesting is find a compromise and look for a long-term win-win solution.
3)    Everyone – Number one – follow the NIH, National Institutes of Health, and CDC, Centers for Disease Control and Prevention guidelines. Cover your cough, wash your hands, etc. Seems like much of what I learned growing up. If my mother were still alive – I think I know what she would say if she saw a person leave the restroom, on a cell, hands unwashed – and it's not fit to be published here. How many times have you seen that or been in a mall witnessing someone sneezing without covering the mouth? Push for all public spaces to be maintained a higher level of cleanliness (plans, trains, subways, etc.) moving forward.
Number two – spend money to support local and not create harm to yourself or the employees. Order take out, delivery, and tip more than normal if you can afford it.
Number three – when we get back to normal, if you can afford it, spend a little extra at your favorite establishments and services to help them recover.
Think through
In life, all you can worry about is what you can control. Share how you feel with people around you but also realize – we will get through this mess. Keep looking forward – there is a reason your rear view mirror is smaller than the windshield. Help who you can and how much you can. Everyone is being impacted. Some more than others – but – everyone is being impacted.
Share thanks with the people open for business as well as providing critical services. That includes emergency services, grocery clerks, the limited number of food establishment employees and others that run a higher risk of illness due their high level of contact with the public.
You can follow me on twitter to find additional resources small businesses can use: Here is free software that businesses, schools and others can use during the COVID-19 crisis.
And here is an article on why relational connection is so important during the coronavirus pandemic.
Feel free to post comments or email them to me. Small Business, Big Lessons™ – Stay safe and support small and local.
About the Author: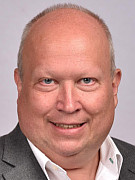 Gregory Woloszczuk is an entrepreneur and experienced tech executive that helps small business owners grow their top and bottom line. Gregory believes in straight talk and helping others see things they need to see but may not want to with a focus on taking responsibly for one's own business. He and his wife, Maureen, started GMW Carolina in 2006.