Yesterday I hosted my first "room" on an app called Clubhouse.
It's a relatively new app that is still invite-only and available exclusively to iPhone users.
Over the past few months I've been hearing about it nonstop and seeing peers of mine make real connections that have led to calls and eventually clients for them. What's more appealing to me, though, is that it's a place to cultivate conversations.
In a year where conferences and events have been put on hold, this virtual option came along at just the right time.
It gives people the ability to hop in these topic-based "rooms" and share the virtual stage — or at least communicate their ideas — with some of the top thought leaders in that space.
I'd been using it for the past few weeks just as an observer, a bit reluctant to hop in and be active. I'm not sure if I just wanted to figure it out or if I was scared to divert my energy away from current priorities.
Then I saw a friend post about it saying "I guess we gotta learn a new social media platform. Who has the time?! Not me."
That made me think about it. It was a fair point, after all.
Why did I want to join in on the conversation? What was my goal? Did I have the time?
When I asked myself those questions, I quickly realized that my priorities are in connecting with people through conversations and sharing insights about how we communicate and convey our ideas as humans. This was the perfect place to do that.
So I dove in and created my own room before I'd even spoken in anyone else's.
I did ask my friend Troy to join me. He had spoken in a few and understood the format.
I was nervous. I promoted it to my other channels, but told myself that it was just a learning opportunity and tried to focus on that. At 1:00pm promptly, I hit "Start the room" on what I had called Conscious Content Creators.
It was just me and Troy. I was okay with that because it gave us some time to catch up and talk about the features I was unfamiliar with.
Ten minutes passed and I found myself feeling a familiar feeling.
I just wanted to bail.
It would be okay. We gave it a shot. We'd try again, perhaps.
Then a guy named Nathan showed up. I assumed he was a friend of Troy's.
When I asked him, he said, "No, I just saw the name of the room and it sounded like something I would be into."
Our two people had now turned to three. I was hesitant to feel happy, but it was so organic and real and what we wanted to happen that I let myself feel it.
As the minutes clicked by and the conversations started flowing, more people joined.
Other friends that I had called on came to the room and brought their followers with them.
All of a sudden, we had a real Clubhouse room going on with people fighting to get the "mic" and share their thoughts about vulnerability, empathy, connection, and storytelling.
People were saying things like "This is such a breath of fresh air to hear from marketers" and "I love what we are talking about so much."
But what I was most proud of was that several people said it was their first time speaking on the stage. That meant we were pushing people to step out of their comfort zones and follow their hearts, just like I had.
It was such a small thing, yet powerful.
I shook my head thinking about how I wanted to run away at first, but quickly remembered that if you trust the process and don't stress about the immediate results, things will organically grow.
You just have to give them some time.
---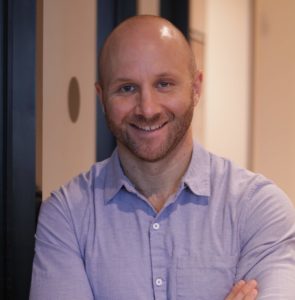 Rain Bennett is a two-time Emmy-nominated filmmaker, writer, and competitive storyteller with over a decade of experience producing documentary films that focus on health and wellness. His mission is simple: to make the world happier and healthier by sharing stories of change.
You can read the rest of "Right as Rain" here, and check back every Wednesday on Chapelboro for a new column! 
---