Pumpkin beers are not, contrary to popular belief, the ultimate in craft beer options for the Fall. Many of my beer-obsessed brethren would agree that most pumpkin-themed beers are not really worth the effort; instead of getting something interesting, you essentially get an amber with too much pumpkin pie spices thrown in to it. Not terribly artful — and not terribly drinkable, frankly. So what else is out there? I'm sooooooo glad you asked!
RED IPAs!
These are my jam! I'm an IPA guy to begin with, so you had me with that. But Red IPAs are slightly more balanced cousins of my hop-forward favorites. Reds add a bit of Amber/Biscuit malt, and often a touch more Crystal/Caramel malt, to impart some more robust and toffee-like malt flavor to these ales. When done right, you'll get almost candy-like malt sweetness balanced by dank hop bitterness. These things are a treat! Locally, you can find a Red IPA on draft at Craftboro in Carrboro. And the Big Boys at Stone, Sierra Nevada, and Founders also distribute a Red IPA. Give 'em all a try.
BLACK IPAs!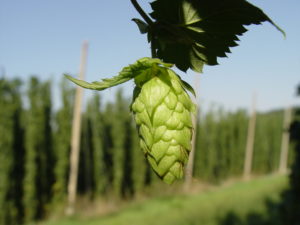 Same argument as above…you've got great hoppiness, but more interesting malt character. Instead of the ale being an IPA soliloquy, it's more of a malt and hop dialog, which is way more fun. Instead of focusing on sweeter malts, you get more robust chocolatey flavor, with a touch (but preferably not a lot!) of roast malt character. This a very enjoyable style, and a persuasive introduction to IPAs for people that don't generally like them. Give these a whirl, for sure.
ESBs!
The Extra Special Bitter might be the pinnacle of English brewing. A well-balanced, but probably slightly malt-forward (pay no attention to the name) classic pub offering, this beer is designed for drinking while surrounded b y friends and warmth, which sounds like a perfect Fall day to me. ESBs highlight the premium malts (often using Maris Otter, an heirloom barley malt, as its base malt) with a touch of wheat and crystal to sweeten the mix. Woven amongst that basket of malt goodness are English hops – most often East Kent Goldings and Fuggles – that provide a much different hop character than American hops. Think grassy fields, woodland aromas, and a touch of spiciness. If you aren't already loving ESBs, you should be.
Ze Germans!
Yes, yes. There are German beers out there, too. I know. I know. So before anyone yells at me for writing a beer column about Fall beers and not mentioning German beers ("I mean, they invented Oktoberfest, man!") you are welcome to try a Marzen, the Oktoberfest beer style. This is a lager that, like the Red IPA, has a more interesting malt bill, but they use Munich malt for a much deeper, more bready flavor, but also with a touch of caramel, too. This is a great beer style, and for many it's the prototypical Fall beer. But you can also try Dunkels for a little more malt action.

But I want PUMPKIN!
If you absolutely HAVE to have a pumpkin beer, the ONLY one I recommend is the Warlock by Southern Tier. This is generally available in the bigger/better bottle shops and is the only pumpkin beer I can remember ever truly enjoying and seeking out. It's done with an Imperial Stout base, and instead of the pumpkin flavor coming off as an overpowering addition, it works instead as a graham-crackery partner with that powerful roasty ale. I think of this is a good beer, period. The fact that it happens to be a pumpkin beer is just amazing.
So go out there and try some stuff, and let me know what you think!