By David Bradley, Chatham News + Record Staff
If it's November and there's a nip in the air, then you know something else is happening as well: crowds are streaming to Bear Creek for a time-honored trek to Southern Supreme.
Southern Supreme Nutty Fruitcakes and Gourmet Confections is located at 1609 Hoyt Scott Rd. in Bear Creek, a small community of about 3,400 persons that serves as an unlikely hub for Christmas shoppers. But with the holidays fast approaching, Southern Supreme is at full tilt, making and baking an array of tasty treats for gift-givers far and wide.
Employing more than 100 seasonal workers, high school students and friends and family members in various parts of the kitchen, co-owner Berta Lou Scott and family start baking in August each year, making their signature products right up until Christmas. Southern Supreme sold 225,000 pounds of fruitcake in 2018, at one point baking 3,000 pounds each day — and keep in mind, that's just the fruitcakes.
It hasn't always been so busy.
After starting in 1990, baking small batches in a pizza oven for an enthusiastic audience in the area, the company began sharing its nut-based cakes at shows and fairs. Southern Supreme's secret recipe set it apart from other holiday cakes on the market.
They encountered some resistance at first. The common response was "I don't like fruitcake," because other fruitcake recipes are based on candied fruits. That was 30 years ago. This summer the company embarked on its 10th remodel and enlargement since they started the business.
On a tour of the facility last Wednesday, the kitchen staff were hard at work placing chocolate into
molds with nuts, forming fruitcake dough into shape, weighing each individual cookie to specifications, and adding the cherry on top.
The tour, available to the public, offers a behind-the-scenes view of the workers and the creation process of the various products offered at Southern Supreme. Huge blocks of North Carolina cheese from Ashe County wait to be made into cheese florets with cayenne pepper. Large tubs of gingerbread dough were waiting to be formed for baking, while other flavor cookies were individually hand-pulled, and weighed to specific dimensions, before being pressed onto the baking pans. Stacks of cookie loaded pans waited for baking, while the fruitcake dough was being pressed into the molds made by co-owner Randy Scott, Berta Lou's son, before going into the oven.At the end of the tour, customers have a wide range of these and other products available for purchase inside the newly-built showroom, along with a choice of gift items they saw in creation — such as the chocolate-covered peanuts, cheese florets, and special relishes seen among the Christmas decorations in the room. The final touch is a tasting room that has been opened, to give customers a sample of the products available.
It's all part of the Southern Supreme experience.
It's no surprise then that the amount of sales through the showroom is impressive.
"Forty-five percent of our annual sales went out the door," said Kathy Gaines, tour guide at Southern Supreme and niece of co-owner Berta Lou Scott. Patrons from inside and outside the state regularly converge on the showroom for products, and with Christmas just over a month away, Randy Scott says that they get so busy at this time of year that the days run together. When they consider the many options for gifts each year, some of the customers consider this trip to be an annual event.
"I come every year, for goodies and the Christmas decor. I think it's beautiful," said Jackie Watson from Sanford as she shopped in the new showroom. "It gets you in the Christmas spirit."
---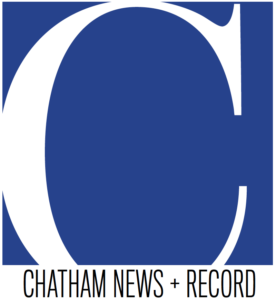 Chapelboro.com has partnered with the Chatham News + Record in order to bring more Chatham-focused stories to our audience. 
The Chatham News + Record is Chatham County's source for local news and journalism. The Chatham News, established in 1924, and the Chatham Record, founded in 1878, have come together to better serve the Chatham community as the Chatham News + Record. Covering news, business, sports and more, the News + Record is working to strengthen community ties through compelling coverage of life in Chatham County.