By David Bradley, Chatham News + Record Staff
Bald eagle populations are soaring across the United States — but four times a year, the New Hope National Audubon Society works with the North Carolina Parks Service to count the local numbers at Jordan Lake.
The next count is Sunday, January 12.
Eagles, whose main diet is fish, are one indicator of the health of the lake itself, said the parks service's Steve McMurray. But the main goal is to see how the eagles are doing, check for trends in population growth, and let the public know so that they can help protect the lake.
The local trend is growth for these birds, the national symbol of the United States. The bird was on the endangered species list for years before being removed from that list, but eagles are still protected under other federal laws.
"The population has been increasing over the years," McMurray said. "As of last year we had 20 to 21 active nests. I believe that [number] may be one of the highest yet. There's talk about what's the lake's carrying capacity [is] for the eagles, and between the counts and nest monitoring, we may get answer in the future. As for the counts, sometimes the number of eagles seems to depend on time of year, how many counters, and weather."
Everyone is invited to the free event, from 7 to 8:30 a.m. on Sunday. Previous experience is not necessary, as McMurray and other experienced counters can educate new counters on the basics of the process. Counters should meet at the Ebenezer Church Recreation Area, 2582 Beaver Creek Rd. in Apex, near the volleyball court.
The National Audubon Society has been coordinating the event since it began in the mid 1980s. Some counters come to each of the four counts held each year, but new people are always welcome. McMurray's advice is to bring binoculars. A spotting scope will be available as well.
"[It's] magical. Seeing eagles fly by is always a magnificent sight," said McMurray.
(featured photo via Ellen Tinsley)
---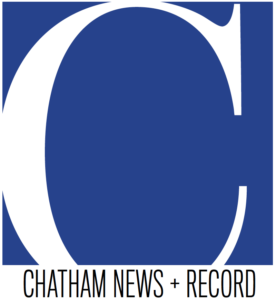 Chapelboro.com has partnered with the Chatham News + Record in order to bring more Chatham-focused stories to our audience. 
TheChatham News + Record is Chatham County's source for local news and journalism. The Chatham News, established in 1924, and the Chatham Record, founded in 1878, have come together to better serve the Chatham community as the Chatham News + Record. Covering news, business, sports and more, the News + Record is working to strengthen community ties through compelling coverage of life in Chatham County.