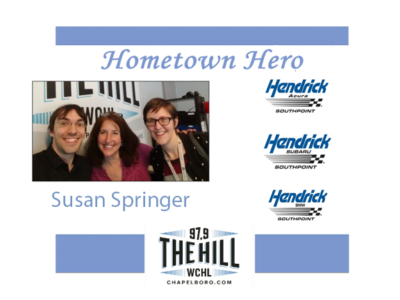 This week's Hometown Hero, presented by Hendrick BMW Southpoint, is Susan Springer. She created Mitzvah Day, which is coordinated by the Jewish Federation of Durham and Chapel Hill and celebrated its 13th anniversary last month.
The event brings together members of the Jewish community for a day of community service. Members cooked meals at local shelters, cleaned parks and trails, delivered gifts to those in need, made blankets for people experiencing homelessness and more.
Springer joined The Aaron Keck Show to discuss the impact that Mitzvah Day has on the local community and shared a story about the event.
"So one of our first big projects was Blanket Durham," she said. "where we would make those fleece blankets.
"I'll never forget my daughters were very young at the time and we hand delivered the blankets to the folks at urban ministries and at the time we had received this donated fleece that had sparkles on it and so we made blankets with that fleece, of course.
"And April delivers this blanket to one of the folks and he brought the blanket to his cheek and he looks at her and he gave her a hug and he said this was the nicest thing anybody has ever done for him and it was this beautiful moment that will last in my heart forever."