With Halloween just around the corner, the Triangle Area will soon host some of the spookiest and enjoyable holiday events in the state—including A Night at the Boo-ery, Carrboro Wizard Fest, Linda's Halloween Bash, Duke Homestead's Halloween Phantasmagoria, and the 2018 Fall Fest in Hillsborough.
On October 25, Top of the Hill will throw its first ever, "A Night at the Boo-ery." Free to the public, this event will feature Halloween-themed food and drink specials, aside from the specialty beers specifically brewed for the party.
There will also be a DJ and a costume contest, as well as the main attraction, a screening of the 1968 horror classic, "Night of the Living Dead." The movie will be played on an 11-foot projector in The Great Room of the bar at 9 p.m. Doors open at 8 p.m., with no cover.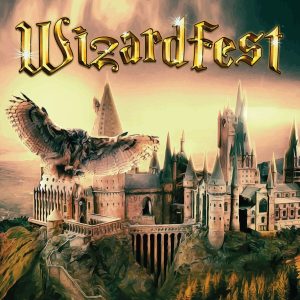 If you're a big fan of Harry Potter, then you'll absolutely need to attend the Carrboro Wizard Fest at Cat's Cradle on October 25. This wizarding world-themed dance party will bring the magic with Potter trivia, a live DJ, specialty wizard drinks, a costume contest, and "Quidditch pong" set up all night.
Beside purchasing tickets, those wishing to immerse themselves into the wizarding world even further may also buy their own wand. Wizard Fest is only for those 18 years or older, and in order to get your hands on some butterbeer, you must be at least 21 years old. Doors open at 7 p.m.
If you're all about treats, no tricks, then head to any Rise location in the Triangle on October 27, 28 or 31 to snag a free Spinkles Donut. If you snap a photo while in costume and share it on Facebook or Instagram, you just might end up on the official Rise page!
Back again, Linda's Bar & Grill will host their Halloween Bash on October 31. The night will kick off with Spooky Trivia at 7 p.m., sponsored by Southern Tier Brewing Company, with a $100 Linda's gift card for the winning team. There will be costume contests throughout the night, and after trivia, Biscuits & Groovy will take the stage at 10 p.m. to play some frighteningly good live music. There will be a $3 cover before 9 p.m. and a $5 cover after then.
Be sure to make it over to the Duke Homestead on October 26 for the annual Halloween Phantasmagoria. Guests will have the chance to make their way around the Homestead grounds, in order to learn about the "historical concepts of Spiritualism, awe, and wonder from the 19th century." The event opens at 6:30 p.m.
If you feel as though the Phantasmagoria might be too spooky for your young ones, the Duke Homestead is hosting a daytime Family Phantasmagoria on October 27. There will be crafts for the children and a history lesson on Halloween and what the holiday would've been like for children living in the 1870s. A donation of $5 per car is requested for the Family Phantasmagoria upon entry.
Last, but surely not least, the Hillsborough Fall Fest is returning to Eno River Farmers Market on October 27 at 8 a.m. Musician Bill Baucom will play from 9:30 until noon, and make sure to bring the little ones for a costume parade and for crafts they can make and take home after all the fun. Don't forget about the famous Spirit Tours, either! A spooky exploration of Hillsborough's past is just the ticket for some festive Halloween jitters.
After the Farmers Market closes at noon, the 3rd Annual River Park Concert will begin, featuring a great lineup of musicians, including The Wood Brothers. The concert will go on until 8 p.m.
As per tradition, Franklin Street will close down starting at 8 p.m. for the "Homegrown Halloween" festivities on October 31. The event will end at around 10:30 p.m.
Make those finishing touches on your costumes and don't miss out on all the spooky fun waiting for you in your area!