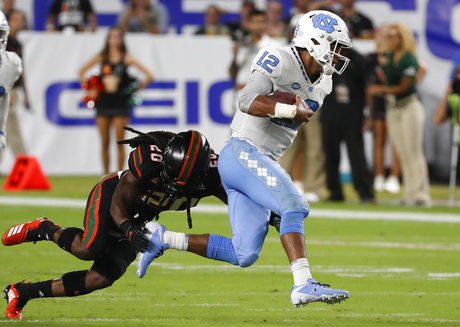 According to a report published Wednesday by Andrew Jones of Tar Heel Illustrated, UNC sophomore quarterback Chazz Surratt will miss the remainder of the 2018 season after undergoing surgery to repair torn ligaments in his right wrist.
Inside Carolina confirmed the news Wednesday night.
The injury reportedly occurred in the Tar Heels' 47-10 loss to Miami on Sept. 27 when Surratt was attempting to make a tackle on what turned into an 83-yard interception returned for a touchdown.
It was Surratt's first action of the season after he was suspended for the first three games of the year for selling team-issued shoes.
He came off the bench in place of starter Nathan Elliott in the first half and scored on a 20-yard touchdown run. In the passing game, however, Surratt completed just four of his 10 attempts for 10 yards and threw three interceptions–two of which were returned for touchdowns.
Photo via Wilfredo Lee (Associated Press)