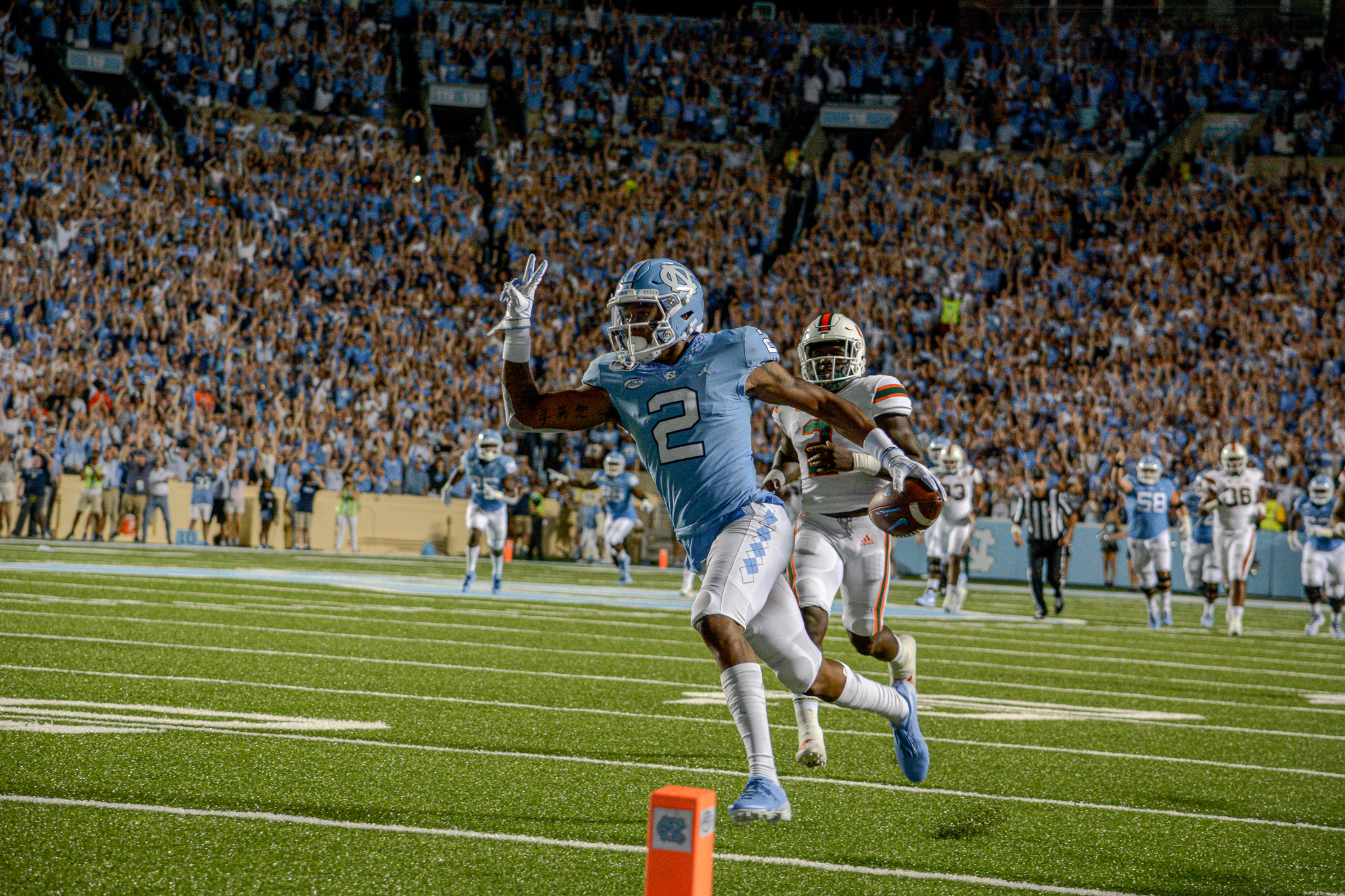 Heading into Saturday's in-state clash against Appalachian State in Chapel Hill, head coach Mack Brown and the UNC football team are hoping last week's close loss to Wake Forest will serve as a wake-up call moving forward.
A slow start last week in Winston-Salem put the Tar Heels into a hole they were unable to dig themselves out of, despite once again showing a flair for the dramatic in the fourth quarter to make things close.
The late game drama worked in their favor in back-to-back weeks to begin the season, but the loss to Wake Forest proved that won't be a reliable way to win games on a consistent basis.
For that reason, Brown is hoping the pain from that loss will serve as a lesson for the Tar Heels as they return to Kenan Stadium on Saturday for yet another sold-out game—this one against an Appalachian State squad hungry for a statement win.
"I don't want to take anything away from Wake Forest," Brown told reporters at his press conference on Monday. "They played with passion, they played hard and won the game.
"But on the other side, I think we'll see this weekend," the coach continued. "What we learned from last weekend."
This weekend will mark just the second time ever that UNC and Appalachian State have met on the gridiron, and the first time it's happened since 1940.
Over the last two decades, however, the Mountaineers have put together one of the most respected programs in the lower levels of college football. An upset over No. 5 Michigan back in 2007 put App State on the national radar during the same period the program won three straight national titles at the FCS level.
In 2014, the Mountaineers joined the Sun Belt conference and moved up to the FBS—placing themselves at the highest level of the sport. Since then, the success has kept on rolling.
Under former head coach Scott Satterfield—a Hillsborough native who took the Louisville job this past offseason—Appalachian State won each of its first four bowl games and won the Sun Belt title three years in a row.
Now coached by former NC State offensive coordinator Eliah Drinkwitz, this year's Mountaineers have started the year 2-0 behind star running back Darrynton Evans. Despite having played one game less than many teams, Evans still ranks 13th in the country in rushing while averaging over 10 yards per carry.
"You take a look at App State, and what their seniors have accomplished, it's the best in the state," Brown said. "App State's good enough, they could be in the ACC. They're that talented.
"You start looking at 2018, they were 11-2," Brown added. "In 2017, they were 9-4. That was their bad year. In 2016, they were 10-3 and 2015 they were 11-3.
Knowing what the Mountaineers bring to the table, UNC will have to be on full upset alert this weekend.
A slow start could again spell doom for a Tar Heel team that has struggled to put together a full 60-minute performance. Whether or not that happens could all depend on how UNC applies the lesson it learned last week.
"I think the biggest thing is as coaches and as players, we all have to grow together and understand that we're not good enough to beat anybody unless we play with passion," Brown said. "That's what we've got to do. We had a chance to come back [against Wake Forest]. But at this stage in our program, we can't roll it out there against anybody."
Cover photo via Dakota Moyer