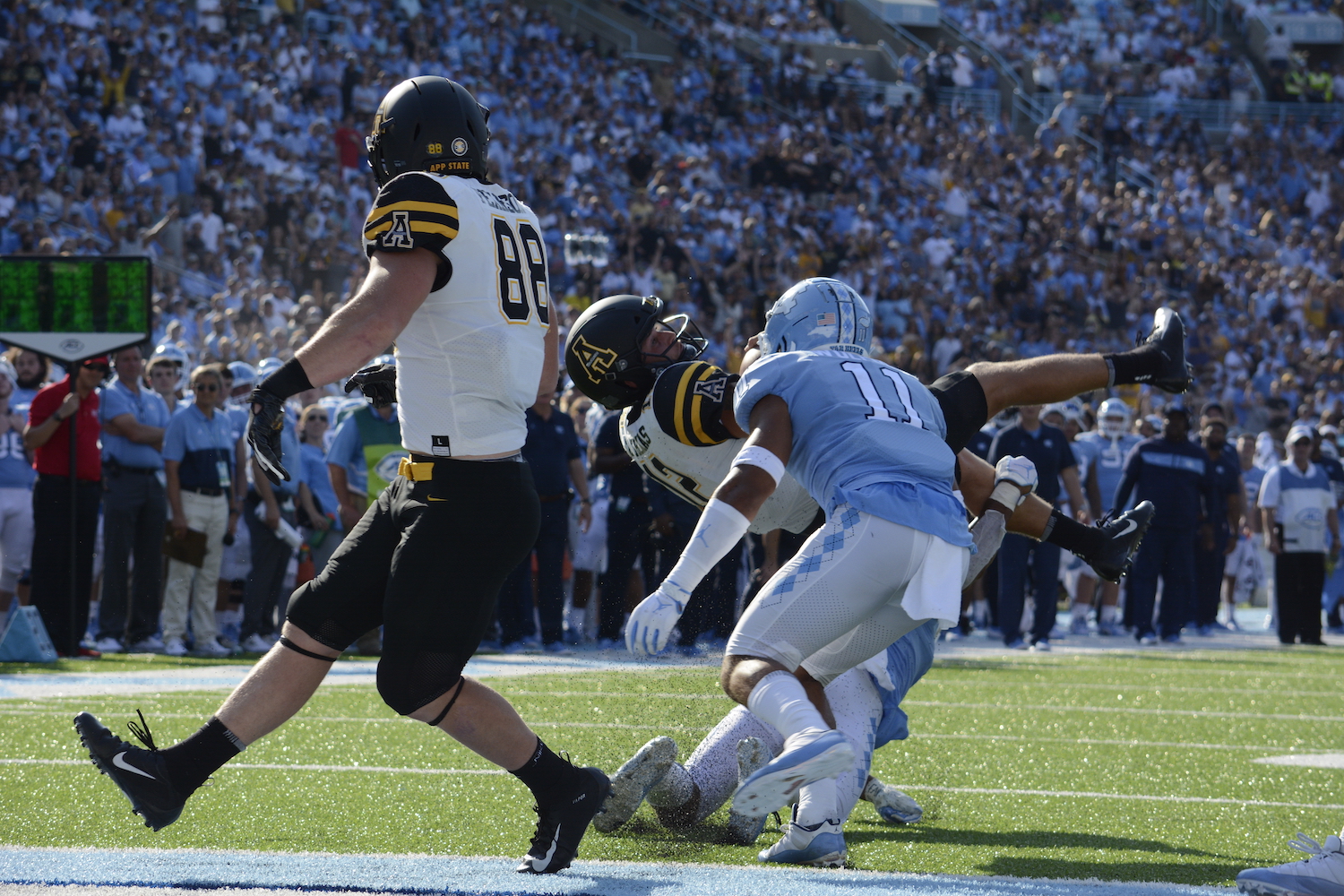 After falling into yet another deep hole in the first half on Saturday afternoon at Kenan Stadium, the UNC football team stuck to a familiar script as it battled back to make things interesting–before ultimately losing 34-31 to the Appalachian State Mountaineers.
The Tar Heels' penchant for slow starts was the main focus all week long, coming off a tight loss to Wake Forest in their last game.
At first, it appeared that issue was thing of the past on Saturday. A huge kick return by Michael Carter set quarterback Sam Howell up with great field position to open the game, which led to a 21-yard touchdown pass to Dazz Newsome on the first play of the day.
From there, however, the offense sputtered and Appalachian State (3-0) responded by scoring 27 of the next 30 points to take a commanding 27-10 lead.
Defensive end Demetrius Taylor was the main catalyst for the Mountaineers, as he sacked Howell, forced a fumble and returned it for a touchdown himself late in the first quarter. Two drives later, Taylor intercepted Howell in UNC territory to set up the next App State touchdown.
---
---
The Tar Heels (2-2) finally got back in gear in the second half, cutting the deficit to within three points on two separate occasions.
With just 30 seconds remaining and no timeouts, Howell led the Tar Heels down to the Mountaineers' 39-yard-line to set up a potential game-tying field goal from 56 yards out. Noah Ruggles' kick was then blocked as time expired to give Appalachian State the win.
After the game, head coach Mack Brown said his team gave the energy he wanted to see, but said the turnovers are what did them in.
"We had time and time and time, opportunities to win the game," Brown told reporters. "Even after the turnovers that gave them short fields. Fourteen points off of turnovers, that's something we haven't been doing.
"We're not stripping the ball," he added. "We're not getting enough turnovers, and obviously today we gave them too many."
For the game, the Tar Heels gained 469 yards and appeared to really have worked themselves into a rhythm as time wore on.
Early on, though, it was evident how much the absence of center Nick Polino and left tackle Charlie Heck affected the performance of the UNC offensive line. The Tar Heels struggled to run the ball effectively at first, while Taylor and the Mountaineer defense wreaked havoc in the backfield.
To his credit, Brown refused to make excuses for what happened.
While he'd prefer to have won all four games so far, the reality is that each game came down to just a handful of plays. Sitting at 2-2 heading into the heart of conference play, there's still optimism for this group moving into the future.
"I love that we beat Miami, and I love that we beat South Carolina," Brown said. "In fact, I thought we'd have a chance to beat these two [Wake Forest and Appalachian State] and probably lose to those two.
"We ended up 2-2, which is about where I thought we'd be if we played well," the coach continued. "We've already won as many games as we did last year."
Up Next:
A date with the undefeated, defending national champion Clemson Tigers awaits the Tar Heels next Saturday, as head coach Dabo Swinney brings his team to Kenan Stadium for a game set to kick off at 3:30 p.m.
Game Notes:
This was the first meeting between UNC and Appalachian State since 1940.
UNC has now lost its last nine games against FBS in-state opponents, a streak dating back to 2015.
Howell finished the day having completed 27 of his 41 passes for 323 yards, three touchdowns and two interceptions. He also ran for 24 yards and a score. The two interceptions were the first two of his college career.
The Tar Heels tallied 29 first downs in the game compared to just 16 for Appalachian State.
Cover photo via Dakota Moyer