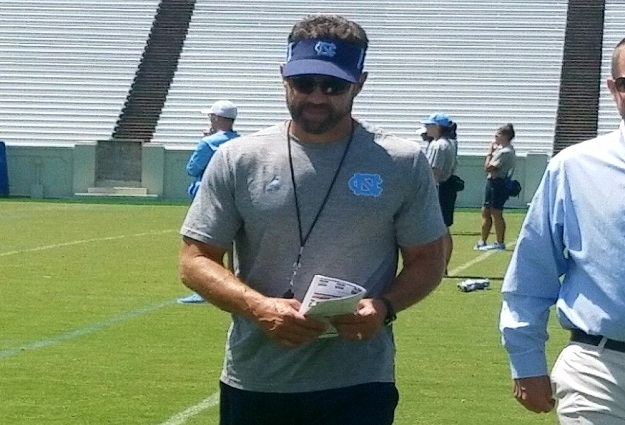 With the UNC football team's 2018 season opener at California just over three weeks away, head coach Larry Fedora is in damage control mode as he looks to find a way to limit the amount of harm done by the suspensions that will see a total of 13 players miss games this season.
While injuries and inexperience were the main culprits in last year's dismal 3-9 record for Fedora and company, it could easily be team-issued Jordan shoes that ultimately dooms the Tar Heels this season.
Deemed a secondary NCAA violation to sell that kind of gear—a rule that doesn't make much sense, but is still a rule—UNC Director of Athletics Bubba Cunningham was quick to pat the program on the back during Monday's press conference for self-reporting the issue in a timely fashion.
The fact remains, however, that the Tar Heels will have to start the season shorthanded.
Eleven of the 13 players suspended will miss the first four games of the year, including a trio of offensive linemen and quarterback Chazz Surratt.
Fedora announced at his season-opening press conference that junior Nathan Elliott will start behind center as a result of the suspensions.
He also spoke confidently after the team's practice on Thursday about how the staff is handling the suspensions on the offensive line, a patchwork unit tasked with keeping Elliott upright as he tries to assert himself as the starter.
"Any time you're dealing with the offensive line, you're always mixing and matching all the time to find the best five, the best combination of five," Fedora said. "But, then you also have to be prepared for if this guy goes down, how does that combination change?
"Early in fall, you're doing all of those things in camp," the coach added. "We would be doing all that anyway, but now we have some clarity on guys that aren't gonna be there—so we can plan around that."
Cunningham also mentioned Monday that the NCAA granted UNC's request to stagger the suspensions of the defensive ends–Carney, Tomon Fox and Tyrone Hopper–in order to preserve the players' health and safety since there isn't as much depth at that position.
This is beneficial in the early part of the season, but could ultimately hurt as UNC gets into the heart of ACC play without its full complement of pass rushers.
With the offense still trying to come of age after struggling a season ago, the defense will once again be leaned on to try and salvage what could be another gloomy campaign.
Although Fedora always talks about his players needing to face adversity in order to learn and improve, it's fair to say that process was accelerated and then some this year—coming well before the season has even kicked off.
"You never like losing players for any reason," Fedora told reporters. "In relating the things that happened to us last year, it's another form of adversity that we'll have to overcome.
"Our guys are doing a great job of that," he added. "They all know what's going on."
Cover photo via Avery Trendel