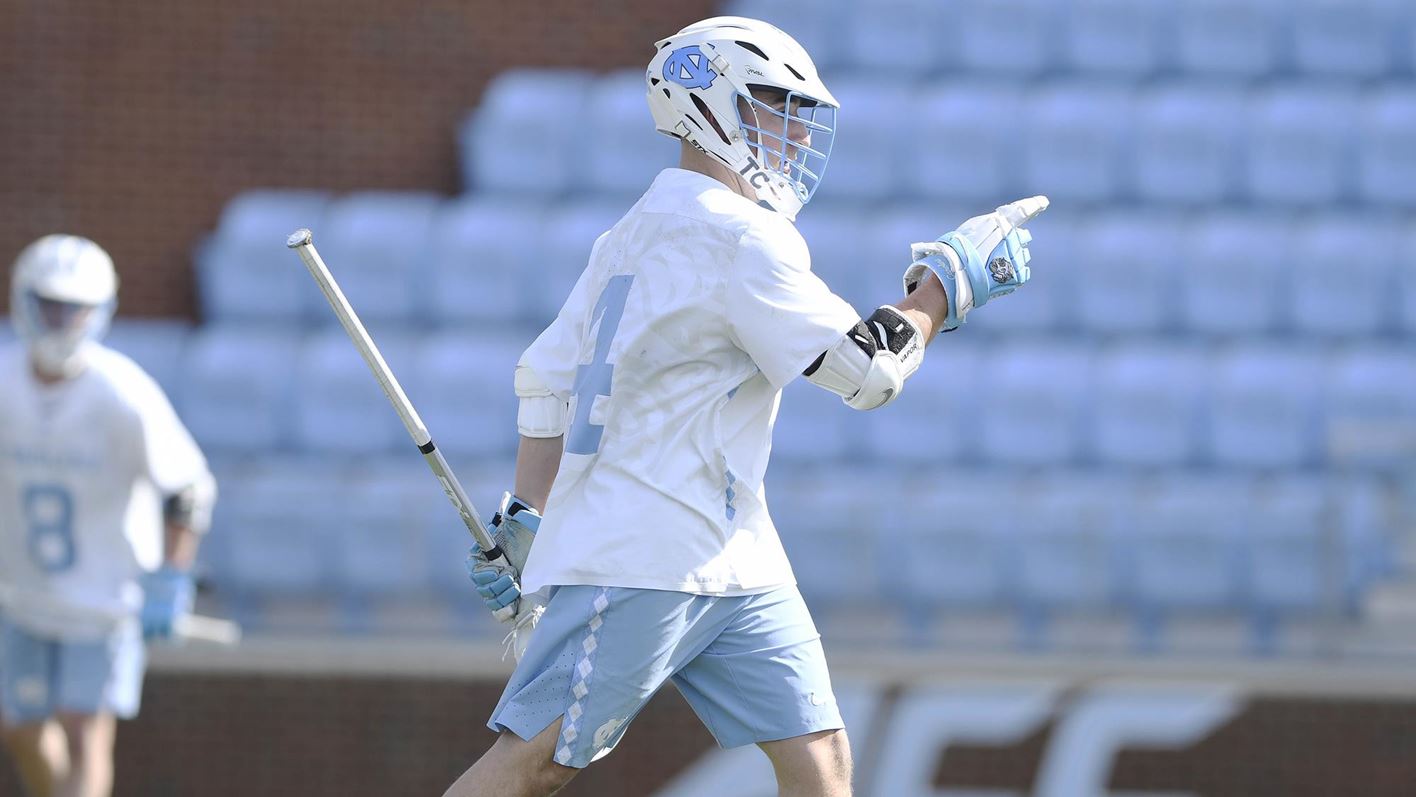 Update: This piece has been updated with the proper date of UNC's National Semifinal against Virginia, which is Saturday, May 29.
After missing the NCAA Tournament in both 2018 and 2019, the UNC men's lacrosse program received a huge boost with the addition of Boston University's All-American Chris Gray.
Since then, the Tar Heels have gone 20-2 and enter this weekend's Final Four in Hartford with a great chance to win the program's sixth NCAA championship. 
Head coach Joe Breschi said he still vividly remembers the first time Gray visited UNC as he was trying to decide which school to bring his immense talents to.
The coach knew an established First Team All-American was going to be showing up to his office, but had yet to figure out the type of person he was off the field— something Breschi said he always pays extra attention to.
Gray showed up in khaki pants with a collared shirt buttoned all the way up and held the door for both of his parents before entering himself. He then gave Breschi a firm handshake and made eye contact, showing respect and immediately earning it back in return.
Once practice started in the Fall of 2019, though, he wasn't quite showing the coaches what they were expecting to see. Breschi said when the team made a trip to Columbus for a scrimmage at Ohio State that same fall, that's when everything began to make more sense to the staff. 
"He was allowing his teammates to get used to him and him to get used to his teammates and not having the ball on his stick," Breschi said of those early practices. "Kind of that whole thing the whole time. We go up to Ohio State and he just explodes in the game and we kind of look at each other on the sidelines like, 'Holy cow.' But that's the kind of kid he is."
It didn't take long for Gray to establish himself as the team's top dog once his junior season began in 2020, as he earned ACC Offensive Player of the Week honors after scoring four goals and dishing out two assists in a season-opening win over Colgate.
The Tar Heels ultimately went 7-0 before COVID-19 ended the season prematurely, with Gray racking up a whopping 27 goals and 21 assists during those games.
That success carried over to this year as UNC reached the No. 1 national ranking for the first time since 2017 and earned the top seed for this year's NCAA Tournament.
Midfielder William Perry — a fifth-year senior who shares team captain duties with Gray — said having such an unselfish superstar has gone a long way towards bringing the program back to its previous heights.
"Chris brings out the best in everybody," Perry said. "Me watching or my teammates watching, we're like, 'Damn, I want to be as good as him. I want to do the stuff that he does.' It pushes people to their limits, into being the best lacrosse player they can be.
"And then off the field, he's one of the best teammates I've ever had playing here," Perry added. "It's really awesome to see how much he really has changed this program for the better."
Gray is the only player in the country this season to rank in the top 10 nationally in both goals and assists. He was named the ACC Offensive Player of the Year and his 86 total points set a new single-season UNC record. In addition, he became just the third Tar Heel men's player to ever be selected as a finalist for the Tewaaraton Award—lacrosse's version of the Heisman Trophy.
Despite all the individual accolades, the always-humble superstar is still seeking the only thing missing from his resume, a national championship. Gray will finally get that chance this weekend, beginning with Saturday's national semifinal against Virginia.
"That would mean everything," Gray said. "I think that's the reason why you come to North Carolina. To win a national championship. And honestly, that's why you play as a player. It's not for the individual success, but rather working towards a common goal with your team—and in that case it's definitely the national championship for us."
Photo via UNC Athletics
---
Chapelboro.com does not charge subscription fees. You can support local journalism and our mission to serve the community. Contribute today – every single dollar matters.