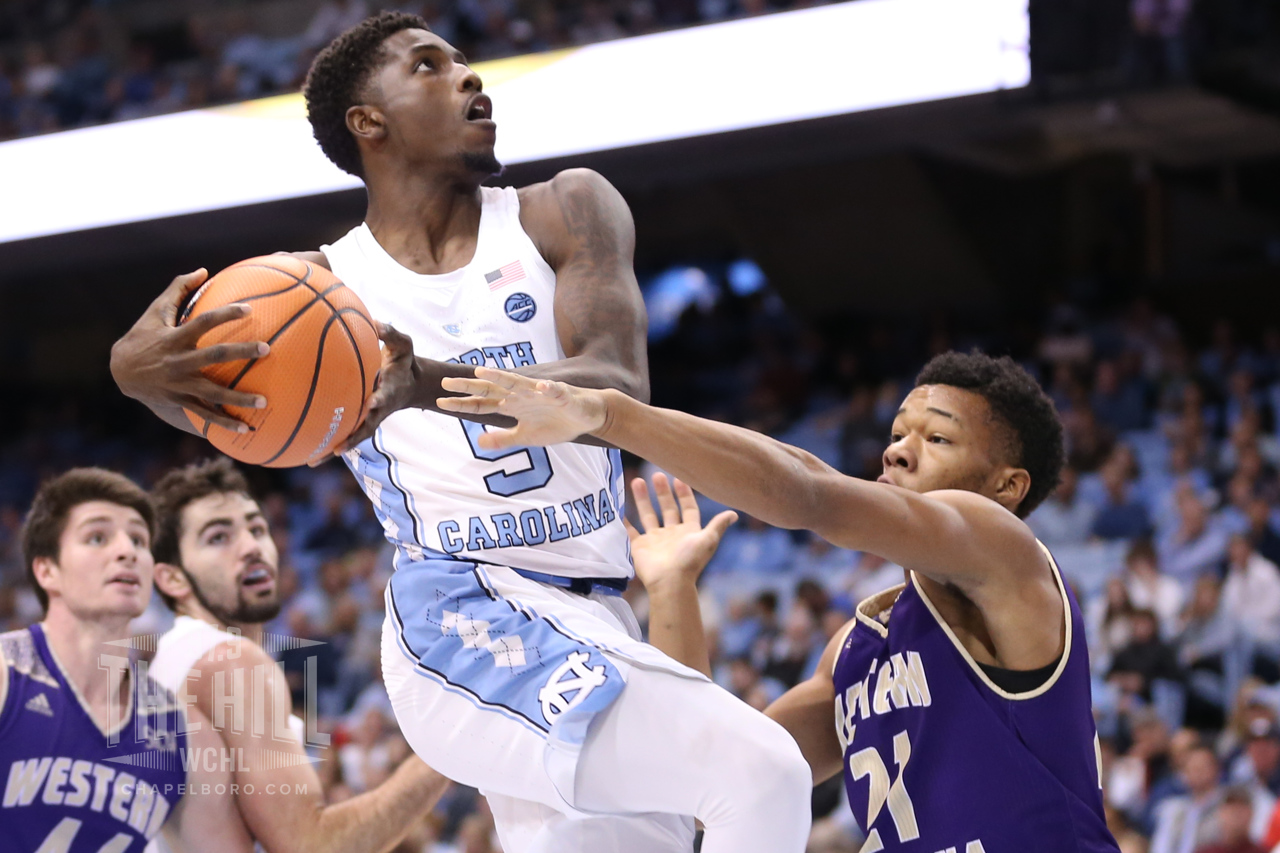 Wednesday night's 104-61 victory for UNC over Western Carolina was a beatdown of epic proportions.
That much was clear to anyone who saw the Tar Heels take off on a 33-3 run in the first half and drain 16 of their 22 attempts from three-point range.
It was also potentially the first of many breakout performances on the horizon for freshman guard Jalek Felton.
The nephew of former UNC star Raymond Felton led the team with a career-high 15 points against the Catamounts while racking up another career high with five assists. He also connected on all four of his three-point attempts.
This comes on the heels of the team's win over Tulane this past Sunday, when Felton tallied what was then a career-high nine points.
Although Felton arrived in Chapel Hill with sky-high expectations thanks to his status as a five-star recruit—not to mention his famous last name—playing time hasn't exactly presented itself on a silver platter.
In 10 games this season, the South Carolina native has seen the floor for an average of just over 12 minutes per game.
With head coach Roy Williams recognizing Felton's immense potential, that's also led him to coach the young point guard a little tougher than everyone else on the team—a role previously held by players like Brice Johnson and Felton's uncle Raymond.
"Sometimes it's frustrating," Felton said, of the way Williams rides him. "It almost makes me want to cry sometimes. But you gotta look at it like he's trying to coach you and make you better. And that's what he's doing."
Luckily, conversations with his uncle helped prepare him a little bit ahead of time for what his experience would be like at UNC.
"He just kind of told me—even before I got here—that [Williams] is gonna be hard on you no matter what," Felton said. "You can't get down too much to where it affects your play. You just gotta stay focused, talk to yourself mentally, get over it and just play basketball."
At the team's preseason media day, Williams told reporters that Felton may indeed be the Tar Heels' most talented player. He also said that statement essentially meant nothing if the freshman struggled to develop the work ethic and defensive habits needed to earn time on the court.
For every incredible highlight dunk or flashy pass that Felton has unleashed to this point in the season, there has seemed to be a lapse in judgment on the other end—something senior point guard Joel Berry pointed to immediately when describing Felton's development so far.
"The biggest challenge that he has is just staying in front of the ball on the defensive end," Berry said. "He's doing a good job of improving on that and just being under control—and knowing that he's the point guard. That's where it starts."
When Berry missed most of the preseason—and the season opener vs. Northern Iowa—with a broken hand, Felton was given a chance to battle alongside sophomore Seventh Woods for valuable time at the point guard spot.
Once Berry returned, though, Felton's minutes began to shrink down into single digits.
Not until this past week–when it was announced that Woods is out indefinitely with a fractured foot—has he gotten another extended chance to prove his worth.
As he continues to earn more and more time out on the floor with Woods sidelined, it appears as if Felton is ready to show what he's been learning under Williams.
And for Williams, it appears as if he's ready for the rest of the world to see what he's known for a long, long time—especially given the family history.
"Jalek has been getting the extra reps in practice all week," Williams said. "He's getting more comfortable realizing he doesn't have to put on a show every time, and just making the simplest pass he can make.
"I've said all along, he's gifted."
Cover photo via Todd Melet