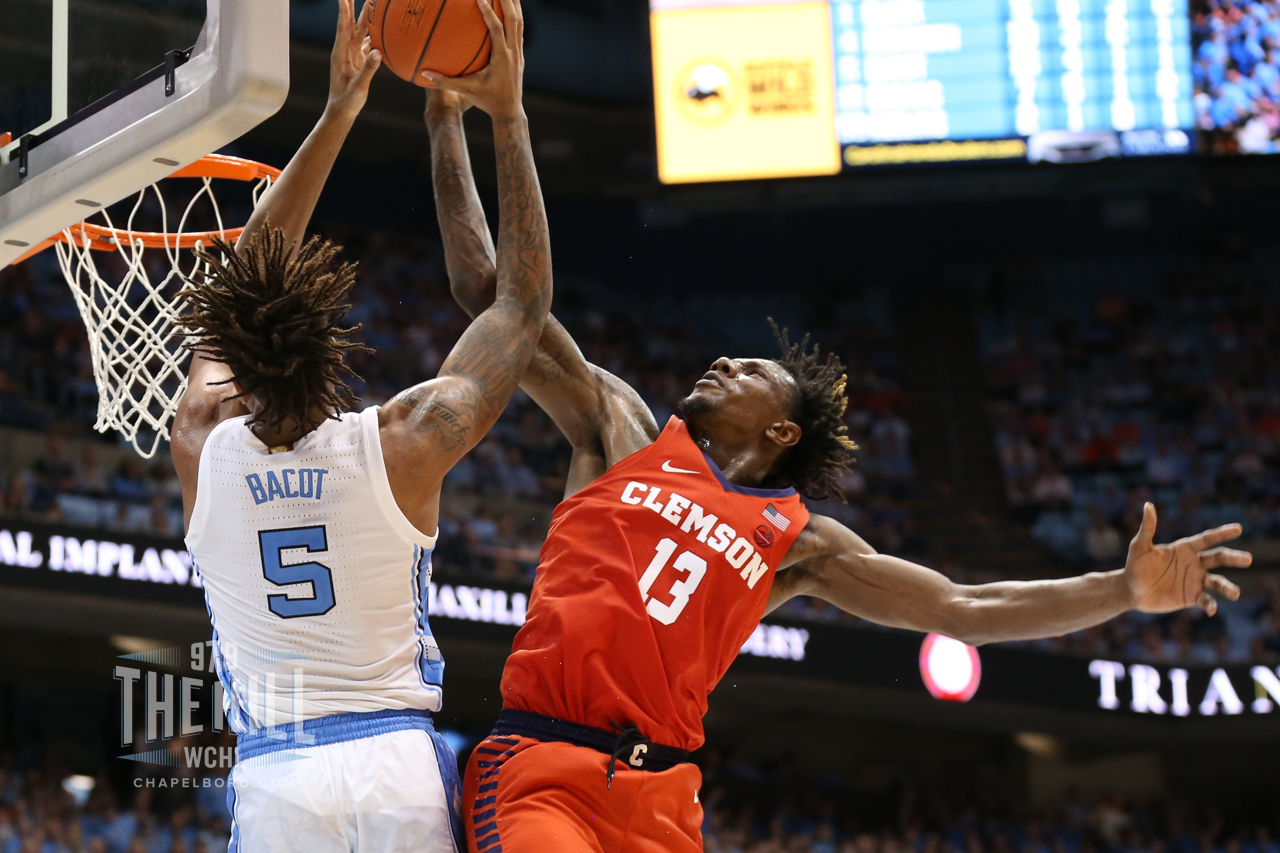 A historic streak came to an end with a crashing halt on Saturday afternoon at the Dean Dome, as the UNC men's basketball team gave up a 10-point lead in the final two minutes before falling to the Clemson Tigers in overtime by a score of 79-76—Clemson's first win in Chapel Hill in 60 tries.
Garrison Brooks and Brandon Robinson each missed a three-point attempt in the final seconds of overtime that would have tied the game, allowing the Tigers (8-7, 2-3 ACC) to steal one of the biggest wins in their program's history.
It also represented the Tar Heels' eighth loss in their last 11 games (8-8, 1-4 ACC) as their season hit a new low.
Early in the game, it appeared as if Robinson was going to do everything in his power to make sure this Tar Heels team wouldn't be the first to lose to Clemson at home. The senior poured in a career-high 27 points to go along with four assists and four rebounds, while Brooks also continued to play well—posting a double-double with 13 points and 11 rebounds.
In addition, UNC received 21 points from freshman forward Armando Bacot.
Behind those three players, the Tar Heels built a 10-point halftime lead and got the crowd at the Smith Center as wild as its been all season long.
It all fell apart in those last two minutes, though, as Aamir Sims scored nine of his 20 points in that stretch—including the game-tying three-pointer with three seconds remaining.
After the game, UNC head coach Roy Williams was visibly shaken as he blamed himself for not telling his team to foul prior to the game-tying shot.
"Guys, I didn't remind them," Williams told reporters about the decision to not foul. "I told [Athletic Director] Bubba [Cunningham] he should probably fire me. Probably wouldn't be a bad idea. A coach is supposed to help his kids. And I didn't help them very much."
The Tigers also forced three UNC turnovers during the game-changing run and ultimately won the game in overtime by beating the Tar Heels with simple layups coming off of poor defense on backdoor cuts.
This also marked the second straight game where UNC has let a significant first-half advantage turn into a disappointing loss.
As a result, a streak dating back to 1926 was finally put to rest and Williams will have to wait even longer to pass Dean Smith on the all-time list by earning his 880th career victory.
In any other season, that may be something on the coach's mind, but right now he just desperately wants to win for this group of players who are in the midst of one of the biggest downward slides the program has seen in years.
"I told them if I die tomorrow or 20 years from now, that'll be the biggest regret I have in 32 years as a coach," Williams said. "Because these kids really need to win. And their coach let them down today.
Up Next:
The Tar Heels will have a week off before their next game, a visit to Pittsburgh next Saturday. That game is scheduled to tip off at noon.
Game Notes:
UNC led by as many as 13 points during the first half, while Clemson didn't take its first lead of the day until overtime.
Clemson converted on 12 of its 31 attempts from three-point range, while UNC was just 6-for-26 from beyond the arc.
Andrew Platek had eight points, eight rebounds and five assists for the Tar Heels, making his first career start in place of the injured Jeremiah Francis.
Prior to turning the ball over three times during the final two minutes, UNC had just seven turnovers for the entire game.
Cover photo via Todd Melet