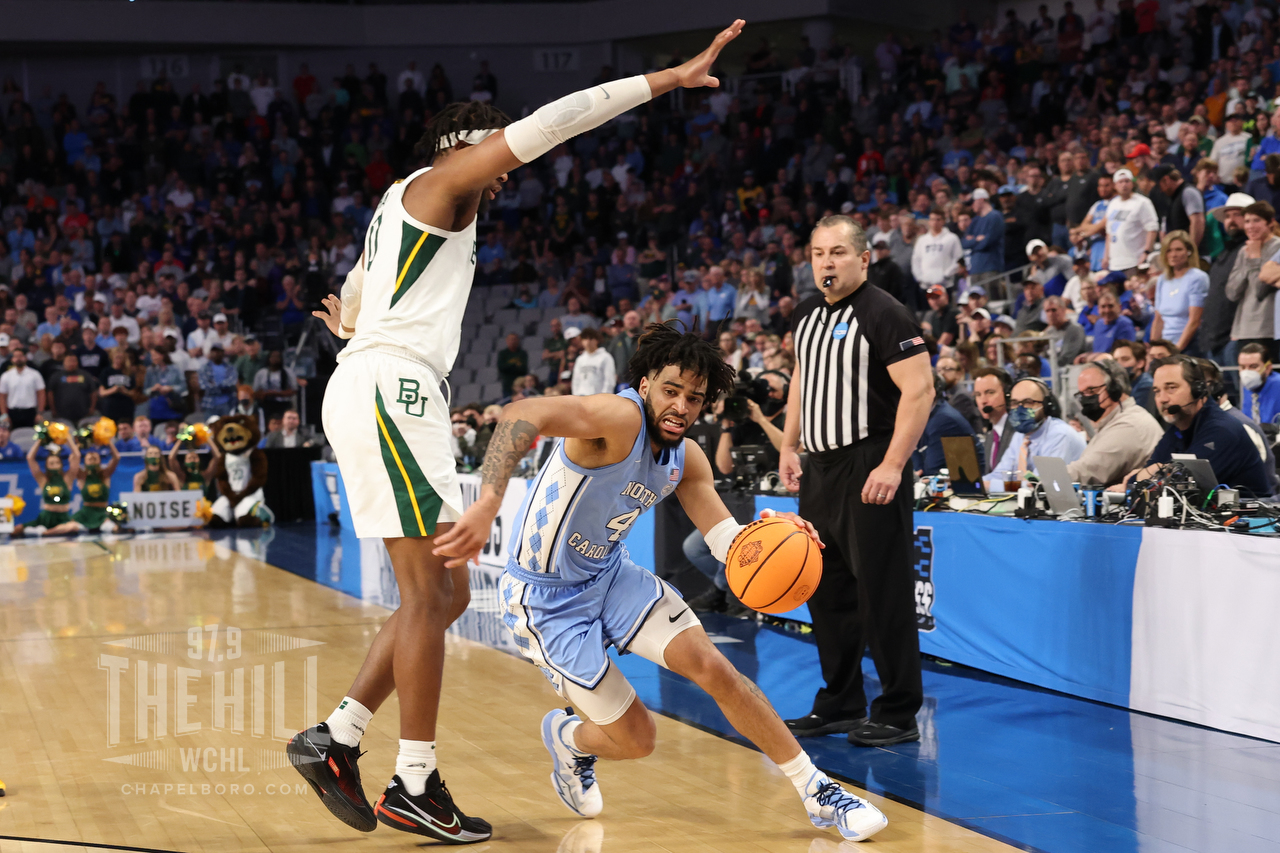 As Adam Lucas wrote two Saturdays ago, "I have so much I want to tell you."
With 10:47 left in the second half of Saturday's second-round game in the NCAA Tournament, No. 8 seed Carolina took a 25-point lead on No. 1 seed and defending national champion Baylor. A three-pointer from Brady Manek did the damage, giving the graduate forward from Oklahoma 26 points on the day.
But Manek's celebration would be cut short, as just seconds later he swung his elbow fighting for a rebound with Baylor's Jeremy Sochan. The elbow struck Sochan in the face, and the big man hit the deck hard. After a video review, officials ruled the play a Flagrant 2 foul and ejected Manek, at that point UNC's leading scorer, from the game.
From that point on, Fort Worth entered the Twilight Zone.
About an hour later, the Tar Heels were celebrating a seven-point win over the Bears, having clinched a trip to the Sweet 16 in Philadelphia for the first time in three years. Had a fan gone to sleep after the Manek ejection and woken up then, they might have been surprised the Bears were able to shave 18 points off the deficit, but not at the outcome. After all, 25-point leads don't just evaporate in the Texas heat.
Well, that's where the 'Madness' part of March Madness comes in.
Manek's ejection provided a burst of energy for the defending champions, who began flexing their press defense on the Tar Heels and hitting big three-pointers. Two minutes after the ejection, the 25-point lead was down to 14. Three minutes later, it was down to nine. The Baylor-heavy crowd began to sense a miracle in the making. They got even louder when sophomore guard Caleb Love fouled out, forcing head coach Hubert Davis to rely on a frighteningly untested bench.
In came Justin McKoy, Puff Johnson and freshman Dontrez Styles, rotation players who competed well enough in the much-maligned ACC. And yet, the Bears were clearly a different beast.
"Coach Davis told us in the huddle, and he told us a thousand times in practice that we're gonna be in big moments, and we need to be ready," said McKoy.
"You will always get an opportunity with me," Davis said. "The thing that I can't guarantee is when, where, how and the manner in which it will come. The only thing that you are required to do is… to be ready."
His postgame comments aside, it's not a stretch to say Davis may not have been too thrilled with the manner in which this particular opportunity for the three bench players arose. With the trio seeing big-time minutes down the stretch, Baylor continued to press and force turnovers. UNC's red-hot offense of the first 30 minutes had disappeared into the locker room with Manek. As champions do, the Bears pounced on the opportunity, slashing the deficit from nine down to six, and from six to three with 90 seconds to go.
"We really just wanted to do it for [Manek]," McKoy said. "It's his last year. The way I looked at it was, I don't want it to be his last game."
Manek, who spent four years with the Oklahoma Sooners, had never appeared in the tournament's Sweet 16 before Saturday afternoon. When he left, Carolina appeared to be in good shape to make that happen. Without him, the dream was crumbling, and all Manek could do was watch.
Junior forward Armando Bacot appeared to find a lifeline, muscling through the tough Baylor defense for a layup plus the foul with 1:37 left. The basket and succeeding free throw put UNC back up by six points. But when the Bears sent Bacot to the foul stripe again with 30 seconds to go, down by five, he could only convert one of the two shots, keeping Baylor down by just two possessions. Sochan banked in a desperation three-pointer before Baylor fouled Bacot again. This time, he missed both shots, and the Bears' James Akinjo wasted no time sending a layup through a challenge by R.J. Davis and into the basket, plus the foul. His free throw tied the game up, and the 25-point lead was finally gone.
"It's up there," Bacot said when asked about where this game ranked among the most intense in his career. "It was stressful."
Oh, Armando. Try watching it instead of playing in it.
After UNC missed a potential game-winner at the buzzer, the game went to overtime. With Carolina down two starters and Bacot saddled with four fouls, a certain lowly sportswriter gave his thoughts on how the extra session would play out.
Overtime in Fort Worth.

Advantage: Baylor

— Michael Koh (@michaelkohwchl) March 19, 2022
Despite what felt like the entire state of Texas fighting against them, the Tar Heels didn't blink in overtime. Styles found an open spot in the corner and rattled in a critical three-pointer to open the scoring. After a Bacot free throw made the Carolina lead 84-80, Baylor answered with free throws from Matthew Mayer and a bucket from Sochan to tie the game again. It would be the closest the Bears would get for the remainder of the game.
Bacot finally shook off his free throw woes to sink a pair. On the other end, Baylor's James Akinjo, normally a reliable free throw shooter, split his two shots. Leaky Black converted a layup to give UNC an 88-85 lead, setting up the play of the game. Trying to atone for his missed free throw, Akinjo missed a potential game-tying three, giving UNC the ball back. R.J. Davis, now solely in the ball-handler role thanks to Love's disqualification, weaved his way through traffic to send a layup high off the glass and in while being fouled. The succeeding free throw gave Carolina a six-point lead with 1:18 to go, and gave Davis a career-high 30 points in the Tar Heels' hour of need.
"His ability to understand when to pass and when to shoot has been absolutely fantastic," Hubert Davis said of R.J. Davis. "He runs our team. He gets the ball to his teammates at the right moment. [He] does an excellent job taking care of the basketball. And he's a big-time shot-maker."
Though the final 78 seconds were just as hectic as the preceding 15 minutes, the Bears only managed a single point down the stretch. They pushed and pushed and pushed some more, but big, bad Baylor never retook the lead after its miraculous rally.
At long last, Carolina held serve. Game over.
𝐒𝐖𝐄𝐄𝐓 𝟏𝟔 𝐁𝐎𝐔𝐍𝐃 🗣️#CarolinaFamily | @WellsFargo pic.twitter.com/YZPOndpkYF

— Carolina Basketball (@UNC_Basketball) March 19, 2022
"The thing that brings me such great joy is the thing that I desperately wanted for all of these guys the entire season," Davis said. "[It's] for them to have their own stories and testimonies and memories of playing in big-time games and coming up big in that Carolina uniform."
"When we got back into the locker room, we all gave [Manek] a big hug," said R.J. Davis.
Carolina will now move on to the East Regional semifinals in Philadelphia next week, and will await the winner of No. 4 seed UCLA and No. 5 seed Saint Mary's. But no matter what happens in the City of Brotherly Love, no Tar Heel fan will forget what just transpired in the Lone Star State. As Hubert Davis said, the players on the court will have one heck of a story to tell.
But for now, this sportswriter has to atone for one final error.
Final in Fort Worth.
Advantage: Carolina.
Featured image via Todd Melet. For a complete photo gallery, click here.
---
Chapelboro.com does not charge subscription fees, and you can directly support our efforts in local journalism here. Want more of what you see on Chapelboro? Let us bring free local news and community information to you by signing up for our biweekly newsletter.