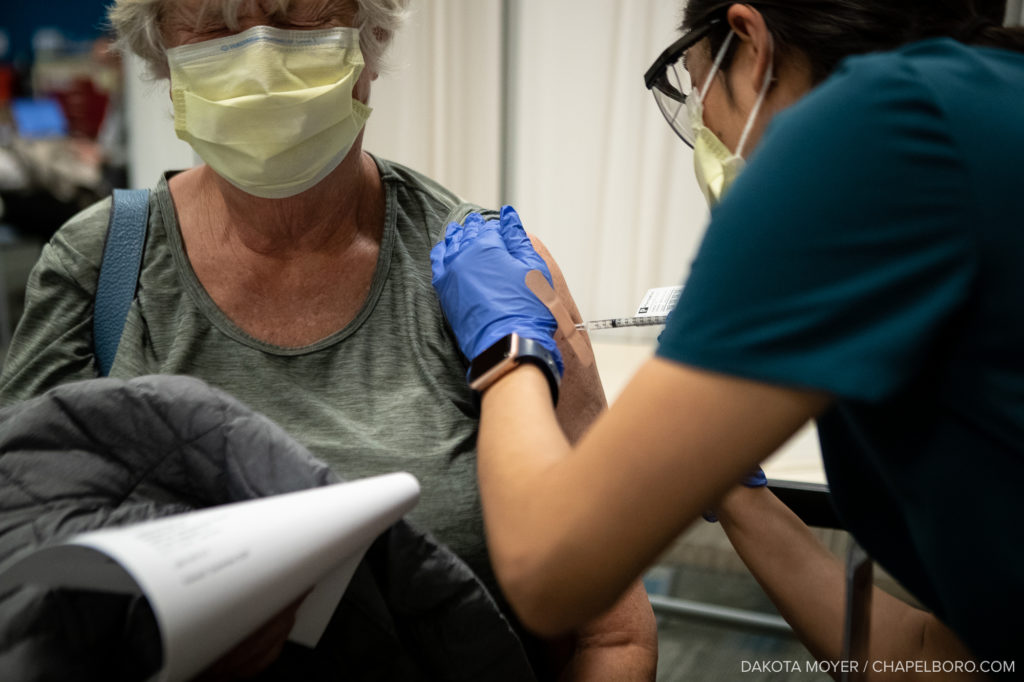 Update: On January 15, North Carolina health officials revealed that they are changing their vaccine distribution plans to mirror guidance from the federal government. The phases for which people will be eligible to get their shots have now been changed to five "groups." Residents 65 and older are now eligible to get their vaccination under current Group 2 guidelines. 
---
This week, UNC Health opened more than a dozen clinics across North Carolina to provide COVID-19 vaccinations.
Most of the appointment-only sites, including the largest one at the Friday Center in Chapel Hill, opened Monday. Each site began administering vaccines to people in Phase 1B, Group 1 – which includes anyone 75 years and older.
Janet Hadar, the President of UNC Hospitals, said the beginning of this community vaccination process is a big "turning point in the pandemic."
"We've been feverishly working to vaccinate our workforce and our providers and now it's time to start with the community and UNC Health is doing its part and making sure that our older North Carolinians get vaccinated," Hadar said. "UNC faculty and physicians have put together this tremendous operation at the Friday Center with so much collaboration with community support, university support and we are tremendously grateful."
This week we opened more than a dozen clinics across NC to provide #COVID19 vaccinations. These appointment-only sites are part of our broader effort to combat #coronavirus. #ThisIsYourShot #NCstrong

For COVID-19 vaccine info: https://t.co/1sH7qPvENHhttps://t.co/lQaOJXaEJ5 pic.twitter.com/v9GNfIgO8T

— UNC_Health_Care (@UNC_Health_Care) January 13, 2021
UNC Health officials said they have over 500 volunteers assisting with vaccinations and registration at the Friday Center – helping to walk vaccine recipients through the inoculation process.
Orange County resident Nancy Raimondi is 82 years old and was one of the first to receive her COVID-19 vaccine on Monday.
"I think it's really important that older people can get it first because they're most susceptible," Raimondi said. "Secondly, because I feel that it's just worth keeping older people with a lot of wisdom and experience alive. A lot of them have struggled to get to this point so I think anything that can be done to make it easier for older people is wonderful."
According to UNC Health officials, the healthcare system is currently only administering the Pfizer vaccine, however there is discussion about moving to the Moderna vaccine in the near future.
Since initial distribution began last month, UNC Health has administered nearly 30,000 doses of the COVID-19 vaccine, including more than 6,000 second doses to Phase 1A frontline healthcare workers.
Elizabeth Ramsey, the Director of Business Operations for UNC Faculty Physicians, said they hope to increase the number of inoculations as more vaccine supply becomes available.
"We are expecting to ramp up to about 600 patients per day here at the Friday Center this week," Ramsey said. "We'll be able accommodate about 1,500 patients once we're full speed ahead."
Special thanks to @UNC_Health_Care for allowing me access to document vaccinations in progress today at the Friday Center.

Judy Kane was kind enough to let me tag along as she received her first dose of the Pfizer vaccine. pic.twitter.com/brj1IFjjrh

— Dakota Moyer (@DakotaMoyer) January 13, 2021
Registration for Phase 1B opened last Thursday. After only 24 hours, more than 4,200 Orange County residents had applied to receive the COVID-19 vaccine.
UNC Health requires anyone who is eligible to be vaccinated under Phase 1B, whether they are a current UNC Health patient or not, to schedule an appointment at UNC Health's COVID-19 Vaccine Hub.
For more information on who is eligible to be vaccinated under Phase 1B, and to find out where to register, click here.
Chapelboro.com does not charge subscription fees. You can support local journalism and our mission to serve the community. Contribute today – every single dollar matters.