The perfect storm lasted less than 24 hours, hopefully longer.
By 10 pm Tuesday, the basketball Tar Heels had ended the most embarrassing three days in N.C. State history by scoring the most points ever against the Wolfpack, which the previous Saturday had scored the fewest points ever in a 47-24 home loss.
Twenty-four hours after that blitzkrieg, the raucous return of Mack Brown concluded with a National Signing Date party for donors and season tickets holders that had to rival anything he had at Texas except maybe for ESPN coverage. Now, with 24 recruits in the fold, the work for the 2019 season begins for the 67-year-old head coach.
That high-energy party in the Blue Zone that Butch Davis built before he crossed too many lines at UNC was one symbol of what a difference 20 years makes since Brown last coached here. He finally moved into the office at Kenan Football Center that he built in 1997.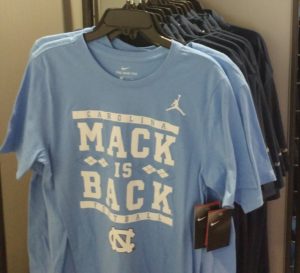 "You know why Mack can do it here?" asked honored basketball alumnus Lee Shaffer, whose son by the same name was an All-ACC linebacker for the Tar Heels in the early '80s. "Because he did it at Texas and knows what it takes."
What it takes is a great coaching staff under a Hall of Famer that signed a remarkable recruiting class in just two months, including two in-state flips, a quarterback from Florida State and a wide out from Penn State. That staff includes two of Brown's former players and an assistant who coached tight ends that played a total of 62 seasons in the NFL. And another assistant who says Brown changed his life after coming up from the dirt with a "Let's get this work" video that went viral from a meeting with their new players.
Brown's staff is made up of go-getters from winning programs at Army, Texas A&M, Auburn and Ole Miss, plus two fellow "senior" sounding boards and ex-colleagues for the CEO/head coach two years after he became eligible for Medicare. Brown has already made it clear to all pertinent parties that he will only spend time and effort on what will help his program win and raise money for UNC.
"We're here to win," echoed one of the assistants after which Brown countered to the crowd, "The staff is confident. You have them for a day. Now we have them every day."
Keep the storm brewing, coach.
Podcast: Play in new window | Download