Carolina and Virginia have a historically close football series.
Saturday night, under the lights, the Tar Heels and Cavaliers will play for the 124th time, which is the oldest rivalry in the South and second oldest in the nation behind Minnesota and Wisconsin (who have played 127 times).
This will also be the 47th meeting at Kenan Stadium, which was dedicated on Thanksgiving Day of 1927 with a 14-13 win over UVa. The next year, President Calvin Coolidge and his wife attended the Virginia-Carolina Thanksgiving Day game at UVa's Lambeth Field, where the grandstand only sat 8,000 and additional temporary bleachers helped hold the overflow crowd of nearly 20,000.
Should we be surprised that when Virginia first built Scott Stadium, it used Kenan Stadium as its model?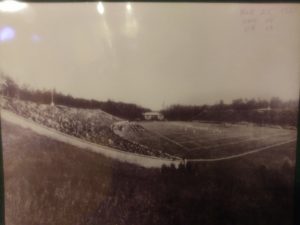 UVa was founded by Thomas Jefferson, the third U.S. president, and later Woodrow Wilson attended Virginia before winning the White House. James K. Polk, of course, had gone to UNC years before his presidency. Virginia had its writer-in-residence, William Faulkner, and Carolina had Thomas Wolfe.
UNC-UVa is not only the longest but most competitive rivalry between original and remaining members of the ACC. Carolina leads the series 64-55-4 in its record book but the Virginia annals have it 63-56-4. The discrepancy stems from the 1956 season, when the ACC forced UNC to forfeit all its games.
Whatever the Tar Heels did, it obviously wasn't bad enough to scrub the official stats. The seven-or-nine-game spread is much closer than the plus-21 wins Carolina has over Duke, the plus-30 over N.C. State, the plus-34 against Wake Forest and the minus-18 with Clemson.
The Tar Heels lost the most recent home game to the Cavs in 2017 after beating them three straight at Kenan earlier in the decade. In his first stint at UNC, Mack Brown went 3-2 against Virginia at home and 0-5 up there, including that 1996 gut-wrenching 20-17 loss by a top-10 team hoping for a New Year's Day bid in the old Bowl Alliance, prior to the BCS and College Football Playoff.
In this year's renewal, Virginia will wear blue helmets and all-white uniforms while Carolina goes back to its traditional light blue after the full Navy look against Duke. The Cavaliers are 5-3 and looking to secure their third straight bowl bid for the first time since the 2005 season. The Heels, 4-4, are a slight favorite over a team that demolished Duke in Charlottesville just two weeks ago.
Virginia is playing its sixth night game of 2019, setting a program record for most in a single season. Saturday marks the first night game of the series history in Chapel Hill. Carolina is 1-1 in night games this season unless you include Duke, which ended after nightfall on the last play.
Podcast: Play in new window | Download