Against steep odds, the ACC makes a bold — and maybe historic — move.
As we've been speculating for a month, John Swofford leveraged his relationship with Notre Dame to come up with a creative format for 2020, which if the pandemic allows, makes for a helluva football season.
First off, the ACC commissioner played his most logical hand by getting associate member Notre Dame to join league play for one season and convincing the Fighting Irish leadership to split their home game TV money from NBC with the rest of the conference. A fair trade, which could portend permanent football membership.
By going to a 10-game-conference-plus-1 schedule, division play is scrapped for this season and 15 ACC teams will vie to finish first or second and reach the championship game in Charlotte on December 12 or 19. The scope of the season will run 13 weeks, each school getting 2 off weekends for any virus-related adjustments.
Every team gets rescheduled to play 10 conference games, plus one non-conference with an opponent in its own state, preserving rivalries Clemson-South Carolina, Florida State-Florida and Miami-Florida, Georgia Tech-Georgia and Louisville-Kentucky. Look for UNC to schedule a rematch with App State for its plus-1.
The exact schedule will be announced in a couple of weeks, but we got ahold of a 2020 model for the revamped season, showing the tentative match-ups for every ACC team. Keep in mind, this could change, but right now, as listed, Duke loses Pitt and Miami from its original 2020 slate and adds Boston College, Florida State and Syracuse. Duke was already scheduled to play at Notre Dame.
N.C. State has perhaps easiest shake-up, losing games at Louisville and Clemson, and a home date with BC, adding Georgia Tech, Miami, Pitt, Virginia and Virginia Tech but missing Notre Dame, which had six ACC games previously slated and added four more.
The biggest news on that front concerns Carolina, which is dropping scheduled outside foes Central Florida, Auburn, James Madison and UConn plus regular Coastal rival Pitt, and picks up a trip to Florida State, and home games against Syracuse, Wake Forest and, as we predicted, Notre Dame in Kenan Stadium. And you can almost bet that will be the ACC opener somewhere between September 7 and 12 on ESPN or NBC.
Of course, all 15 ACC teams must find a way to beat the virus.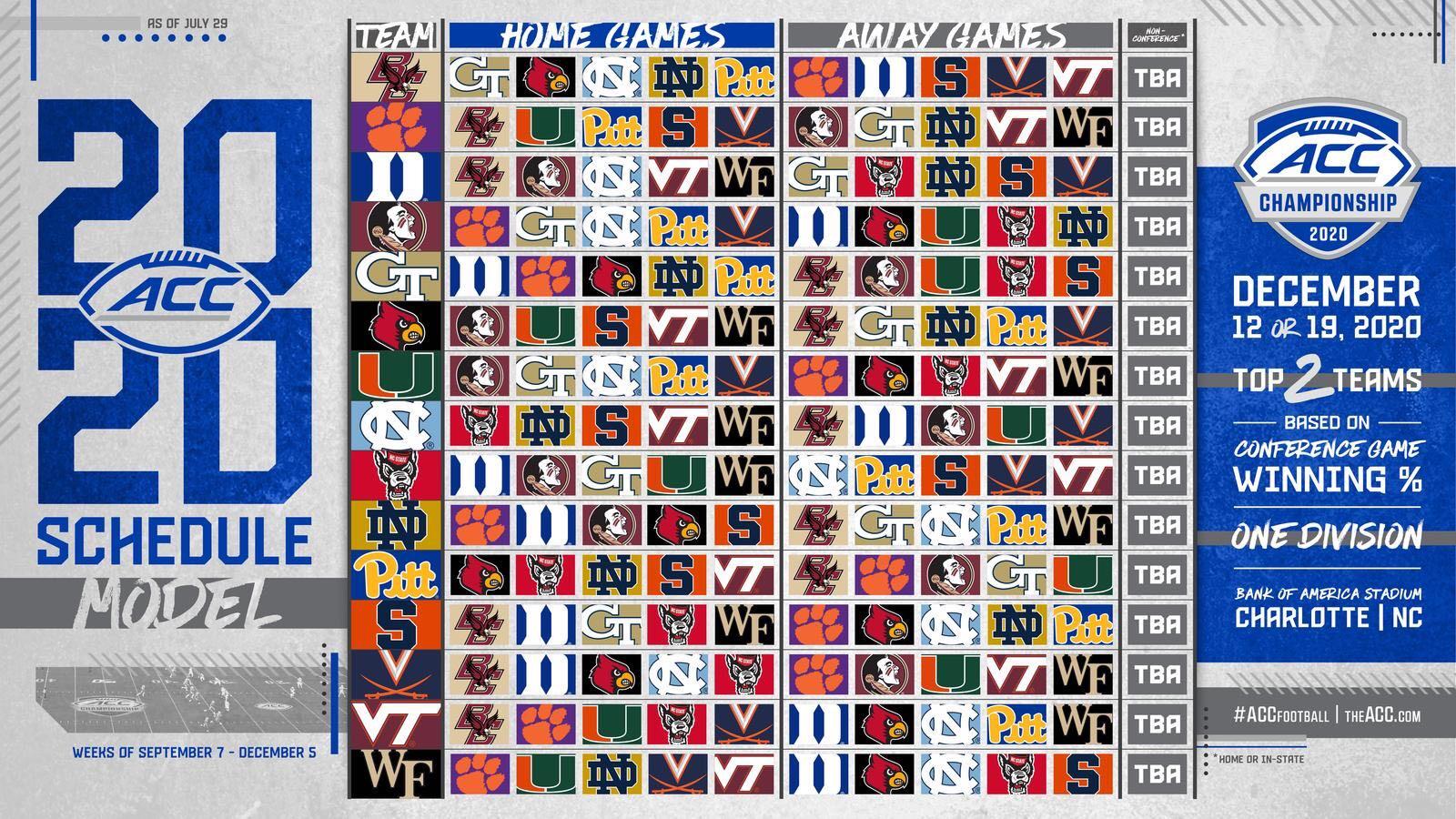 Chapelboro.com does not charge subscription fees. You can support local journalism and our mission to serve the community. Contribute today – every single dollar matters.
Podcast: Play in new window | Download