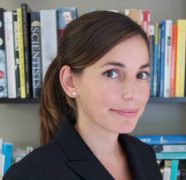 Tune in to Focus Carolina during morning, noon and evening drive times and on the weekends to hear stories from faculty members at UNC and find out what ignites their passion for their work. Focus Carolina is an exclusive program on 97.9 The Hill WCHL, sponsored by the University of North Carolina at Chapel Hill.
---
Dr. Allison Aiello is a professor of epidemiology at UNC's Gillings School of Public Health. With flu season right around the corner, her research helps us understand how the flu spread and what social factors determine who gets the flu.
"One area of our research focuses on ways to prevent infectious diseases in the community setting and tracking of infectious diseases in the community setting. We look at many different infectious diseases, but we've really focused on influenza and other respiratory infections. We've run a number of studies where we've used what we call non-pharmaceutical interventions to prevent the transmission of respiratory infections."
Part 1:
---
During flu season, one of the most common factors in spreading the disease is contact with other people. Dr. Aiello was crucial in developing a smart phone app that helps researchers study how the flu spreads. When two people with the smart phone app are in close proximity, the phone uses Bluetooth to recognize the other person and a survey pops up on the phone that allows people to describe what kind of interaction occurred.
"When we started to look at this smart phone app data and all of these interactions between individuals, we were really able to visualize the extent of missing information that we had on interactions much more often than they are able to report on a survey or remember on a survey. That was really important information for us, because if we really want to cut down on influenza in the community setting then we need to truly understand the extent of interactions that people have in the community setting."
---
Featured image via UNC-Chapel Hill