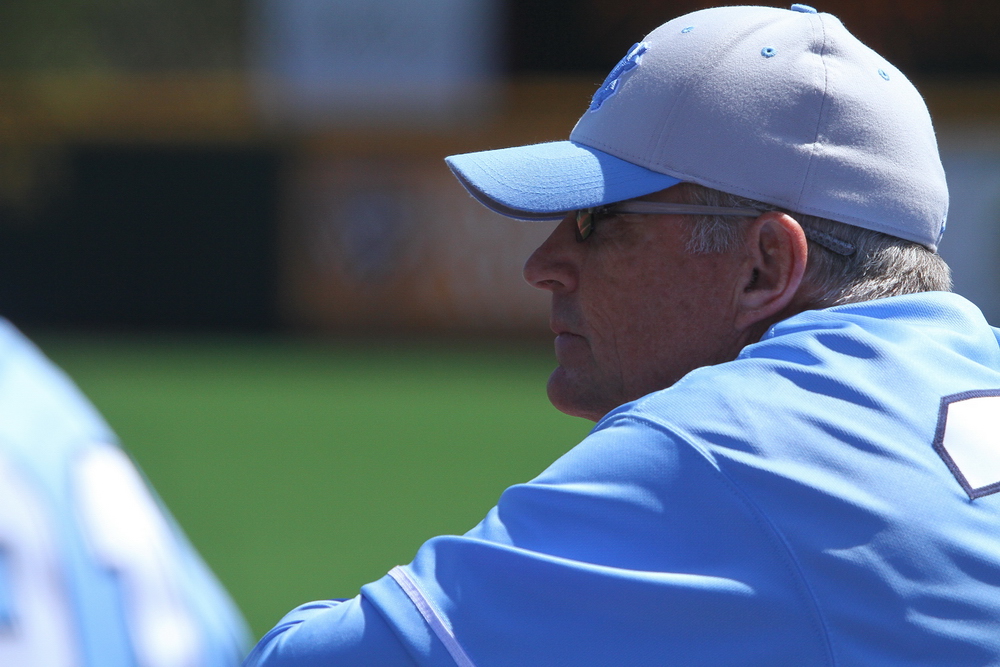 As fall ball and the first days of school start up again for the Diamond Heels, Rogers takes a look at the State of the Program with Head Coach Mike Fox.
In one of his final press conferences of the 2013 season, UNC Baseball Coach Mike Fox remarked that "the end of the year always hurts…it never gets any easier." This wasn't an earth-shattering quote. Anyone who has played or follows sports knows the feeling. What was interesting about Fox's comments, however, is that they came after a win for his ball club. One might expect a different sound bite after a Super Regional that would send his team to — yet another — College World Series.
Perhaps Fox was sympathizing with the losing squad, the South Carolina Gamecocks — coached by Fox's friend and former assistant, Chad Holbrook. There's likely some truth to that. Having been there before, Fox was no doubt ultra-aware of the pain that comes with losing on that stage. But even Holbrook himself remarked in his postgame quotes that he already owned two national title rings and smirked, "I'm a big boy, I'll be fine."
Much more likely is that Coach Fox was simply offering a metaphorical glimpse of where he has taken his program — to a level where all the games at the end are big. And they can all hurt.
The roaring success of Carolina Baseball over the past decade (the winningest program over that span) can no doubt be a double-edged sword. Victory brings expectations. Success breeds demands. It's a paradox in a way — especially for the fans. The more you win, the more it hurts when you lose. No one remembers the end of a mediocre season.
Of course, this is a dilemma any program would accept. "It's better to have loved," after all. But that doesn't make it any easier. And it certainly doesn't make it any easier on the head coach himself. Fox has produced a #1 ranked team in almost every season for seven years, and in a backwards fashion that success somehow brings as much scrutiny as it does praise. The head coach was questioned over his pitch count management last season even though he has been putting pitchers into the big leagues over the last decade seemingly at the rate Carolina Basketball sends point guards to the NBA.
Fox has even attained the status of what might be the most gratifying criticism there is for a head coach: having not won "the big one." It's almost flattering — the media's way of saying you've become so successful that they're going to start nitpicking everything about you just to find a story. It isn't much different from when Tyler Hansbrough had become so unstoppable in college basketball that pundits started criticizing the prospects of his professional career that hadn't even happened.
But if you know Coach Fox, you know this criticism means nothing to him. He's just happy to be there — at that level. That's all he talks about, "just be there, and we'll have a chance."
That kind of attitude takes discipline, which the coach has earned over a long career. He started at second base for the Tar Heels from 1976-1978 (helping his team to a College World Series) and played a year in indy pro baseball. While at UNC he even played on the jayvee basketball team.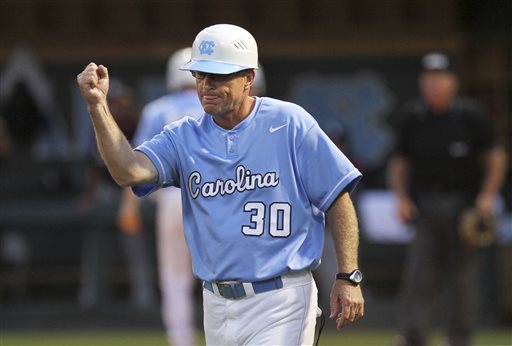 In 1979, Fox came back to UNC as a graduate assistant, where he crossed paths with another future Tar Heel head coach, Roy Williams, who was an assistant to Dean Smith at the time. It might be from Williams where Fox learned to tune out criticism and simply coach his team.
"Mike and I have a great relationship — we both love Carolina and UNC athletics. I'll always support and help his program." – Roy Williams
There are a lot of similarities between the close friends: the same stubbornness, the same ferocious intensity in anything resembling a competition. Williams' competitive fire is no secret, and there are enough stories floating around Woolen Gym of Mike Fox's intensity in pickup basketball games to believe that at least a handful have some truth to them.
"A lot of my coaching comes from my playing days in basketball and baseball. Being undersized, I always had to be aggressive. I think a coach's mentality always stems from his past." – Fox
Specifically, both coaches' programs are renowned for their relentlessly aggressive tendency to put points and runs on the scoreboard — and often lead the nation in those categories. It's a major reason they're both such great recruiters (Newsflash: athletes like scoring). Fox and Williams each have the same mindset in coaching: they'll absorb a few turnovers (or throw-outs at home) if it means having a deadly offense. Fox writes notes to himself before every game based on his competition, but one is always the same: "Be aggressive." He wants his kids pushing the envelope, and you can't argue with the results.
"Kids want to be aggressive and run bases — we encourage that. They like to play that way, and we try to allow them some freedom in the batter's box." – Fox
Coach Williams' philosophy isn't much different, both while running his team and even when watching the Diamond Heels. "I love it when [Coach Fox's] teams take the extra base, hit and run, and put pressure on the other team's defense," said Williams.
The aggressive nature of Fox's game plan invades all aspects of his coaching. Like most successful coaches, he does everything with an underlying intensity and focus. This can be off-putting to the media and pundits at time, but this attitude endears a coach to his players. And of course that is what makes a great manager and brings players to a program.
When Fox gets a runner thrown out by (mistakenly) telling him to round third base, you could argue he made a poor decision. But what does this say to the player? "My coach believes in me. He thought I could make it."
"I think our style really loosens kids up and allows them to play better. I never want errors or outs, but once you build that trust, giving them the green light frees them up to make plays." – Fox
Chase Jones came into UNC's program in 2006, just when Fox was starting to take over the ACC and make Omaha his yearly vacation spot. Having had a few years to reflect on Carolina Baseball's success since then, Jones' comments on the state of the program had more to do with Fox and his players than on any win-loss records:
"He's so great off the field," Jones says. "He builds you up after a loss, and has no problem chewing you out after a win, like all the great ones. He's always telling us: Be aggressive. Fine, get thrown out, but always be aggressive. Go for that extra base. Go for home. "
"Coach instills confidence in his players." – Jones
When asked about Fox and UNC Baseball finally having an ending to a season that doesn't "hurt," Jones said what everyone who has played on that stage knows: "It's basically a crapshoot at that level. You hope your pitching is there, you hope your bats are there. But the real key is just being there — eventually it will happen."
And if you know Mike Fox, you know he understands. He says it nonstop, "We just want to be there."
Of course, this is also an aspect of coaching Roy Williams knows a thing or two about:
"I remember Coach Smith saying in 1982, ten minutes after the national championship game was over, that he didn't think he was a better coach than he had been two and half hours ago just because we had beaten Georgetown. I made the same statement in 2005 after we beat Illinois in St. Louis. Mike Fox is a fantastic coach… He is winning so many games and I want him to keep knocking on that door for a national championship… and one of these days, he'll win one." – Williams
As Jones says, "Omaha is no longer the vacation spot. It's the standard."
Photos courtesy InsideTheACC.com, and AP Wire