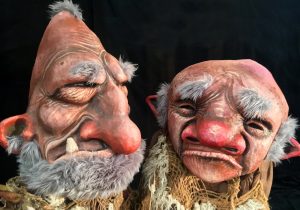 This edition of "This is Tourism" includes a conversation with Donovan Zimmerman, co-founder and director of Paperhand Puppet Intervention. Paperhand is a legendary local art collective that puts on annual shows and celebratory performances that have been delighting (and inspiring) audiences since 1998.
Through pageantry and puppets, the award-winning shows put on by Paperhand are meant to spark creativity and positive change through sheer spectacle and storytelling. The show this year is titled "In the Heart of the Fire," and explores the paradoxical gift of fire and the necessary questions that make us human. The story spans from fire itself to giants and trolls, to tricksters and the human heart, and incorporates myths from around the world in one theatrical tapestry playing out on stage.
Diverse styles of puppetry and art infused with love for the Earth and all its creatures leads to the synthesis of many art forms including — but never limited to — sculpting, painting, dance, music, improvisation, costume design, set design and beyond.
Podcast: Play in new window | Download