"Top Gun" is a classic Hollywood action flick and everything a summer movie should be, and it'll be showing July 15 and 18 as part of Silverspot's Flashback Cinema series here in Chapel Hill. If you're planning to see it, be prepared for a heavy dose of nostalgia and — of course — speed.
Somewhere between the end of the Vietnam War and the start of the conflict in the Gulf, one fictional Navy pilot felt the need… the need for speed. The year was 1986, and audiences were delighted by the drama and the machismo of a few men with callsigns like Maverick, Iceman and Goose.
In this summer classic, Tom Cruise played Pete "Maverick" Mitchell. If you haven't see the film, Cruise takes on the role of a gung-ho fighter pilot with a clouded legacy. His hot-shot nature and raw skill lands him a spot in the United States Navy Strike Fighter Tactics Instructor program (SFTI), also known as TOPGUN. While Mitchell's story is Hollywood fiction, the fighter school — then located at former Naval Air Station Miramar, north of San Diego — is entirely real. 
"Top Gun" was directed by Tony Scott and produced by Don Simpson and Jerry Bruckheimer. You may know Bruckheimer as the big-ticket name associated with "Black Hawk Down," "Pearl Harbor," "Bad Boys," "Pirates of the Caribbean" or even the recent "12 Strong," a film about Special Forces in Afghanistan after 9/11. Tony Scott also directed "Crimson Tide," another film that brought him together with Bruckheimer.
"Top Gun" may take a slightly lighter approach to the military than "12 Strong" because of where we were in our history as a nation. It was the '80s. We weren't engaged in an overarching military campaign and the Russians were still the bad guys, in so far as they were the ones supplying the Iranians with MiG-28s Maverick engaged in flight.
"Top Gun" was a blockbuster that took a lighter approach to military movies, and a true product of its time. The main conflict portrayed is between Russian-backed Iranian MiG-28s and American fighters, and is more a matter of territory dispute than out-and-out warfare. The intense aerial scenarios in this film belie the fact that it was synth-heavy songs like "Danger Zone" and "Take My Breath Away" — and one iconic game of volleyball –that made this movie truly epic. The film was even awarded an Oscar for original music, specifically for the tune "Take My Breath Away."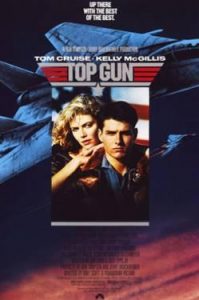 "Top Gun" ranked number one at the box office during its opening weekend, according to boxofficemojo.com, taking in well over $300 million. The movie was partly financed by the United States military in an effort to boost recruitment — a common practice in military-focused cinema. It's a win-win: the movie gains additional insight and opportunities for accuracy through locations, advisers and equipment, and the military reaches an audience that's already interested while also somewhat controlling how it is portrayed. 
Success at the box office and a winner as a recruitment tool may explain why a sequel has long been discussed. After being stuck in development hell for years, the sequel — titled "Top Gun: Maverick" is now officially slated to buzz towers in one year's time on July 12, 2019. Tom Cruise will be reprising his role from the original, alongside Val Kilmer returning to the role of "Iceman."