As of this week, tickets for the 18th annual spring Shakori Hills GrassRoots Festival are on sale — and the fall dates have been formally announced.
This year, the bi-annual festival dates fall on May 7 through May 10 and October 8 through 11 as GrassRoots prepares for 2020. Tickets for the spring festival can be found here, and on-sale information for the fall is forthcoming.
"The festival typically starts the first Thursday in May and October," said David Dean, director of media and marketing, in a press release. "In 2020 it just so happens the first Thursday in May aligns with Mother's Day weekend. Therefore, we are going to raise a glass to moms. Literally! There will be a champagne toast on Mother's Day and, as always, we will offer engaging family programs."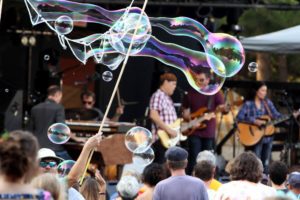 Shakori Hills GrassRoots Festival of Music & Dance is a non-profit event that benefits the Shakori Hills Community Arts Center — which itself is a non-profit. The Shakori Hills Community Arts Center provides free or greatly reduced music and arts programs to rural communities in Chatham, Orange, and Durham counties.
The festival takes place on 72 acres outside of Pittsboro with four stages and an average of 50 acts per festival. Recent headlining acts include Lukas Nelson and Promise of the Real, Galactic, and Steve Earle.