By Casey Mann, Chatham News + Record Staff
The pollinator garden at Chatham Mills in Pittsboro may be an official project for her job, but Debbie Roos also sees it as a personal labor of love.
Roos, the Agriculture-Sustainable/Organic Production Extension Agent for the N.C. Cooperative Extension, has effectively been able to create a botanical garden in — of all places — a parking lot.
Roos works with farmers, bee keepers, forestry and wildlife in her work with the extension service. She began working on the pollinator garden at Chatham Mills 11 years ago. To get it started, Roos was able to find a grant for a demonstration garden. Since then, she and her "amazing group of volunteers" have planted more than 220 species of pollinator plants that produce blooms and habitat for pollinators year-round.
A pollinator is an animal that is imperative for the fertilization of plants that create fruit or seeds. Pollinators carry pollen from one plant to another. Pollinator animals include many species of bees, pollen wasps, hummingbirds, butterflies and moths.
"As we lose habitat to development, people can make a difference on their own patch of land," Roos said.
This is why Roos holds tours of the pollinator garden and workshops for pollinator garden design through the Chatham County Office of the N.C. Cooperative Extension throughout the year. Roos notes that the program is a good fit for her area of work because it's important to have pollinator habitat on farms. What began as an initial project that blended her love of bees, farms, gardening, and being outside, has become not only a significant project in her professional career, but an economic driver for the area. The garden is also her "happy place."
People come from across the state and the region to learn from the pollinator garden and from Roos' work. Her garden tours and design workshops sell out within a day — and she holds at least 18 programs a year. She notes that she had no previous experience in gardening or design, other than a horticulture degree which specializes.
"If I can do it, you can do it," she said recently to tour guests.
The garden is 85 percent native to North Carolina, all organic, hand-watered, and never fertilized. Roos advises tour guests to have at least three or four pollinator plants that bloom each season in their own gardens. There should also be a diversity of plants in terms of bloom depth — both deep and shallow — and in color. Different pollinators gather and distribute pollen in different plants and not all like the same shades.
She also suggests planting everything in the fall in order to prevent the plants from undergoing too much stress. She notes that once the plant is established after the first year, it will only require occasional spot watering during the hottest, driest times of year.
During her tour, Roos is constantly reassuring her guests that gardening is a trial-and-error activity. She shares not only her successes, but the challenges she has faced in the garden. She likes to "share her mistakes" noting that the garden is never done. She's found some plants to be weedy and overtake others, while others may "flop" over, harming other plants, and the urban deer constantly prevent some plants from blooming.
Roos notes that when she started the pollinator garden, it was a thought to blend her interests with her job. However, interest in the loss of pollinator habitat has exploded nationwide, increasing the interest and traffic to the program.
The boom in interest had another side effect that Roos did not expect: an economic impact. Roos calls it "pollinator tourism."
She's found, in talking with local business owners, that when people come to visit the garden, they also spend money in the community. The investment goes beyond just local shops and restaurants. When Roos does a tour, she provides a list of the plants in the garden as well as local nurseries that sell the plants.
"It's showcasing what you can do with native plants purchased locally from local, independent nurseries," she said.
Roos notes that the garden has become a part of the community, owned by the community. Volunteers help maintain the garden as well as provide updates when damages occur. It's something she has found to bring the community together.
"It's amazing," Roos said. "This little garden and the impact it's had. I'm very blessed."
Roos has created several web-based resources for those interesting in learning more about pollinator gardens. Her website through the Chatham County Office of the N.C. Cooperative Extension, and a "What's in Bloom" Facebook page, which is public, contain nine years of photos where flowers and pollinators are identified. It also carries resources including the listing of pollinator plants at the garden and local nurseries where those plants can be found.
Pollinator Garden website: https://growingsmallfarms.ces.ncsu.edu/growingsmallfarms-pollinatorgarden/
"What's in Bloom" website: https://growingsmallfarms.ces.ncsu.edu/growingsmallfarms-bloomlist/
---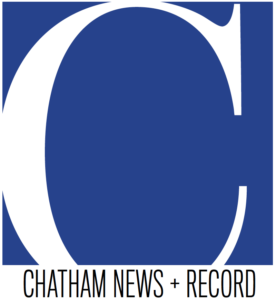 Chapelboro.com has partnered with the Chatham News + Record in order to bring more Chatham-focused stories to our audience. 
The Chatham News + Record is Chatham County's source for local news and journalism. The Chatham News, established in 1924, and the Chatham Record, founded in 1878, have come together to better serve the Chatham community as the Chatham News + Record. Covering news, business, sports and more, the News + Record is working to strengthen community ties through compelling coverage of life in Chatham County.