As authorities continue to search for Eno the Emu, local residents are embracing the craze that has surrounded the recently nationally-renowned bird.
The 5-foot, 100-pound emu has eluded authorities for nearly two months. Sightings of the bird first began in Chatham County in July and the emu — who boasts several thousand followers on fake social media accounts — moved north into Hillsborough and Orange County shortly afterwards.
So far, animal control specialists have failed in their efforts to capture the bird. Emus can run up to 30 miles per hour and have sharp talons, both of which make Eno a difficult target. The bird has been spotted on more than one occasion in Orange County, but has managed to escape authorities before capture.
The tale of Eno the Emu has made national news, with CNN, the New York Times, and Fox News all highlighting the story.
The Expedition School in Hillsborough has found a way to turn Eno the Emu into a teachable moment.
A video shared by the school showed Kindergarten students learning about emus and conducting a "search" for the flightless bird across their school grounds.
"This fun, local phenomenon of an emu on the run was a great opportunity to engage the natural curiosity of our Kindergarteners," said Trevia Woods, a Kindergarten teacher at The Expedition School, in a release. "We've been reading fun books about emus, learning natural science in a hands-on way, and engaging the critical thinking skills and imaginations of these sure-to-be future detectives."
The Chapel Hill/Orange County Visitors Bureau has also found a way to incorporate Eno into their ad campaigns.
---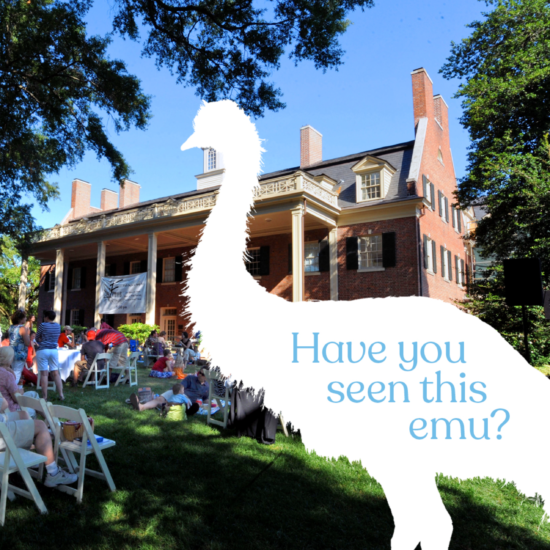 ---
A release by the Visitors Bureau said that including Eno highlighted that "Chapel Hill and Orange County are places for everyone — regardless of who (or what!) you are or interests you."
The ads — produced by Raleigh-based design agency Clean — will be running in addition to the Visitor Bureau's regular social campaigns.
JC Consignment in Hillsborough is also selling t-shirts declaring Eno the "Hide and Seek World Champ." According to a Facebook post, a portion of the sales will go to a local charity.
Despite frequent appearances from the flightless bird, residents are urged not to approach it. Emus are not aggressive by nature but can be dangerous.
So far, no one has come forward to claim responsibility for Eno. Emu farms are scattered throughout the state and Animal Services confirmed that the escaped bird does not belong to any known emu owners in Orange County.