We hear a lot these days about farmers' markets (particularly in Carrboro), and how we all should buy local and eat local. This is a great idea, but it is not a new one. Folks in Carrboro have been doing this since the first community, so this idea was not a foreign one to many early Carrboro folks. Most of these folks left the farm to move into town to work in the mills or as a tradesman at the University. Mill work was hard, but it paid much better than farming and was not dependent on the weather. They came to town equipped with the skills they needed to be successful backyard gardeners. They knew how to prepare the soil, what to plant and how to care for it.
I remember this being the case all over town in the 1950s when I was a kid. Most every home in the town had a backyard garden. When I was growing up, my family lived on Weaver Road, now known as West Poplar, and we always had a garden in the Spring and Summer. Every Spring we went to Andrews-Riggsbee Hardware (now Open Eye) or the Farmers Exchange (now Southern States) to get bedding plants and stuff we needed to put in the garden. We also had apple, pear and cherry trees in the field in front of our home. If you were a really serious small farmer, you could even buy a Ford tractor and implements at Andrews-Riggsbee Tractor, in the same building as their hardware store.
Carrboro didn't have a patent on backyard gardens. Many Chapel Hillians also had gardens in their backyards. My Dad, Carl Ellington, said that the hillside between N. Hillsborough Street and N. MLK Boulevard was a working farm with corn fields and farm animals when he came to town about 1922.
Many backyard gardeners also reserved a spot in the yard for a few chickens. My family had some chickens when I was a kid – many folks called them "yard birds." Chickens will eat anything they find in the grass, including bugs, seeds and anything else that isn't glued down.
These birds were useful in several ways. They provided fresh eggs that would feed the family. Chicken "poop" was valuable as an all-natural fertilizer for the garden. In fact, it had to be left alone to "rot" for a while because chicken manure is so high in ammonia content that it will damage garden plants if applied to the garden while it is still too fresh.
The birds also provided fried chicken for Sunday dinner and chicken and dumplings for supper. The chickens were usually slaughtered when they got too old to lay eggs. Many backyards had a tree stump and hatchet that served to dispatch the bird. Other folks would snap the chicken's neck. I remember hearing about "wrenching" their necks.
I remember my Dad telling me that in the 1930s there was a community pig pen between Lindsay Street and the current Carrboro Elementary School location. My Mom and Dad lived on Lindsay Street when they were first married. He told me that lots of kids in town had the chore of "slopping" the family's pigs after supper. I don't know if my family had a pig there, but they did have a pig pen when they moved to Weaver Road. We always had two pigs, one from last year and one from this year. That way, there was always a two-year-old pig ready for slaughter in the Fall. We did it in the late Fall because it was traditional to kill hogs in cold weather. It was an all-day job, even when the neighbors chipped in.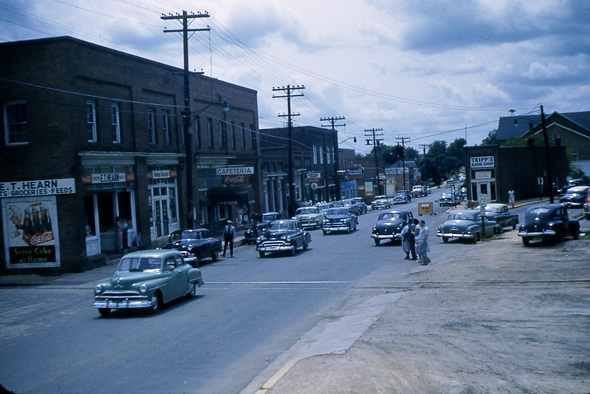 If you didn't want to grow your own food, you could buy locally-grown produce and fresh meats at a number of locally-owned-and-operated grocery stores in Carrboro and Chapel Hill. On Carrboro's Main Street alone, there was the Carrboro Cash Store, located where Jesse Kalisher's studio now sits, and E. T. (Ernest) Hearn's Grocery, now Armadillo Grill. Next door was Powell's Grocery. Sturdevant's Grocery did business where Weaver Street Realty is now located. L. D. (Lennie) Hearn Grocery and Andrews-Riggsbee Grocery were located where Tyler's Taproom now sits. Across the street was Hardee's Grocery (now Cliff's Meat Market), and Thrifty Food Store did business at the original Carrboro PTA Thrift Shop site. Chapel Hill had locally-owned-and-operated Fowler's Food Store. I'm sure there were more, but I can't remember all the store names. I grew up in Carrboro, and that's what I know best.
Also, some local farmers would bring farm-fresh goods into town and sell them out of the back of their trucks. You couldn't get it any fresher that that!