HRC Annual Community Read: Matthew Desmond's "Evicted"
By Joy Preslar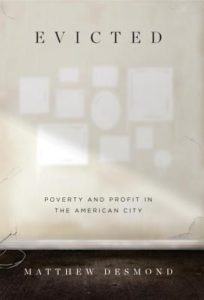 The annual Human Relations Commission Community Read will focus on Matthew Desmond's national bestseller, "Evicted." This page-turner struck home for me. In my teens, I worked third shift in a cotton mill and paid for my own duplex/mobile home/apartment from which I was evicted seven times. The basis for my eviction was not due to non-payment. I believe they were all racially-motivated, as I am a white woman who worked with African American women. These women became my friends. I invited one young woman and her child to visit my home. She was the sister of a black, gay man who was also a close friend, and I treasured their friendship. It was no big deal to have her come to visit — or so I thought. I often got little to no notice that I was put out, and on one occasion I was out with friends at the local lake to return and find all my belongings on the sidewalk. My custom tie-dyed curtains were cut and hanging on my neighbors' window.
Our town was the county seat, and it was relatively urban. We had all shared grief at the assassination of the Reverend Dr. Martin Luther King, Jr. We had gone to school together, blacks and whites, and I thought the racial balance was long overdue. I thought we would all live and work out our cultural diversity as individuals. I was young and idealistic, and I was soon re-educated.
The eviction process was not carried out in the same way that late rent eviction would have been done. I was told to vacate immediately.  I was forced to move my starter furniture, stereo and clothes out. I was fortunate in that I had not yet become a mother. After my child was born in Washington, DC, I moved back to North Carolina to my grandmother's home. I got our own place, and went to work to pay rent. I was unable to do the juggling necessary though, and faced eviction yet again. I fell back on my family and friends. This book brings back those harsh memories; it has been a challenging read as I still I feel fortunate that I had support. The stories of families uprooted, children made homeless and women at their wits' end are happening all the time.
"Evicted" is the story from one city — Milwaukee, Wisconsin. However, it could easily be Orange County and tell the stories of our towns and residents. The scope of the need for decent, affordable housing has changed immensely in this country in the last 45 years. Rent is unbelievably high. I once worked for minimum wage at $1.90 per hour and an apartment could be found for under $200.00 a month. In today's economic climate an apartment is easily $1,000.00 a month. There are social programs to subsidize housing, but the waiting lists are long and the rental units are scarce. According to Poverty USA, there are 40.6 million poor (earning less than the federal government's official poverty threshold of ~ 25,000 for a family of four) people in the U.S. Our nation is in crisis mode without any legitimate sense of urgency to alleviate this societal ill.
I am fortunate. I bought a mobile home and found a lot within the bus system, so I was not homeless with my child. I was able to change my situation. I have not forgotten those who have not been able to rise above the conditions. I have many female friends who struggle every month to feed, house and clothe their children. Those who have comfortable homes with money left over each month cannot imagine the constant juggle entailed in maintaining a household. Without a helping hand, many would fall between the cracks. It is so important to keep our community members in mind who do not have access to resources that can keep them from even worse outcomes. We need to continue to ask the questions that provide an analysis of why there are so many poor and homeless people in our county and in America. That is what makes us a civilized society, how we treat our elderly, our disabled and our poor. A capitalist society does not have to be a heartless society. Remember those who need a hand. This book is a reminder that bears the time it takes to read it. It will make you feel blessed, and perhaps sad for the inequities that exist in such a wealthy country.
---
This monthly column is a co-operative effort between Chapelboro and the Orange County Human Relations Commission to recognize and address issues in Orange County and promote the equal treatment of all individuals. The OC HRC works for preservation of justice and dignity, prevention of public and domestric strife and protection of residents' lawful interests so that everyone can reach their full productive and creative capacities.
Note: Each HRC perspective is the opinion of the writer and does not necessarily reflect the position or values of the entire Human Relations Commission.