Real Discussion in the Age of Strife and Fake News
By Matt Case, Human Relations Commission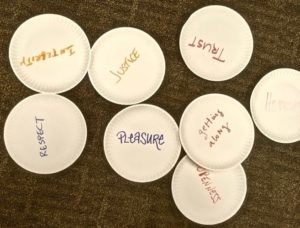 We sat circling the words, written in different colored markers on paper plates on the ground. "Openness." "Respect." My word was "Justice." Each of us had contributed one value relating to the discussion topic: economic inequality. I had just met these people an hour earlier. When I looked at their values on the floor alongside mine though, I was struck by how their values were also mine.
And then the discussion began.
Twenty-five people convened in Carrboro last month to experience a group facilitation technique called Leadership Dialogues. This approach is designed to create a unique opportunity for people to improve their understanding of each other and to learn how someone else's viewpoint might differ from their own on an issue of mutual concern. Since its inception in 2017, this project has been assisting conversations in places like Chapel Hill (Silent Sam), Fayetteville (intergenerationality), and Durham (equity and tolerance).  It has been so successful that it caught the eye of North Carolina's flagship mediation center, the Orange County-based  Dispute Settlement Center. The Center recently offered to adopt the project through a commitment of staff and resources to make Leadership Dialogues available to communities across the state.
Leadership Dialogues was curated by Linda Low, as part of her Rotary Peace Fellowship at Duke University. A native of Canada, Low had spent six years with the International Red Cross deployed in disaster-torn areas in multiple countries.  She thought she had seen the worst of human conflict and looked forward to coming to the USA and "landing in a place where I could feel relatively safe in a developed context, a more peaceful environment." When she arrived just months before the 2016 presidential election, she was shocked to find an environment that was "angry, emotional and toxic … with an underlying tension that was running through my campus, my community and across the country." She came to understand that "at the heart of this was this inability to have hard conversations." Low came to believe that as the United States goes, so goes the world. "I'm very committed to reducing divisiveness here in the US, because I believe that what happens to America happens to the world."
As part of her fellowship, Low spent the next year asking over 100 community leaders, policy makers, and professional mediators "what makes effective dialogue?" What she discovered were "unique and immersive facilitation techniques that guide people into having substantive and meaningful conversations with people in a very non-confrontational way. We are still talking about hard conversations, but the way we step into the conversation is very different."
For our group, one exercise had us pair up and interview each other about how economic inequality had impacted us directly. We then reconvened in the larger group and told our partner's story out loud from his or her point of view, even using the pronoun "I." In my case, Linda was my partner, so I started her story with, "Hi, my name is Linda…" Our group learned many lessons:
Knowing you are going to re-tell the story makes you listen deeply when it is being told to you;
telling another person's story helps you get closer to imagining what their experience might be like; and
hearing your story told by another person increases the chance of providing a perspective on your own experience – and perhaps a little validation as well.
Indeed, participants in our group and those before us have expressed resounding appreciation for the model. (Here is a short video about the N.C. State University and Duke University dialogues.)
But why are we not able to regularly communicate more deeply? Low says these types of conversations require time.  They are scheduled for a minimum of two or four hours, and are most effective in half-day or two-day sessions. "If you can't make the time to have these conversations you won't have them… If we could build more time for them in the way we live our lives, socially and structurally, that would be a huge lift to the national and local conversation."
Orange County, not unlike many other locales, needs more critical thinking and conversation. The Human Relations Commission provides opportunities for us to come together to learn, share, and challenge ourselves with varying perspectives. The annual Community Read and Forum are two HRC events that spark curiosity, understanding, and dialogue. Our county continues to wrestle with concerns related to equity in affordable housing, criminal justice, economic development, and educational outcomes. Perhaps, Leadership Dialogues will enable us to further identify those common values and angles to unlock creativity and connection to those who are most marginalized and forgotten.
To that end, we should embrace Leadership Dialogues! Please consider becoming a co-facilitator, so the techniques and skills can continue to ripple into the community after the dialogue is over. To make community facilitation training accessible, the Dispute Settlement program offers modest financial honoraria to support people of all economic backgrounds in this effort.
To learn more about Leadership Dialogues, please contact Frances Henderson at the Dispute Settlement Center. fhenderson@disputesettlement.org or (919) 929-8800.
---
This monthly column is a co-operative effort between Chapelboro and the Orange County Human Relations Commission to recognize and address issues in Orange County and promote the equal treatment of all individuals. The OC HRC works for preservation of justice and dignity, prevention of public and domestric strife and protection of residents' lawful interests so that everyone can reach their full productive and creative capacities.
Note: Each HRC perspective is the opinion of the writer and does not necessarily reflect the position or values of the entire Human Relations Commission.