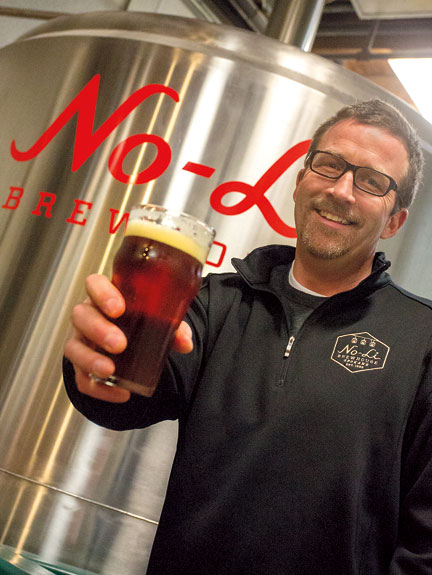 John Bryant smiles when he talks about beer. That's because the Spokane, Washington native has spent twenty-five years in the craft beer industry, feeding his passion for great suds while building lasting relationships.
This week, Bryant is hoping to build a new friendship—not with one person in particular, but with the state of North Carolina. He's hoping that No-Li Brewhouse and its stable of West Coast style beers will resonate with the hopheads of the Triangle.
In fact, No-Li has just received federal approval for the "Spokane Style" beer classification, meaning that particular style must be brewed, packaged, and have its ingredients sourced in the Spokane region. The focus on source of origin is something Bryant and his partners at No-Li hope will prove important and attractive to customers in North Carolina.
Let's discuss the five beers No-Li has brought to NC in its iconic 22-oz. bottles, from lightest to darkest:
Silent Treatment Pale Ale – This is a light ale with a nice hop to it—very drinkable.
Crystal Bitter Ale – It's rare to find an ESB made in the US, so when I do I like to try them. This one is solid.
Born & Raised IPA – This IPA is slightly sweet but hop-forward, with a nice balance and evident dry hop. It's fruity and spicy.
Jet Star Imperial IPA – No-Li's imperial IPA might be my favorite, because it manages to be quite hoppy and clock in over 8% ABV without the alcoholic heat that often comes with imperials.
Wrecking Ball Imperial Russian Stout – Wrecking ball, indeed. Like No-Li's other imperial, the lack of heat makes this chocolaty stout dangerous and deliciously smooth.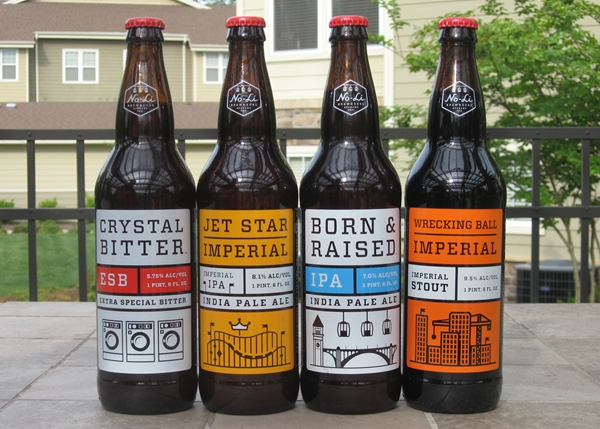 I talked with Spokane natives and Triangle transplants Alisha West and Matthew Borneman at Tuesday's tasting event, held at Bottle Revolution in Raleigh. Drawn here by work, the couple has stayed for the beautiful NC landscape, the amazingly diverse foodie culture and, of course, the beer. Likening the Spokane area to North Carolina, Alisha and Matthew got to experience a bit of nostalgia tasting No-Li's beers, brewed minutes from their alma mater, Gonzaga University.
And as the craft beer culture grows in Spokane, it's booming right here at home in the Triangle. Breweries like White Street Brewing Company in Wake Forest, Trophy Brewing in Raleigh, and Steel String Brewery in Carrboro are popping up all over the Old North State and making a go of the craft beer business boom we've seen in recent years. No-Li and its Washingtonian following see a connection with the Triangle—an emphasis not just on great beer, but on local beer.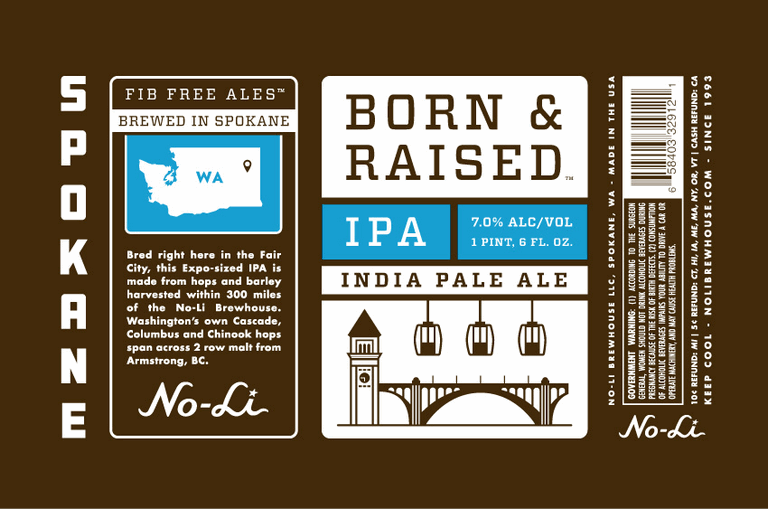 One of the greatest compliments that could be paid to the craft beer scene in North Carolina is that out-of-state breweries like No-Li are vying to enter our marketplace. Bryant's experience with breweries like Oskar Blues taught him about the consumer base in North Carolina, and gave him an opportunity to travel our fine state. When it came time to expand No-Li's distribution, he knew where they were headed. Bryant acknowledges, "a key reason why we're coming to North Carolina is that we want to put No-Li beers in front of some of the most educated beer connoisseurs in the country."
So if you'd like a taste of Spokane without the long flight, visit your local bottle shop and try some of the brews No-Li has to offer. But if jet-setting is your thing, rest assured—you'd feel right at home in Spokane.
Learn more about No-Li at nolibrewhouse.com.
Photos courtesy No-Li Brewhouse