David Drake almost missed our interview.
Although the incident occurred two weeks before we met, Drake was directly involved while riding one of his three motorcycles. As we discussed the crash, Drake casually stated that being rear-ended on his bike was one of the ways he thought he might die. Fortunately, he walked away with nothing more than a few bumps and bruises – not too bad, considering his motorcycle was sandwiched between two SUVs.
The sun highlighting his cropped silver hair, Drake invited me to take a seat on his second-floor screened-in porch that overlooks his 20-acre spread found in rural Pittsboro. Walking through the house, I remarked how certain rooms in Drake's home are similar to miniature libraries – he joked that they'd made an addition to the house just to make room for more books.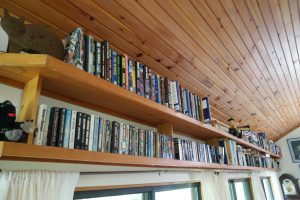 As we spoke, Drake told stories of George R. R. Martin and Ursula Le Guin. About how, for a time, he shared an agent with Stephen King – whom Drake refers to as "Steve." David Drake may be lesser-known than some other science fiction writers or popular fiction powerhouses, but his bibliography is just as extensive, if not more. One wall in his house houses a shelf of hardback and paperback works spanning his career, the wood almost bending under the weight of the over 100 books it supports. This shelf extends across the entire space, making room for a long line of anthologies that also contain his work. Drake certainly knows a thing or two about dedication when it comes to his craft.
Drake started his writing career after being drafted in Vietnam. His credentials might be best described in the author bio found in "Redliners," published in 1996:
"David Drake was attending Duke University Law School when he was drafted. He served the next two years in the Army, spending 1970 as an enlisted interrogator with the 11th Armored Cavalry in Viet Nam and Cambodia. Upon return, he completed his law degree at Duke and was for eight years Assistant Town Attorney for Chapel Hill, North Carolina. He then drove a bus for a year and, since 1981, has been a full-time freelance writer…"
I only know of one other lawyer-turned-author who spends any time near Chapel Hill. Whereas John Grisham writes law thrillers, Drake's success stems from a lifelong love of science fiction and fantasy. As a matter of fact, Drake credits a middle school class assignment with teaching him how to write stories.
According to Drake, in the eighth grade he had a reading/speech class in which the teacher assigned a particularly momentous project.
"One of the options was to tell a story," said Drake. "Somebody else's story in eight minutes and so I boiled some of Charles Beaumont's and Ray Bradbury's stories down for an eight-minute presentation … [It] was extremely good training in what a story is and how to tell it."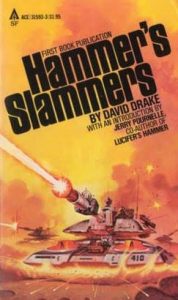 Drake has published with Baen and Tor, two publishing houses most science fiction fans will find familiar.
"Among the things [Baen] got were the first two Hammer stories, which I hadn't been able to sell anywhere," said Drake. One of David Drake's most well-regarded series is "Hammer's Slammers," books that have been collected and re-collected printed and re-printed since the first volume was published in 1979 and nine more followed in the years after.
Outside of the "Hammer's Slammers" and "RCN" series, Drake has written stand-alone novels and short stories alongside other multiple-volume sagas. Most recently, he finished "The Storm," a follow-up to "The Spark," a book he described on his blog as one of "the best things [he's] written." In that same post, he mentioned "Redliners," stating it was "in a league by itself."
During our interview, Drake discussed how "Redliners" was an especially important book for him.
"I've gotten letters and emails from people ever since it came out," said Drake. "I didn't know what I was doing until I completed the book and I just felt the weight come off."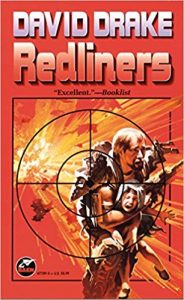 "Redliners" is notable for being highly recommended by veterans to other veterans suffering from PTSD. Drake is careful not to take credit for the well-being of others, but he is strong in his conviction that "Redliners" certainly helped him.
His experiences in Vietnam left David Drake shaken, and the act of writing has proven to provide some solace – as had the peace to be found on the land he owns in Pittsboro. His house has two stories and plenty of space for a rec room or an office, but Drake can often be found either outside in his garden or writing on front porch, looking out to the trees. He says he's currently "in the process of jotting down notes toward the next book." I don't doubt it. A man like Drake seems to always be thinking about something.
Drake outlines extensively before he starts a new novel – a service he provides for other authors, as well. In his career, Drake has contributed numerous outlines and story ideas, working in collaboration with other writers to find a story built by both of them.
I asked, and David Drake doesn't plan to retire any more than he intends to stop riding motorcycles. Both activities suit him. But what advice does he have for writers looking to find their own voices, their own stories?
"The best way to write is to read good stuff," said Drake.