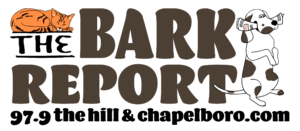 Orange County Animal Services is proud to join The Bark Report with a special column called "Paws and Effect." This column will be dedicated to informative animal services and adoption topics such as the importance of spay and neuter programs, adopting and adapting during COVID-19, introducing new pets into your home, and tips for helping pets and people adjust during family gatherings and celebrations. Join us for this monthly column to help spread the word about helping pets in many ways!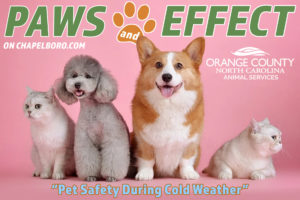 You may already be aware of hot weather dangers to pets (such as leaving pets in hot cars), but cold weather also poses serious threats to pets. Check out the following tips to keep pets safe when temperatures fall:
Know your pet's limits and keep up with wellness checks. Your pet should see a veterinarian yearly to make sure he or she is healthy and ready for cold weather. Cold weather may worsen some medical conditions and a pet's cold tolerance can vary based on their age, coat, body fat, activity level, and general health.
Cats and dogs should be kept inside during cold weather if possible. It's a common misconception that dogs and cats are more resistant than people to cold weather because of their fur, but they are just as susceptible to frostbite and hypothermia. Pets should not be left outside for long periods of time in below-freezing weather.
Provide shelter. If you are unable to keep your pet inside during cold weather, provide a warm, solid shelter against wind and other elements. Make sure pets have unlimited access to fresh, unfrozen water. Make sure the floor of the shelter is off of the ground (to help with heat loss and protect against wetness) and keep bedding fresh and dry.
Bang on the hood. Cats will sometimes climb up inside of a car to feel the warmth of a vehicle engine. Check underneath your car, bang on the hood, and honk the horn before starting the engine to encourage the cats to leave this dangerous place inside of the car.
Make sure pet identification is updated. Pets may become lost in winter when the landscape changes due to snow and ice. Make sure your pet has a collar with up-to-date contact information. A microchip is also a great way to help a pet find his or her way home even faster!
Be prepared. Severe winter weather can cause other troubles like power and water outages. Have a disaster plan in place and make sure to include your pets. Prepare enough supplies (food, water, medicine, etc.) to last for at least 5 days.
Remember cold weather safety for livestock. Prepare livestock for cold weather by making sure they also receive routine veterinary care. Provide appropriate shelter from the elements with good ventilation and dry bedding. Feed good quality food and make sure they have access to fresh, unfrozen water.
Our animals are our family and they depend on us. Considering the safety of animals during cold weather can make a huge difference in their quality of life and general health.
Are you ready to bring home a new member of your family to cuddle up with this winter? Check out all of our adorable, available pets by visiting our website.
Chapelboro.com does not charge subscription fees. You can support local journalism and our mission to serve the community. Contribute today – every single dollar matters.