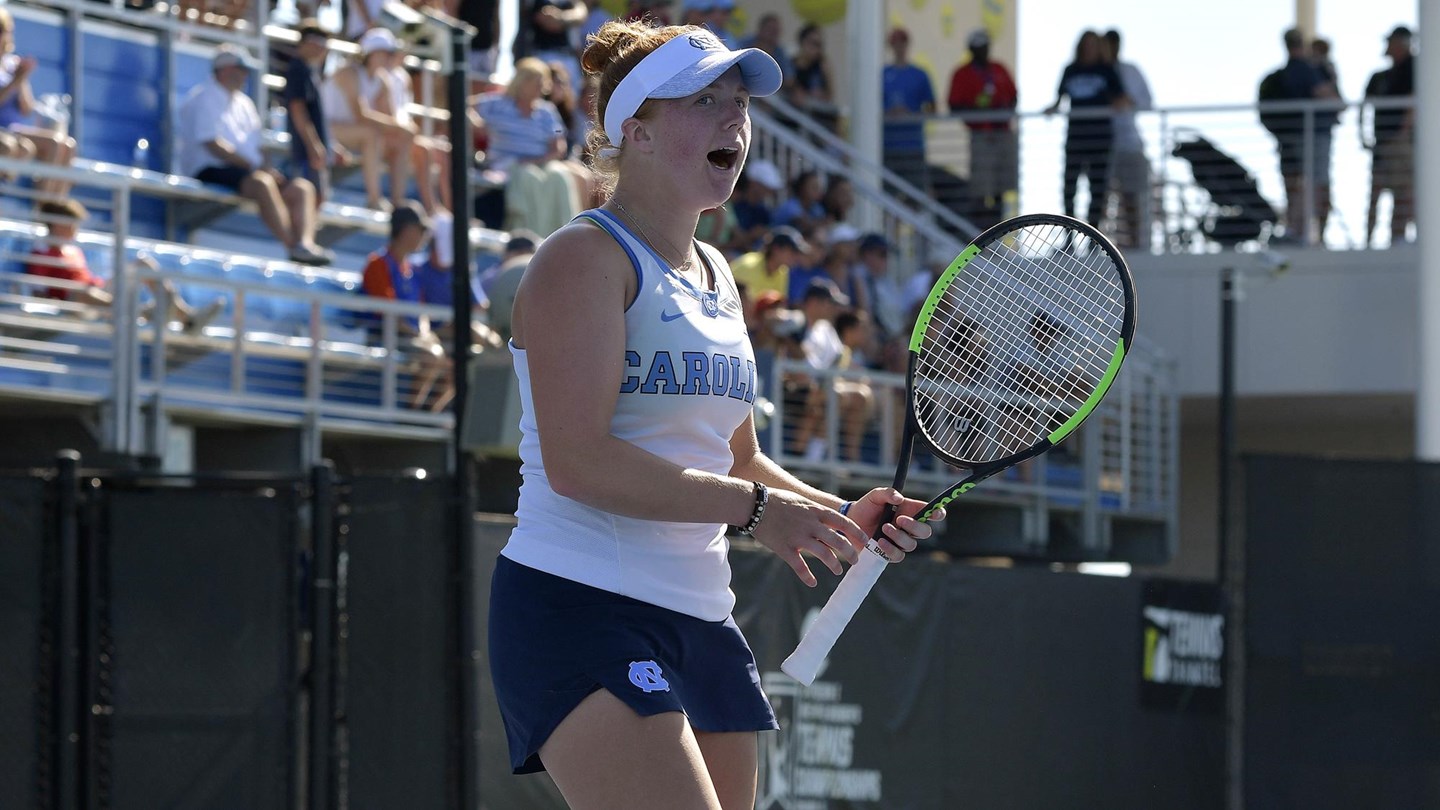 With a 6-2, 6-4 victory in straight sets over No. 41 seed Christina Rosca of Vanderbilt on Wednesday in Orlando, UNC fifth-year senior Sara Daavettila became just the fifth Tar Heel to ever reach the semifinals of the NCAA Women's Singles Tournament.
The top-seed in this year's event, Daavettila joins Cinda Gurney (1993), Jamie Loeb (2015), Hayley Carter (2016) and Cameron Morra (2019) as the only UNC women to ever advance this far. She also made history on Tuesday by becoming the first Tar Heel woman to ever reach three career NCAA Singles Tournament quarterfinals.
Daavettila has gone 22-1 in singles competition this season playing primarily on Court One against opponents' top players, a record good enough for her to earn ACC Player of the Year status.
Thursday's semifinals present a chance to truly determine the top player in the conference, with Daavettila facing off against No. 3 seed Emma Navarro of Virginia. Navarro's singles record sits at 23-1 heading into the epic showdown.
The previous match between them in the ACC Tournament semifinals didn't get a conclusion, as the Tar Heels clinched the team victory by a score of 4-1 before they could finish.
Navarro was leading in the third set when that match was called off, with the score 6-3, 2-6, 5-4.
The duo of Makenna Jones and Elizabeth Scotty — the No. 4 seed as a pairing — will also give UNC a chance to win the NCAA Doubles Tournament this week, having advanced to the semifinals on Wednesday with a 6-3, 6-3 victory over No. 17 ranked Natasha Subash and Sofia Munera of Virginia.
Jones and Scotty represent just the fourth UNC doubles pairing to reach the NCAA semifinals, joining Sara Anundsen and Jenna Long (2006, 2007), Hayley Carter and Whitney Kay (2016) and Daavettila and Alle Sanford (2018).
Thursday will see Jones and Scotty put their 16-2 record this season on the line against the No. 12 ranked pairing of Anna Rogers and Alana Smith from NC State.
Rogers and Smith are the first Wolfpack pairing to ever reach the NCAA Doubles Semifinals.
𝗦𝗮𝗿𝗮 𝗥𝗲𝗮𝗰𝗵𝗲𝘀 𝗡𝗖𝗔𝗔 𝗦𝗲𝗺𝗶𝗳𝗶𝗻𝗮𝗹𝘀

[1] #2 Sara Daavettila (UNC) def. #43 Christina Rosca (Vandy) 6-2, 6-4#GoHeels 🐏🎾 pic.twitter.com/LdFabviWZZ

— Carolina Women's Tennis 🐏🎾 (@UNC_wtennis) May 26, 2021
What a great duo from @UNC_wtennis this is! We chatted with Jones & Scotty post match today, & here is what they had to say ⬇️

They feel like because their team is a family ❤️, it makes it so much easier to do well 🎾 #GoHeels #NCAATennis @NCAATennis pic.twitter.com/k7MeEsRiI4

— TennisONE (@TennisONEApp) May 27, 2021
---
Chapelboro.com does not charge subscription fees. You can support local journalism and our mission to serve the community. Contribute today – every single dollar matters.