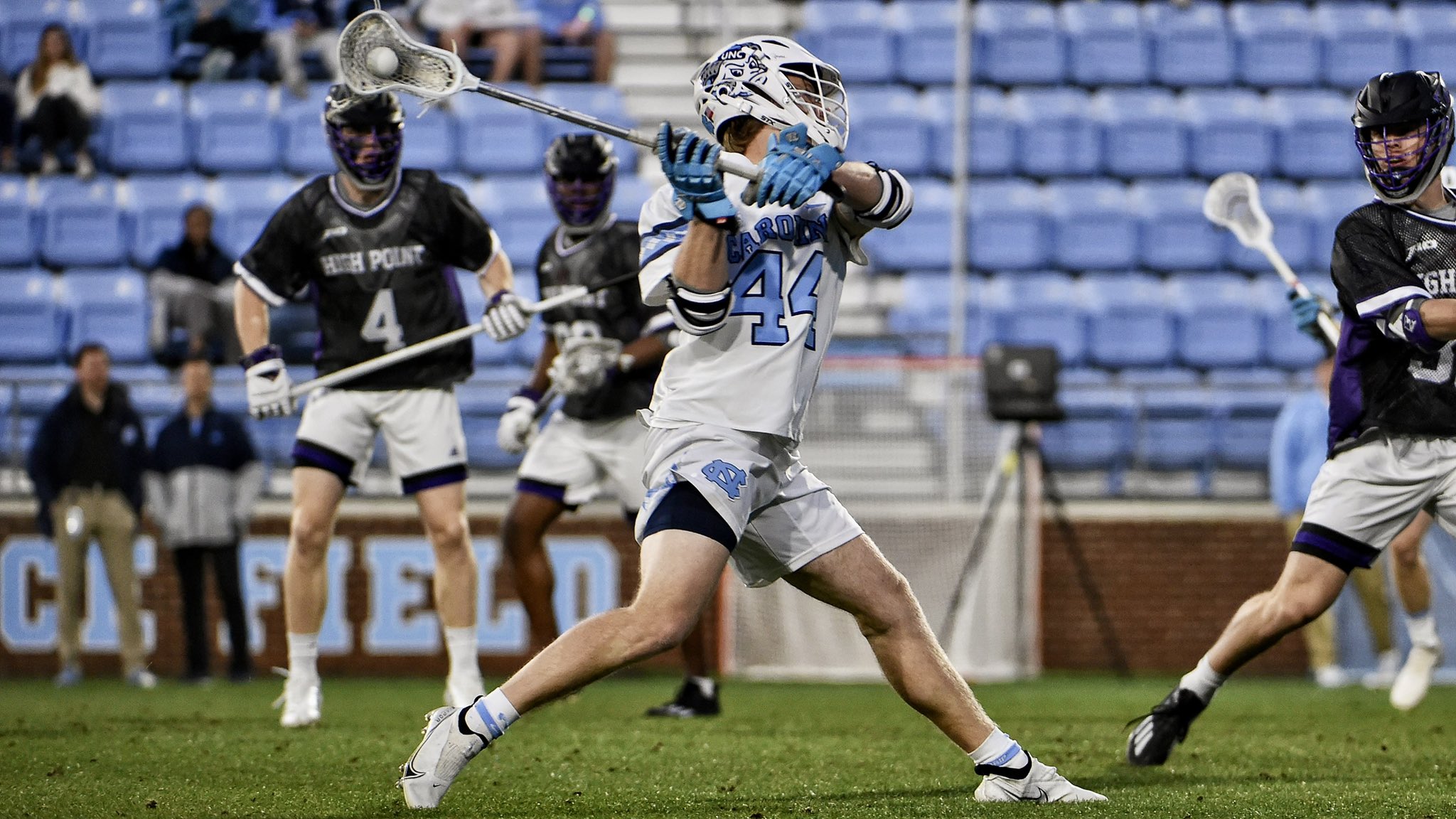 The UNC men's lacrosse team defeated visiting High Point Wednesday night in Chapel Hill, defeating the Panthers 16-9. It's Carolina's first time winning consecutive games in more than a month.
🤜🤛 Pound it bro, the Heels win! @WellsFargo #FamilyAcademicsLacrosse pic.twitter.com/Wwn1Fzr2mm

— UNC Men's Lacrosse (@UNCMensLacrosse) March 23, 2023
Attackman Logan McGovern led the way for the Tar Heels, posting a hat trick and amassing four assists on his way to a team-high seven points. The graduate transfer from Bryant was everywhere Wednesday night, and his 42 points on the season are far and away the most on the team.
One particularly flashy play Wednesday night saw McGovern score a behind-the-back goal. Check out the play below:
We love the BTB's 🤌

📺 ACC Network#FamilyAcademicsLacrosse pic.twitter.com/TpMpg8YwY5

— UNC Men's Lacrosse (@UNCMensLacrosse) March 22, 2023
Harry Wellford and Sean Goldsmith each found the back of the net twice, and nine Tar Heels scored once. The bulk of those goals came in the first half, when Carolina scored six times in both the first and second quarters to take a commanding 12-5 advantage into the locker room. UNC sent 21 shots on goal in the first half, compared to only 14 for High Point.
With a comfortable lead, Carolina had time to dig into its bag of tricks in the fourth quarter. That included the "hidden ball trick," which saw Ty English score perhaps the easiest goal of his Carolina career.
.@UNCMensLacrosse PULLS OFF THE HIDDEN BALL TRICK TO PERFECTION 🪄🎩

(via ACCN) pic.twitter.com/sBmswWqZeg

— TLN 🥍 (@LacrosseNetwork) March 23, 2023
Carolina is now 6-3 on the season and is two games into a four-game homestand at Dorrance Field. Up next is a visit from Providence on Saturday at noon, before a critical ACC clash with No. 3 Virginia the following Friday.
Featured image via UNC Men's Lacrosse on Twitter
---
Chapelboro.com does not charge subscription fees, and you can directly support our efforts in local journalism here. Want more of what you see on Chapelboro? Let us bring free local news and community information to you by signing up for our biweekly newsletter.