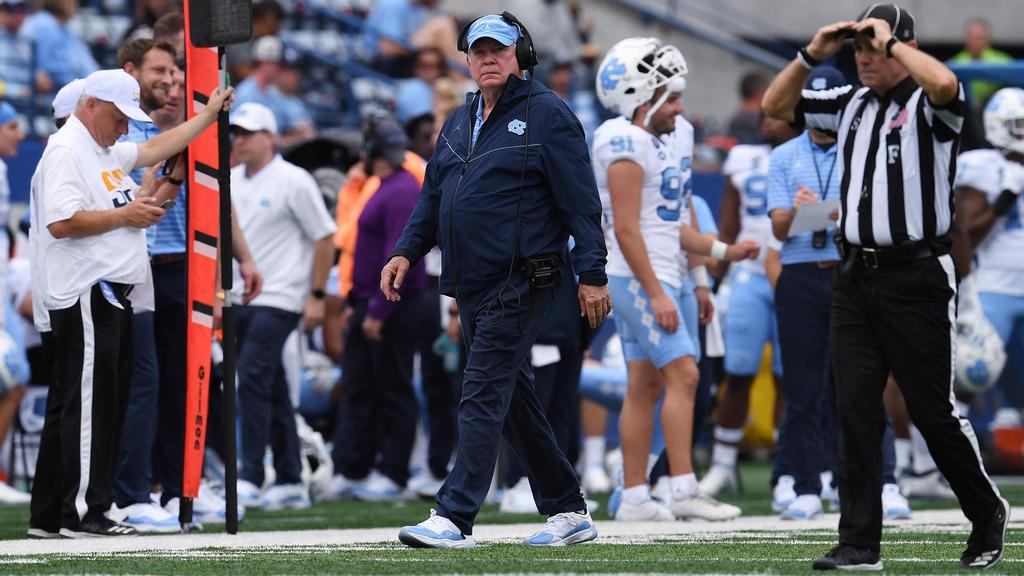 Carolina's two bye weeks in 2022, the first of which came last weekend thanks to UNC's early start against Florida A&M, mean the season is effectively divided into thirds. The first third of the season is now over, and while it was far from perfect, the Tar Heels emerged 3-0. It marked the end of a strange but challenging early non-conference slate, as now Notre Dame and eight straight ACC games await to finish out the year.
In the 14 days between UNC's win at Georgia State and the visit from the Fighting Irish, head coach Mack Brown said he and the Carolina staff have taken a look in the mirror.
"We went back and re-evaluated everything we're doing. Both sides of the ball," Brown said. "Because we've changed so much on offense, we gave a self-scouting report and a self-evaluation of all three phases. And it was really healthy. And we had some other people do it that weren't just sitting in the staff rooms all the time, to be very critical of, 'You're doing this well, you're not doing this well, you need to fix this.'"
Brown said Carolina's unique schedule for this season is perfectly suited to these re-evaluations not just this past week, but also for the next bye week in October.
"I do feel like the way our season is set up," he said, "with three games and then an open date, then four games and then an open date, with all the new that we have, a lot of young guys on offense, new coaches on defense, that we have a great opportunity here to re-evaluate who we are two or three different times during the season. I think that'll really help us."
Coordinator Gene Chizik's defense came under the microscope during the bye week, and many of the findings haven't been pretty. Through three games, the unit has been one of the least efficient in the country, allowing almost 38 points and 470 yards per outing. Simply put: they will need to improve to handle the rough-and-tumble ACC. Fortunately for Carolina fans, Chizik said he has seen improvement from the defense since the re-evaluation.
"I think we can gauge progress," he said. "I really believe over the last four practices, I think we've made a lot of strides. I think the communication's gotten better. I think to get a breather and go back and look at, when you were playing poorly, why? And you can put it all together, and look at not just a single event or a single game but put three of them together, I think it's pretty glaring."
But even despite those glaring problems, Chizik said his defense won't alter too much of its game plan moving forward.
Offensive coordinator Phil Longo struck a decidedly different tone when addressing his re-evaluation. Redshirt freshman quarterback Drake Maye and the rest of the unit are fifth in the country in total yards per game and sixth in points scored. It's been a pleasant surprise for fans who might have suspected a drop-off after star quarterback Sam Howell's departure last winter. But Longo said he still sees areas where the offense can tighten up.
"It's not perfect, but we're happy with the improvement and we want that trend to continue in that direction," said Longo. "And I think where our biggest area that I'd like to see more improvement is in our first- and second-down execution in the run game. And that's been our focus last week, and it will be this week."
The Notre Dame rushing defense ranks just 95th in the country this year, allowing almost 170 yards per game on the ground. Carolina's rushing offense, led by star freshman Omarion Hampton, is averaging more than 237 yards per game on the ground, tied for 13th in the country. If Longo is seeking improvement in early-down rushing, Saturday's game could provide a breakthrough.
A sold-out crowd and a national TV audience will watch UNC try for that breakthrough, the first real opportunity for the Tar Heels to prove their 3-0 record is no fluke. It will also be Carolina's first home game in nearly a month. Brown said he is anxious to play in some friendly confines  once again.
"Seems like it's been six months since the last home game," Brown said. "We haven't been here in so long. The crowd for Florida A&M was fantastic, and it was just a wonderful weekend. I expect this one to be the same. Virginia Tech's already sold-out for next weekend. So it's a fun time for Carolina football. Fun challenge ahead this weekend."
Featured image via UNC Athletic Communications/Jeffrey A. Camarati
---
Chapelboro.com does not charge subscription fees, and you can directly support our efforts in local journalism here. Want more of what you see on Chapelboro? Let us bring free local news and community information to you by signing up for our biweekly newsletter.