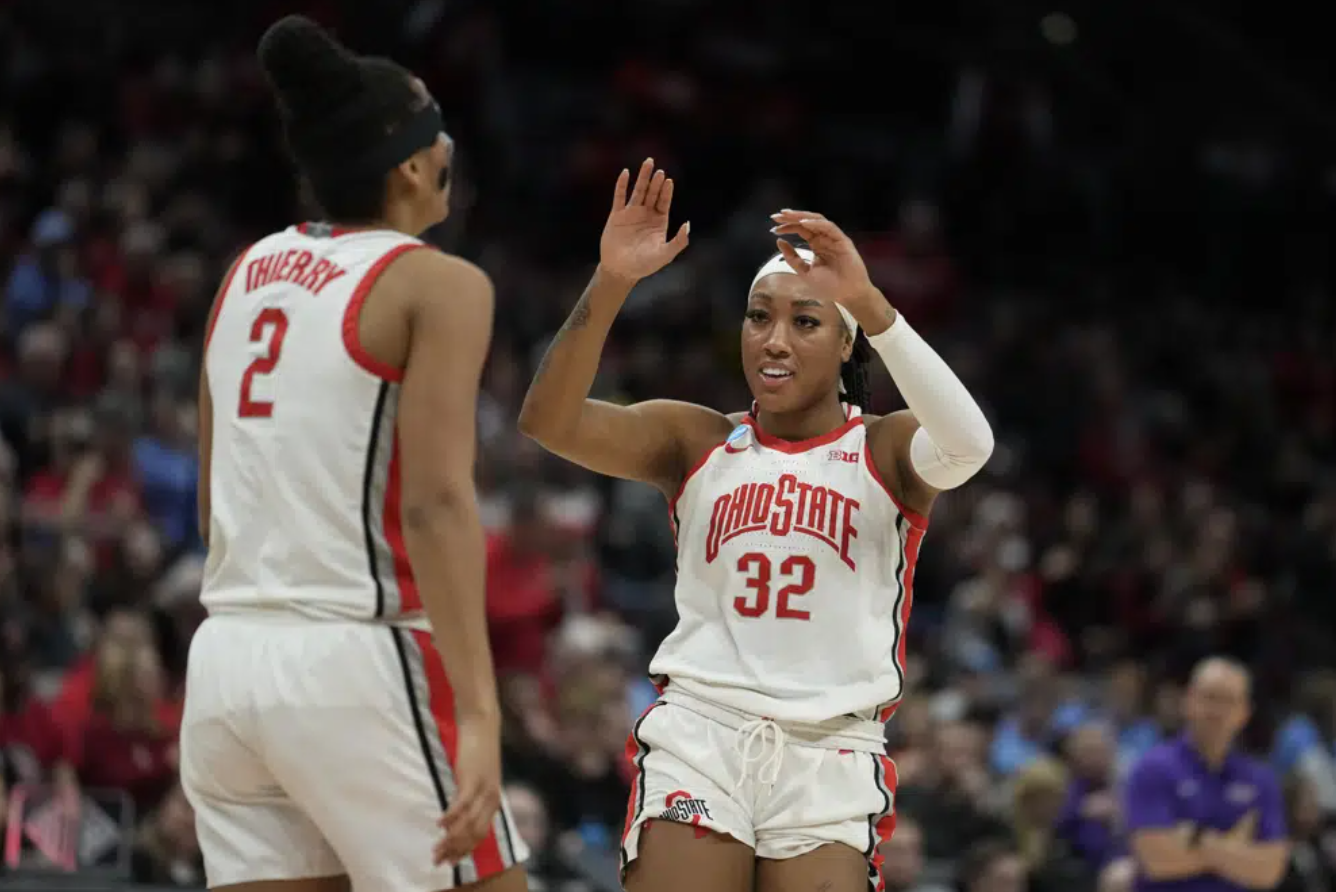 No. 3 seed Ohio State overcame a 16-point deficit to No. 14 seed James Madison in the first round of the NCAA Tournament Saturday, and will ride that momentum into a showdown with No. 6 seed UNC on Monday afternoon. The Big Ten runners-up enter the game with a 26-7 record and are looking to advance to their second consecutive Sweet 16. Here's a quick breakdown of the Buckeyes:
Head Coach: Kevin McGuff. McGuff is in his 10th season with the Buckeyes and has led them to three Sweet 16s.
What's the history? Carolina holds a 5-4 all-time record against Ohio State, but hasn't played the Buckeyes since head coach Courtney Banghart arrived in Chapel Hill. Ohio State won the last meeting, 76-69, as part of the ACC-Big Ten Challenge in November of 2018. UNC won the only NCAA Tournament meeting, 86-84, in the second round in 2015.
Player to watch: Cotie McMahon. A highly-touted recruit for the Buckeyes, McMahon skipped the spring semester of her senior year in high school to enroll at Ohio State early. She followed that up with a star turn in her first collegiate season, averaging 14.7 points and 5.3 rebounds per game — both second on the team — and starting all 33 of the Buckeyes' games so far. McMahon was named the Big Ten Freshman of the Year. In Ohio State's first-round comeback against James Madison, she led the team with 18 points and knocked down just her 13th three-pointer of the season.
Stats to watch: The Buckeyes feature one of the best offenses in America, ranking in the top 15 in Division 1 in points per game (80.7, eighth), field goals made per game (29.8, seventh) and field goal percentage (46.3, 15th). Carolina has slowed down high-scoring opponents before, but will likely have to score above its average of 68.9 points per game if it hopes to escape Columbus.
As you might expect with a good offense, Ohio State takes care of the ball and also takes it away on defense. The Buckeyes' 17.5 assists per game rank 10th in the country and their 11.4 steals per game rank 11th. On the other side, Buckeye opponents grab just 5.8 steals per game, the 18th-lowest mark in Division 1. UNC grabbed six steals and forced 16 total turnovers against St. John's in the first round, which it turned into 10 points. On the season, Carolina is forcing 18.5 turnovers per game and leads the ACC with a +4 turnover margin.
Carolina may be able to exploit Ohio State on the glass. The Buckeyes grab 35.8 rebounds per game, which ranks in the 200s in Division 1. Meanwhile, Carolina grabs 37.8 per game. UNC lost the rebounding battle against St. John's 33-31, but won points in the paint 30-22 and totaled 13 second-chance points, including a critical putback by Kennedy Todd-Williams in the final minutes. Ohio State's tallest player, 6-4 Rebeka Mikulasikova, only averages about four rebounds per game.
A free throw contest could get nervy for both sides. UNC shoots just 67.6 percent at the line, but Ohio State isn't much better at 69.9 percent. Both of those marks rank in the 200s. Carolina shot 7-8 at the line against St. John's, while the Buckeyes amassed a 26-34 mark against James Madison.
A tale of two seasons: Ohio State began this season on a tear, roaring out to a 19-0 start and ascending as high as No. 2 in the country. But the Buckeyes have gone just 7-7 in their 14 games since then. Still, all seven of those losses came to NCAA Tournament teams and six of them came against teams ranked in the Top 10. And Ohio State continued to rack up quality wins in that stretch, defeating No. 12 Michigan twice and upsetting No. 2 Indiana in the Big Ten Tournament semifinals. As battle-tested as Carolina has been this season, the Buckeyes may be even more so.
What are the odds? Ohio State is currently favored by 5.5 points. UNC's last win as the underdog came in the regular-season finale at Duke, when the Blue Devils were favored by six points.
Featured image via Associated Press/Michael Conroy
---
Chapelboro.com does not charge subscription fees, and you can directly support our efforts in local journalism here. Want more of what you see on Chapelboro? Let us bring free local news and community information to you by signing up for our biweekly newsletter.