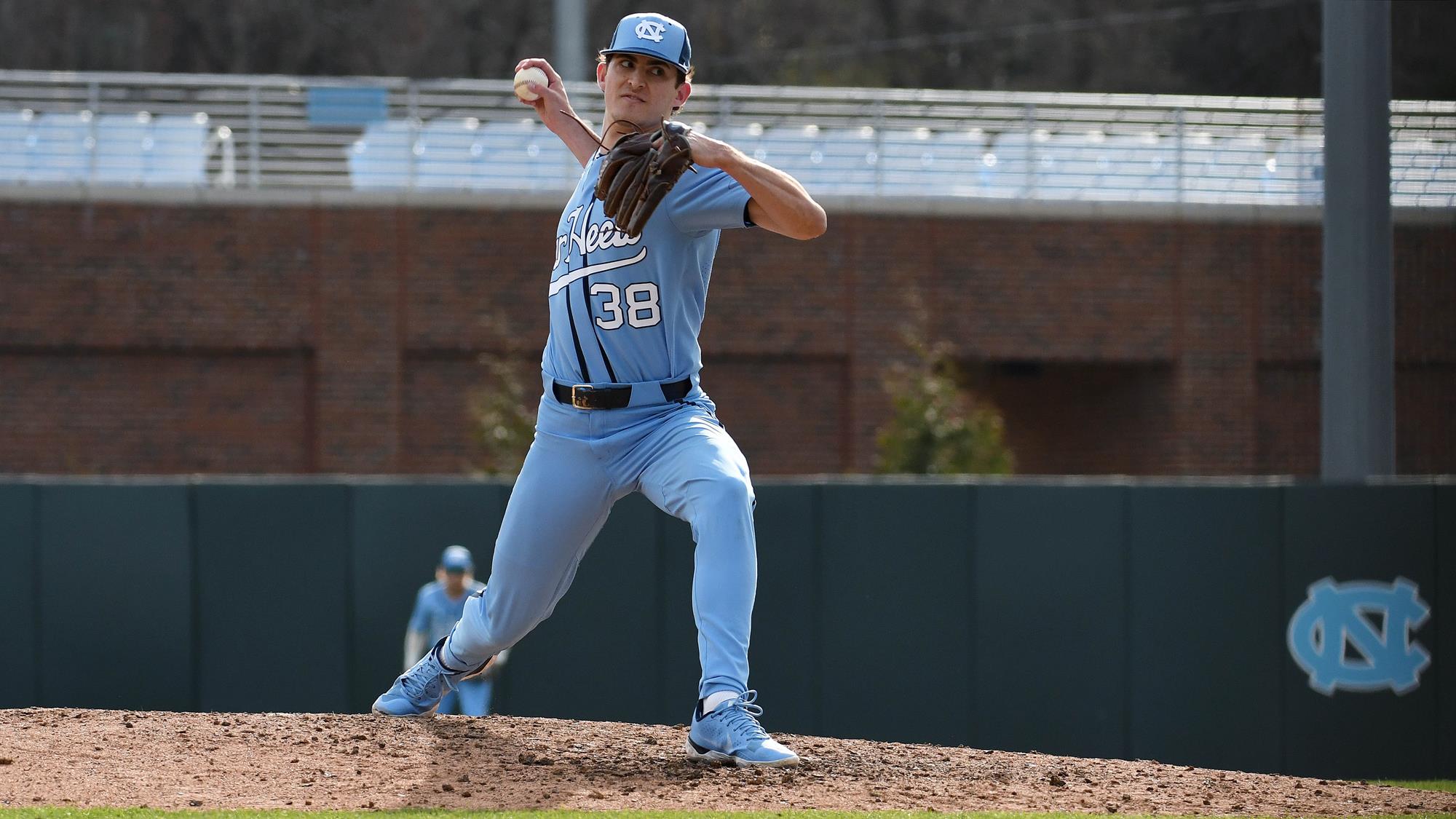 Some of Davis Palermo's fondest childhood memories come at Boshamer Stadium.
"I remember watching [Dustin] Ackley, I remember watching Kyle Seager, Alex White, all these guys," Palermo told Chapelboro. "I grew up coming to Old Bosh, then to New Bosh when it was built, and just watching my idols play, you know?"
Palermo grew up in Chatham County as a diehard Carolina baseball fan. The program's glory years of 2006 through 2009, which included four consecutive appearances in the College World Series, coincided perfectly with the impressionable years of Palermo's childhood. As he watched the Diamond Heels celebrate over and over and over again, there was only one possibility for Palermo's future.
"I've wanted to come here since I was a little kid," the Tar Heel pitcher said. "And as soon as I got the opportunity to, [I] jumped on it. It's really just the greatest feeling ever."
Steadily rising through the ranks pitching for Northwood High School in Pittsboro, Palermo came closer and closer to making that childhood dream a reality. Palermo was named to the All-State team in 2018 and ranked as the No. 25 overall player in North Carolina.
Soon, the long-awaited moment arrived. The Tar Heels made Palermo a scholarship offer. Of course, he said yes.
"It wasn't a hard decision at all," he said. "It was pretty immediate… I was definitely awestruck."
His college plans now finalized, Palermo kept coming to the ballpark, and even caught a foul ball during Carolina's NCAA regional game against Houston in 2018. The Tar Heels advanced to the College World Series once again that year, and Palermo kept the ball.
He arrived on the UNC campus the following year, though he redshirted his freshman season. The next year, 2020, was wiped out prematurely due to the pandemic, and thus did not count against Palermo's eligibility. Because of that, Palermo entered the 2022 season in the strange position of being a senior academically but only a sophomore in regards to his NCAA eligibility.
"I just graduated, and I still have two years of eligibility left," he said. "So it's definitely something different. Not a normal path, I would say. But my entire journey here has been a blessing. I wouldn't take back any of it for anything. Freshman year redshirting, of course you're disappointed. You want to play. But I think it was a great thing for me. It made me a lot better."
Now squarely in Carolina's bullpen rotation, Palermo is thriving in his second full season with the program. Among pitchers on the team with at least 25 appearances, Palermo has by far the lowest earned run average and rate of walks and hits per innings pitched, known around baseball as WHIP. His four saves, including one in the rubber match of a three-game series at NC State, also are tied for the team lead. These successes are a major reason why the National Collegiate Baseball Writers Association named Palermo to its Stopper of the Year watch list in late April. The award honors the nation's top relief pitcher.
Potential awards aside, Palermo is no doubt also taking heart from his personal cheering section at the ballpark every day. When recounting his appearances on the mound in 2022, he said he's had a family member or close friend at each home game.
"I'll get texts from my friends from high school all the time, like, 'Hey, I saw you throw today!'" Palermo said. "It's pretty awesome… having such a large support base from people that I grew up with."
When asked if playing so close to home, for his childhood team no less, added any additional pressure on the mound, Palermo said that didn't bother him at all.
"I wouldn't really call it pressure," he said. "I think pressure is pretty individual in a sense, where you put pressure on yourself. Pressure's pretty optional, in my opinion… I'd call it excitement, I'd call it gratefulness to have the opportunity to do that."
As the Diamond Heels prepare for a critical final series of the regular season against No. 20 Florida State, with Palermo a major part of their plans, the hometown hero will look to inspire a new generation of young Carolina fans. Give it a few years, and they may be taking the mound at the Bosh, too.
Featured image via UNC Athletic Communications/Jeffrey A. Camarati
---
Chapelboro.com does not charge subscription fees, and you can directly support our efforts in local journalism here. Want more of what you see on Chapelboro? Let us bring free local news and community information to you by signing up for our biweekly newsletter.