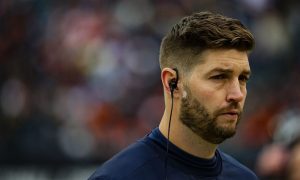 Would you take $10 million to quarterback the Dolphins for one year?
Picture this: Jay Cutler, the former Bears quarterback who made the playoffs once in 11 seasons and was basically booed out of Chicago, is sitting in his living room watching a baseball game or studying for his new job with Fox Sports. The phone rings, and it's the Miami Dolphins on the other end. They are not signing Colin Kaepernick because too many Cubans in Miami hate him for wearing a Fidel Castro T-shirt.  "So, Jay," they say, "You want to quarterback the Dolphins this season?"
Considering Cutler is only 34, and still in great shape despite being considered washed up in the NFL, he might like one more chance to prove otherwise. So he says, "How much?" After a few more phone calls between Cutler's agent and the Dolphins' front office, they settle on a price: $10 million guaranteed, with a chance to make $3 million more in incentives.
In reaction, very few talking heads think Cutler did any more than steal 10 mill from Miami. None seem to think he can be a winning quarterback in the NFL – not because he can't throw the football, but because he proved himself to be a lousy leader of men, which is the most important job of a professional QB.
For Cutler, it is the biggest no-brainer in the history of neurology. He could make a couple of hundred thousand as a rookie with Fox, a job at which he might be terrible. Or, he could play a year of ball and make millions. If you're going to get booed in your job, wouldn't you rather earn 10 million bucks for playing game you have played all your life, compared to two percent of that as a rookie broadcaster?
Cutler is a much-maligned gamble, but Miami head coach Adam Gage coached him in Chicago to his best NFL season statistically in 2015 and thinks he can get the same efficiency out of him.  Last season, Cutler played in just five games because of thumb and shoulder injuries. He underwent surgery in December and called it quits.
Kaepernick would be a better choice for the Dolphins' offense, but not for their fans. So the team worried about ticket sales and protests and took the easy way out by signing Cutler, who is most likely laughing all the way to Miami… and to the bank.
Podcast: Play in new window | Download