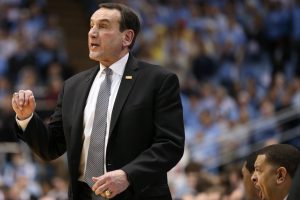 Duke, Duke, Duke. Here we go again.
My buddy Tom, who just happens to be a big Dukie, called the other day with some very good news. After a three-year fight against melanoma, the doctors declared Tom cancer-free. Great, I said to him.
"And wasn't Duke great last night?" Tom responded, completely changing the subject away from himself. "Krzyzewski has himself another great, great basketball team."
Maybe he does and maybe he doesn't, I thought. But after one game against the Ryerson University Rams of Toronto with two ballyhooed starters out and the Blue Devils winning by 19 points, frankly, who can tell anymore?
I don't remember if it was my buddy Tom, but someone said the same thing last year and at least one other time a couple of years ago. Duke's 2015 team wasn't great, failing to win the ACC regular season or tournament, but sure had a great NCAA run — beating five overmatched opponents and slipping by veteran Wisconsin in the title game behind three one-and-done freshmen and a fourth coming off the bench against the Badgers.
Since then, I have heard how great Duke was with virtually a new team every year.
This season, after the Blue Devils lost all five starters to the NBA, the Blue Devils have reloaded with arguably the top three freshmen recruits in the country in R.J. Barrett, Cam Reddish and Zion Williamson. I say arguably because I have seen UNC's Nassir Little in more than one recruiting ranking as the No. 2 player in the prep class of 2018.
Duke is on an international preseason trip that is allowed by the NCAA once every four years. Not surprisingly, it is to Canada, where Barrett returned to his homeland and scored 34 points. Williamson from South Carolina was a bigger story with 29 points and 13 rebounds. Those two took 53 of the team's 81 shots with Reddish and point guard Trey Jones sitting out injured.
No one else scored in double figures. Duke shot 42 percent, 32 percent from the 3-point line and missed 11 of 20 free throws. How my buddy Tom got "great" out of all that is like me saying Carolina is great after the Tar Heels roll over two Bahamian all-star teams down there this weekend.
Duke may indeed turn out great, but I'll go with what its student newspaper — The Chronicle — said after missing Final Fours the last two years. "I don't buy it."
In other words, "show me."
Podcast: Play in new window | Download