**Editor's note** One year ago, protesters tore down the Silent Sam statue at McCorkle Place. This is a timeline we created in 2018 to help better contextualize the events surrounding the Confederate monument in Chapel Hill.
---
Since the Unite the Right rally in Charlottesville, Virginia, in 2017 — where a counterprotester was killed by a self-identified white supremacist protesting against the removal of a Robert E. Lee statue from a nearby park — there has been a growing call for the removal of Confederate monuments across the country.
Countless Confederate monuments have been removed from universities across the country. The University of Texas at Austin removed three Confederate monuments. At nearby Duke University in Durham, the school removed a statue of Robert E. Lee after it was damaged. In both of those cases, the removals came in the middle of the night with little fanfare.
In recent years, Silent Sam has been a major point of concern for local residents and students who previously advocated for the statue's removal. Several protests have been held at McCorkle Place in recent years, highlighting by a growing tension between protesters and the university administration.
The call for the statue's removal is not a new phenomenon, as protests can be traced back to the Civil Rights Movement in the 1960s. However, as more and more universities across the country were taking steps to remove Confederate monuments from their campuses, many were left wondering why UNC did not follow suit.
On August 20, protesters took to McCorkle Place on UNC's campus and tore down the Silent Sam statue. One person was arrested earlier in the evening, but it was not related to the statue being torn down. Authorities removed the Confederate monument from McCorkle Place in the back of a truck.
Timeline of Events
Saunders Hall to be Renamed Carolina Hall
May 29, 2015
The UNC Board of Trustees passes three resolutions concerning the renaming of Saunders Hall on campus. William L. Saunders was a Colonel in the Confederate Army during the Civil War and has been linked to the Ku Klux Klan as a leader of the terrorist group in the late 1860's.
Nine Killed in South Carolina Church Shooting
June 17, 2015

A white man opens fire in a historic black church in Charleston, South Carolina, killing nine people in what authorities called a hate crime. Dylann Roof, who confessed to trying to start a race war, is convicted in federal court on 33 hate crime charges and is sentenced to death.
Activist Arrested for Removing Confederate Flag from South Carolina Capitol
June 27, 2015

Bree Newsome is arrested after she climbs a flag pole and removes the Confederate battle flag that was displayed on the grounds of the South Carolina State House. As a result of publicity from the event and pressure on officials, the flag is permanently taken down on July 10, 2015.
Silent Sam Memorial on UNC's Campus Defaced
July 5, 2015
University Police open an investigation after the words "Black Lives Matter" "Murderer" and "KKK" are spray painted on the Silent Sam memorial on UNC's campus. A white cloth is placed over the monument to cover the spray paint. This will not be the first time that Silent Sam will be vandalized.
Governor Pat McCrory Signs Senate Bill 22
July 23, 2015
The N.C. House votes to ban state agencies and local governments from removing monuments, statues, and other historical objects of remembrance. However, the bill states an object of remembrance can be moved if officials determine it could pose a threat to public safety because of an unsafe or dangerous condition.
"Who is Sandra Bland?" Spray Painted on Silent Sam
August 18, 2015
Silent Sam on the UNC campus is spray painted with the words "Who is Sandra Bland?" Bland's name has been a rallying cry for advocates after she was found dead in her jail cell in Texas. Bland was arrested following a traffic stop and her death was ruled a suicide.
Silent Sam Blindfolded
September 10, 2015
Pictures begin circulating on social media mid-morning showing what appears to be a Confederate bandanna blindfolding the Silent Sam statue. The statue was erected as a memorial to the Confederate soldiers and alumni who lost their lives in the American Civil War and all students who joined the Confederate States army.
University Day Celebrations Interrupted by Protest
October 12, 2015
As the procession of faculty and students enter Memorial Hall on UNC's campus for the University Day celebrations, students begin chanting. They chant "tear it down, or we shut you down" and "that racist statue has got to go" – referring to the Confederate monument Silent Sam – before exiting
Demonstrators Gather to Support, and Oppose, Silent Sam
October 26, 2015
What is originally planned to be a demonstration in support of Silent Sam turns into a rally against the Confederate monument. About a hundred people gather in support of the controversial statue – most of them driving from Graham, waving Confederate flags – but they are outnumbered three to one.
Man Arrested for Spray-Painting Silent Sam
January 15, 2016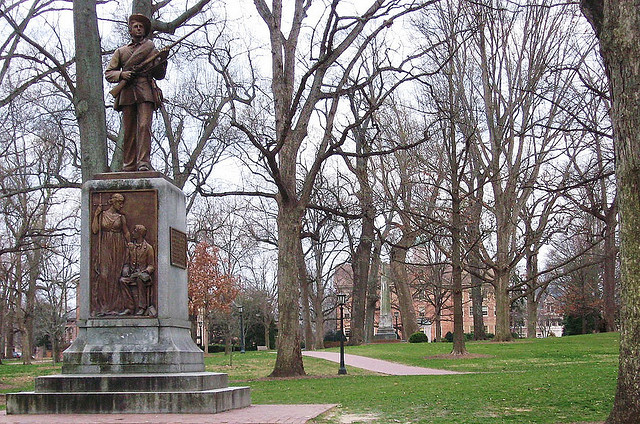 UNC Police arrest a 37 year-old white male they say was spray-painting a message on Silent Sam in the early morning hours. Loren Stanley Hart, of Concord, is charged with defacing a statue or monument and resisting arrest. Hart flees after he is found spray-painting the statue, but is caught.
UNC Trustee Allie Ray McCullen Calls Protesters "Entitled Wimps"
April 18, 2017
"Unfortunately, this will continue to happen (as it has in the past) until we get cameras in the immediate area," Allie Ray McCullen writes. "The criminals or 'Entitled Wimps' must be arrested. If not, when they get out in the real world, the 'Entitled Wimps' could get in real trouble."
One Killed During White Supremacist Rally in Charlottesville
August 12, 2017

During a white supremacist rally in Charlottesville, Virginia to protest a Confederate statue removal in town, a car driven by a self-identified white supremacist rams into a crowd of counter-protesters. 32-year old Heather Heyer is killed and countless others are injured. The perpetrator is caught and charged with first-degree murder.
Duke University Removes Confederate Statue Following Vandalism
August 19, 2017
Duke University in Durham removes a statue of Confederate General Robert E. Lee from the entrance of a chapel on campus days after it is vandalized and damaged. University president Vincent E. Price cites discussions among students, faculty, staff and alumni about campus safety a motivating factor in the decision.
Chapel Hill Mayor to UNC: Move Silent Sam
August 21, 2017
Chapel Hill Mayor Pam Hemminger formally asks UNC Chancellor Carol Folt to begin the process of appealing to remove Confederate monument Silent Sam from the UNC campus. Hemminger argues that "the possibility of a breach of peace is high, and with it the likelihood that Silent Sam could suffer substantial damage."
University of Texas at Austin Removes Confederate Statues from Campus
August 21, 2017

The University of Texas at Austin removes three Confederate statues from its campus shortly before classes start. The university president explains that the decision to remove them had been made following the violent protests in Charlottesville, Virginia, which left one woman dead following an attack by a self-identified white supremacist.
Protesters Call for Removal of Silent Sam
August 23, 2017
The crowd swells into the night at the monument, growing to approximately 1,000 protesters at its peak. There are a handful of Silent Sam supporters who make their way out to campus as well. UNC officials confirm two individuals who are not associated with the university are arrested at the rally.
3 Face Charges at UNC Confederate Statue Protest
August 23, 2017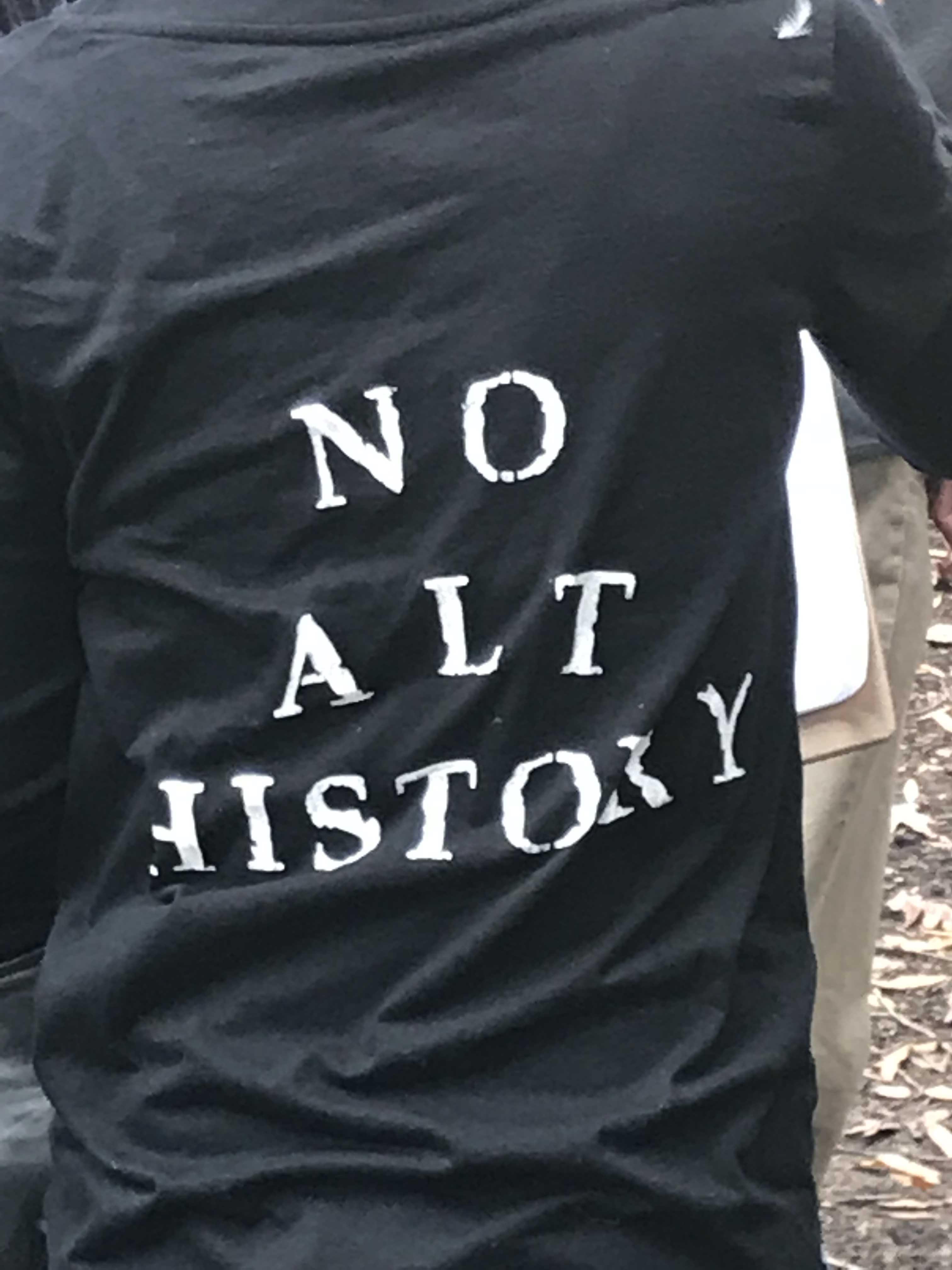 A Chapel Hill Police Department report shows UNC student Claude Wilson is charged with misdemeanor resisting arrest. UNC spokesman Randy Young said Kenny Grabarczyk of Graham is charged with possessing a knife on school property, and Gregory Southall Williams of Durham is charged with wearing a mask and resisting arrest.
Silent Sam Protest Continues
August 24, 2017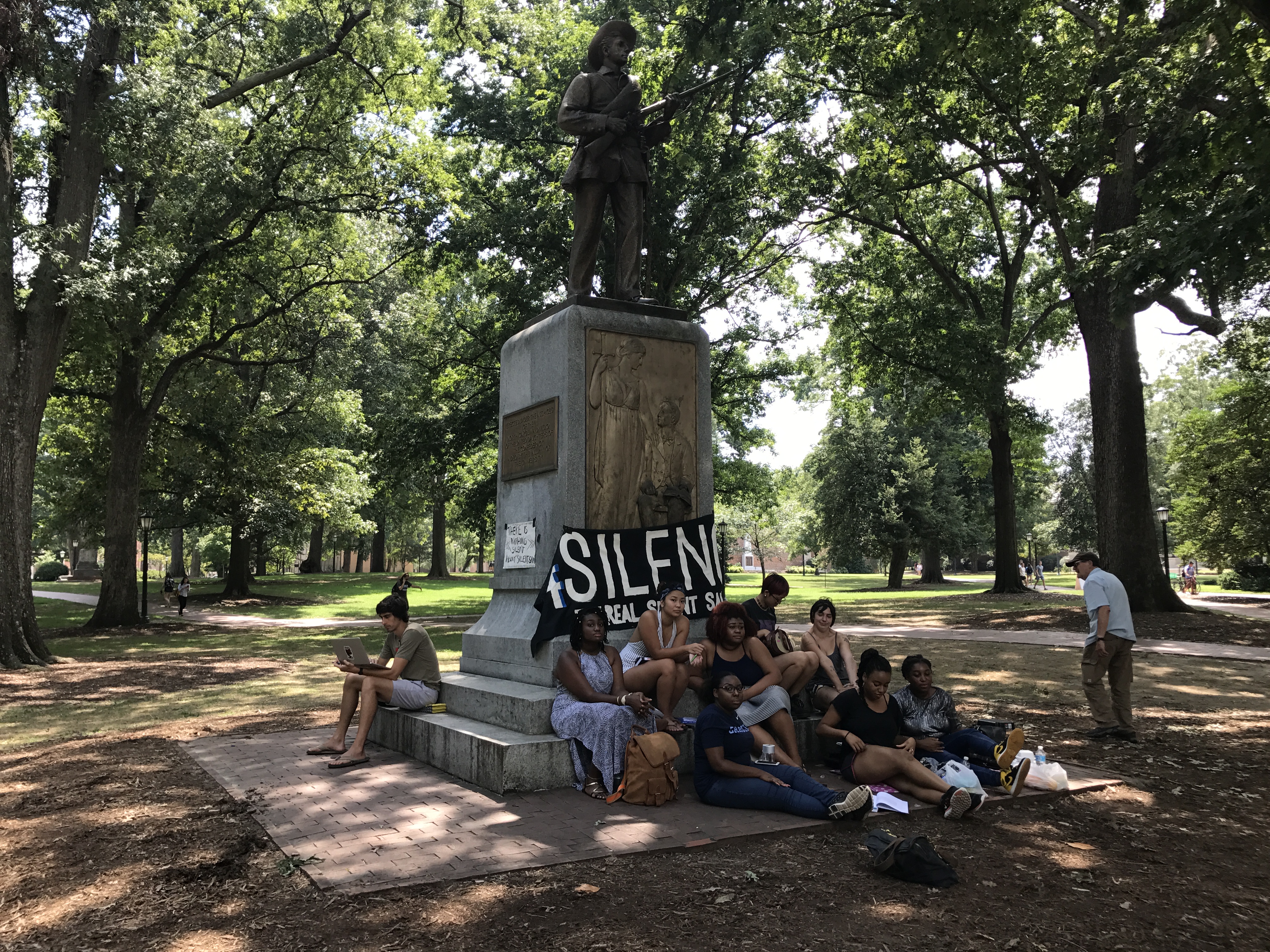 After 1,000 protesters gathered in front of Silent Sam on August 23, the scene is very different the next day. Some protesters say they slept near the monument on campus. The students and protesters organize rotating groups, so they would always be present at the monument, and plan nightly vigils.
UNC Chancellor Emeritus: Leaving Silent Sam in Place is 'Untenable'
August 29, 2017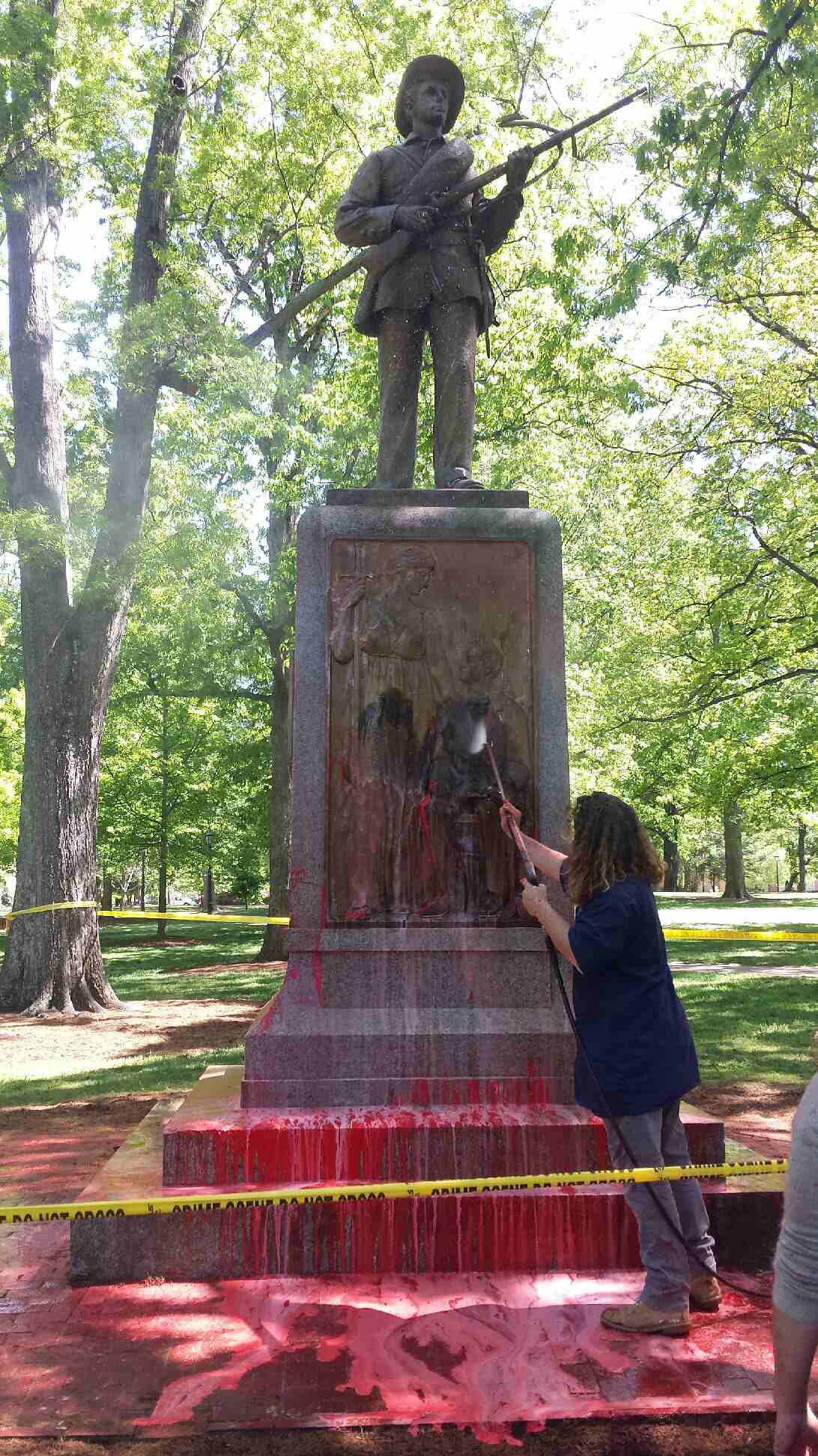 "Once statues like this become weaponized by the white supremacist and the Nazis, keeping it up is untenable," Chancellor Emeritus James Moeser says as the crowd chants loudly to tear down the Silent Sam statue, a monument to the Confederacy. "I think it has to go. And I think it will go."
UNC Police Remove Items from Silent Sam Protest
September 1, 2017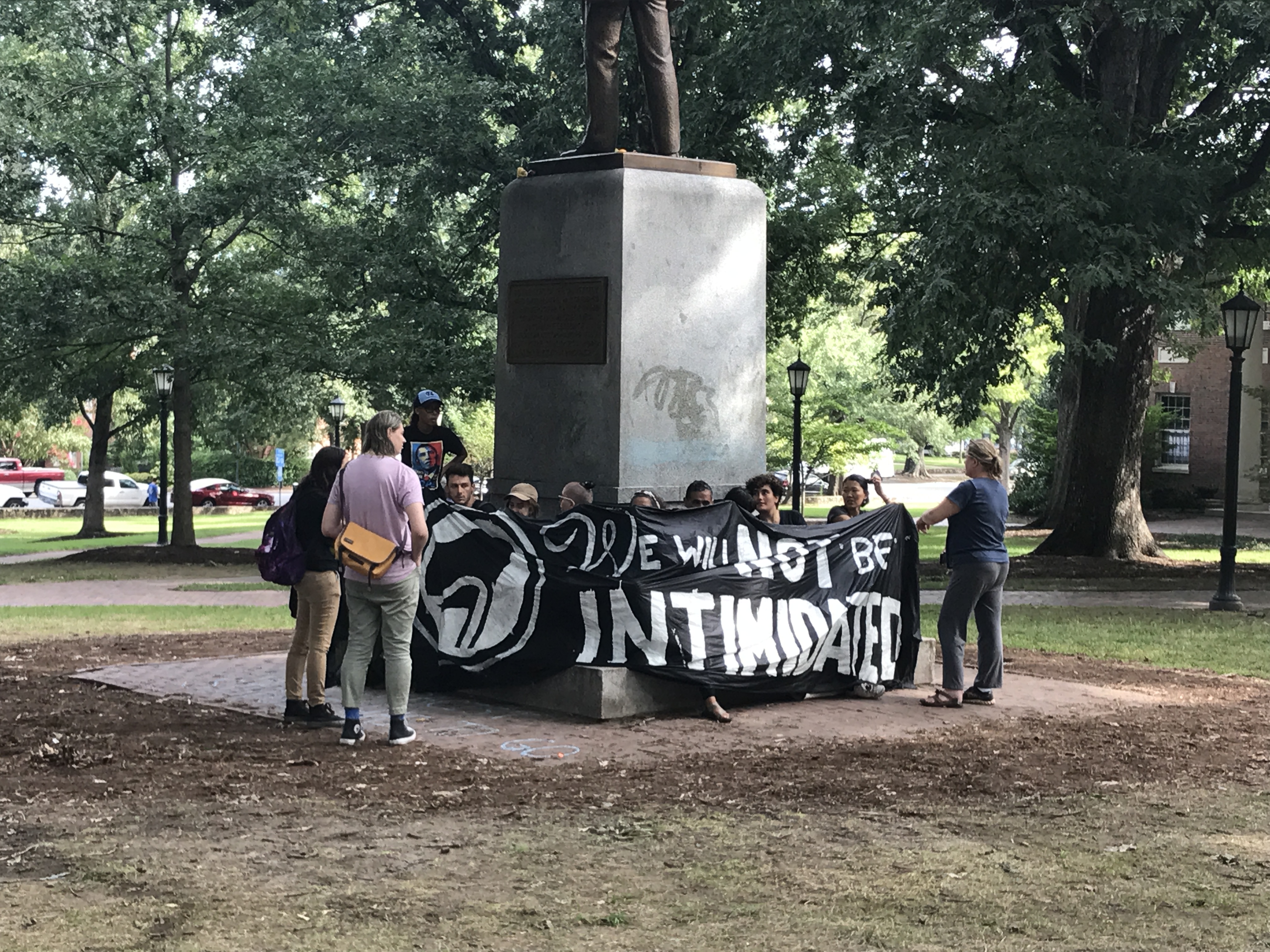 After a protest is held at Silent Sam on the first day of classes, UNC Police remove items from protesters who remain at the site. Those who remain speculate that this action taken by the police could coincide with the Tar Heels football game set to take place that Saturday.
Students Make Noise For Silent Sam Protest
September 6, 2017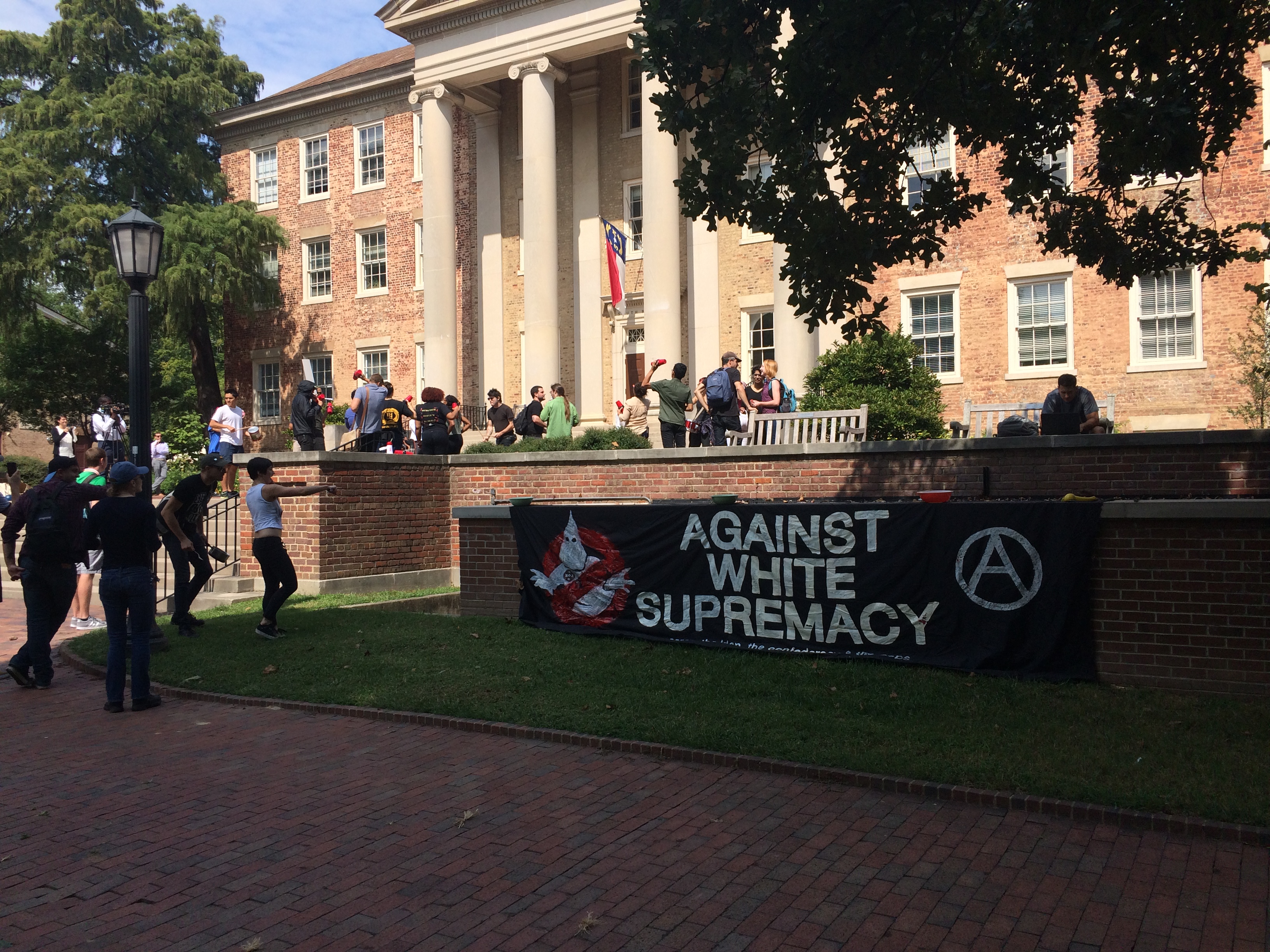 Dozens of protesters gather outside of UNC's South Building to protest Silent Sam by banging on drums, blowing through horns and whistles and shaking noise makers. Protesters say they want to make Chancellor Folt aware that, until the removal of the statue, there will be no more "business as usual."
Silent Sam Protesters Identify Undercover UNC Police Officer
November 8, 2017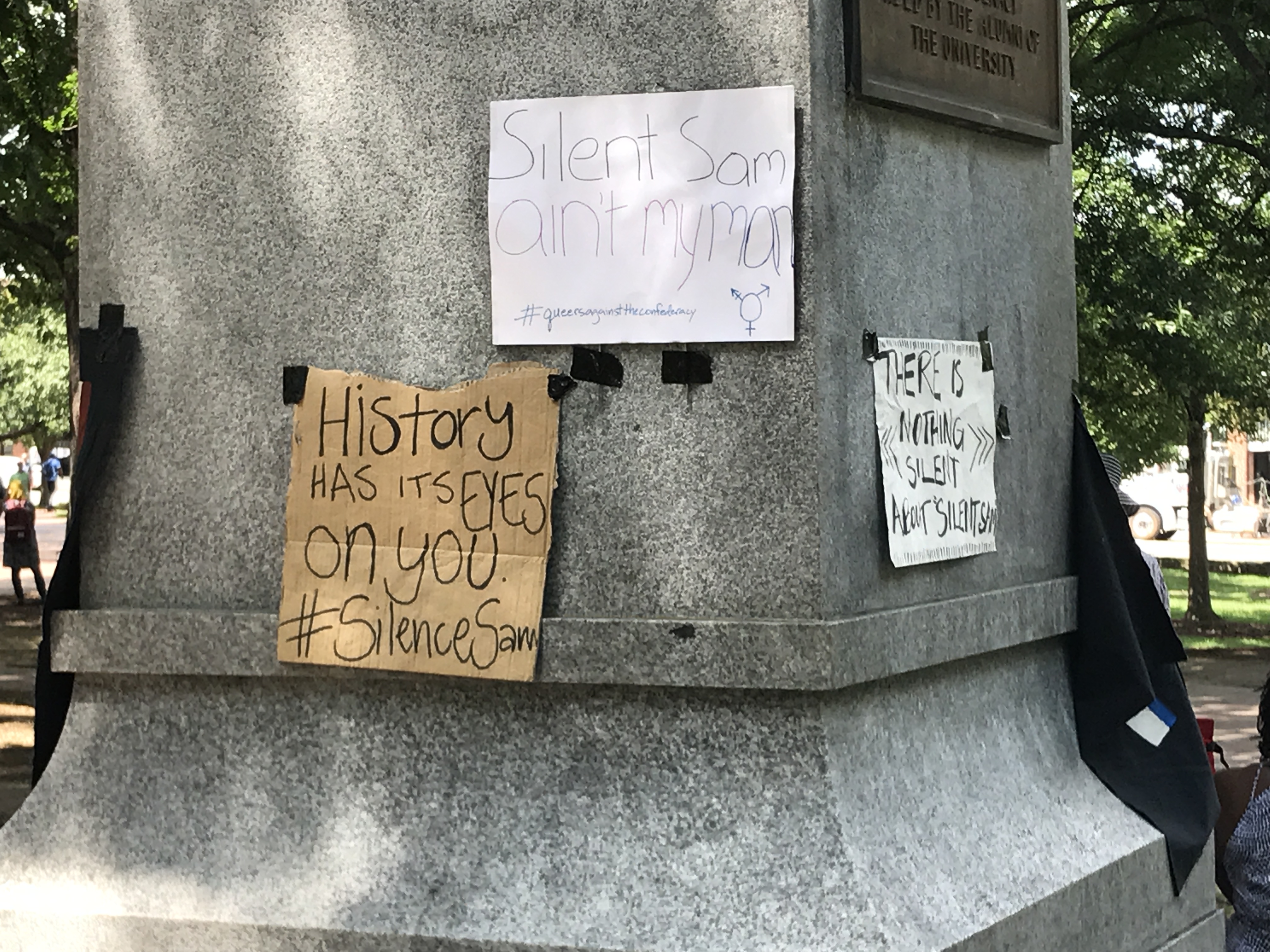 UNC receives backlash from students and community members after a video surfaces showing student protesters confronting a uniformed police officer that was previously seen dressed in plain clothes taking part in the Silent Sam protests. UNC students claim to have spoken to officer Hector Borges at protests back in August.
Protesters Rally Against UNC's Silent Sam
November 15, 2017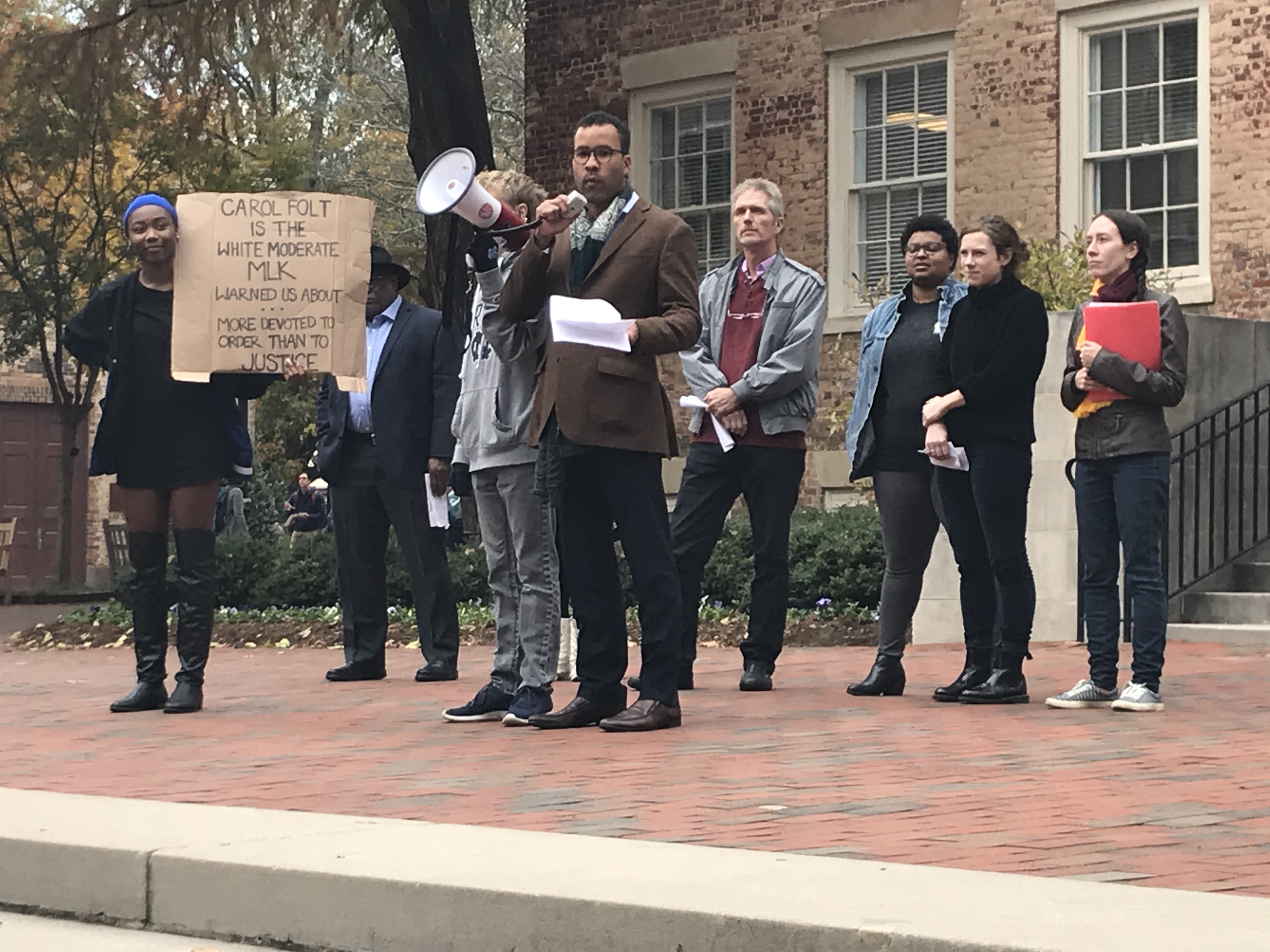 "The logic here is that the statue is not dangerous enough to remove," UNC professor William Sturkey says at a protest against the Silent Sam monument on campus, "but it is dangerous enough to infiltrate peaceful protesters – despite the fact that they already had uniformed officers at the statue."
UNC Groups Protest Against Rumored White Supremacist Rally
February 21, 2018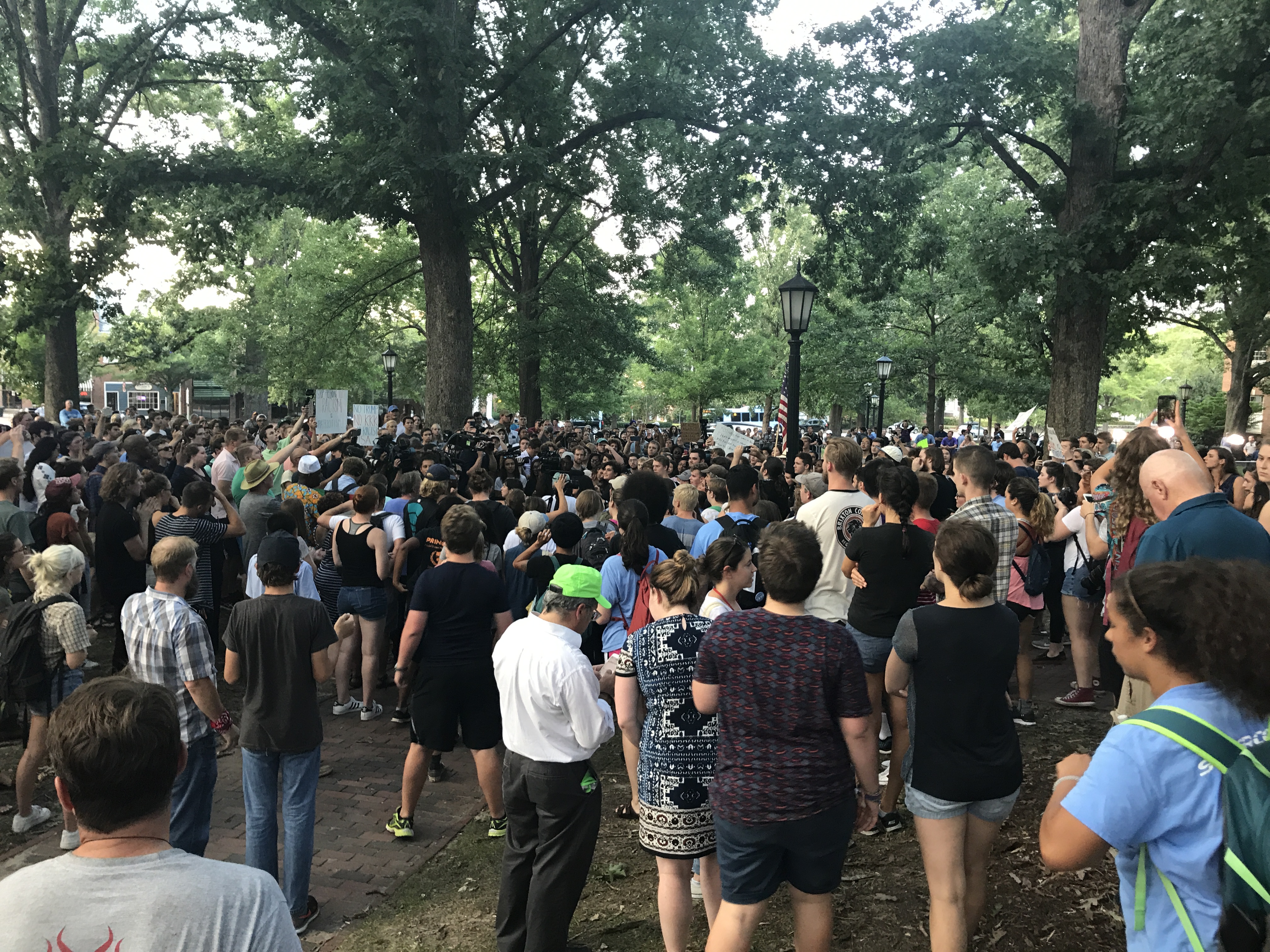 UNC groups and student rally in response to a rumored white supremacist rally on the campus after a professor was allegedly threatened the previous week. No white supremacist publicly rallies on the campus. The protest begins in front of the South Building, where students loudly call for action from university chancellor Folt.
Sons of Confederate Veterans Places Pro-Confederate Monument Billboard on I-40
April 6, 2018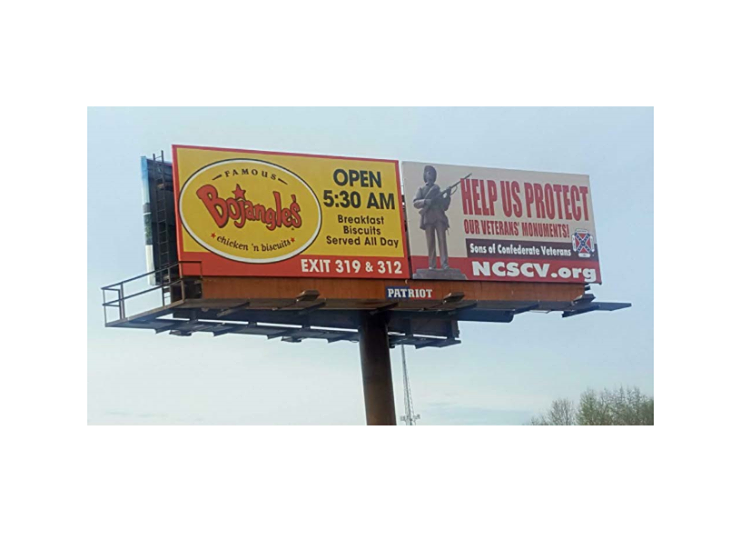 The group posts a photo of the billboard on its Facebook page. The ad shows a picture of Silent Sam – the Confederate monument on the UNC – Chapel Hill campus – with the words "Help us protect our veterans monuments." The first billboard was placed along near I-95 around Benson.
UNC Grad Student Charged with Defacing Silent Sam
May 1, 2018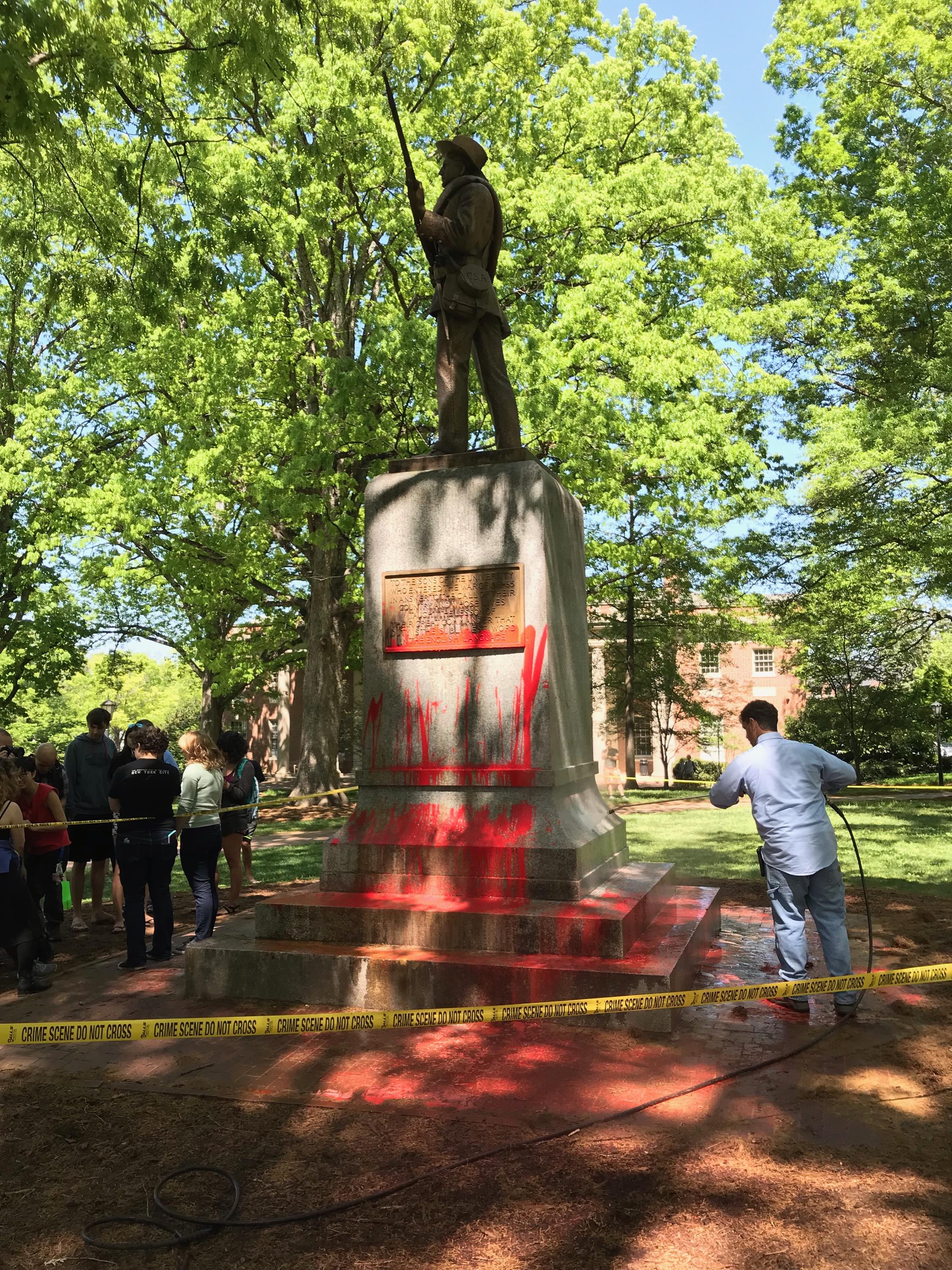 Maya Little, a UNC graduate student, is arrested after pouring a mixture of what she said was red paint and her own blood on the Silent Sam monument on campus. Little writes in a statement issued to WCHL and other outlets following her arrest that this was "an opportunity to teach."
Local State Lawmakers File Bill Ordering Movement of Silent Sam
May 30, 2018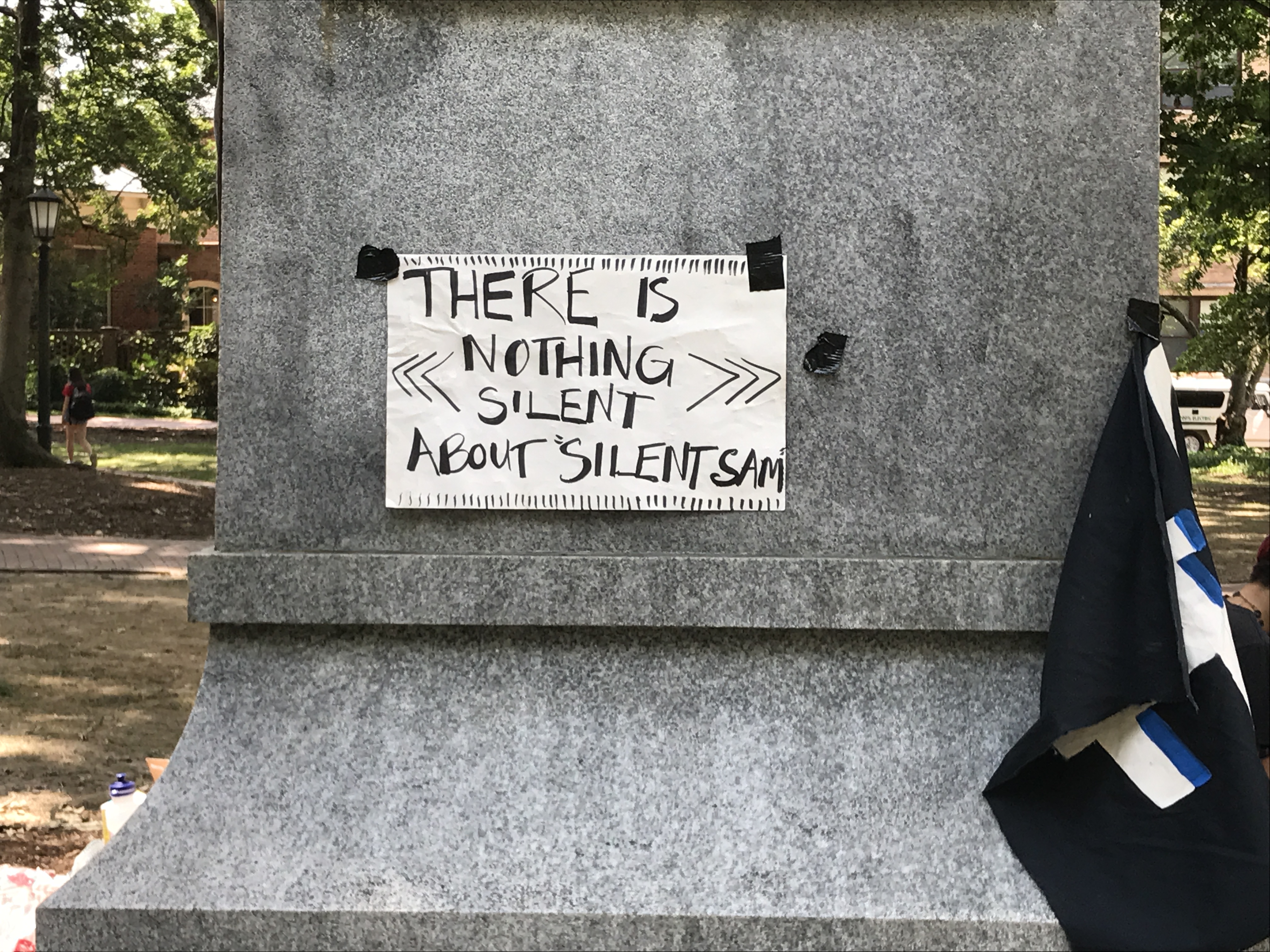 The bills say that "it is necessary to permanently relocate the monument" from McCorkle Place into "a secure, indoor location." The bill allocates $10,000 in nonrecurring funds to the UNC System Board of Governors to help "identify a site and develop plans for the preservation and permanent relocation of the monument."
National Group Targets Silent Sam for Removal
July 10, 2018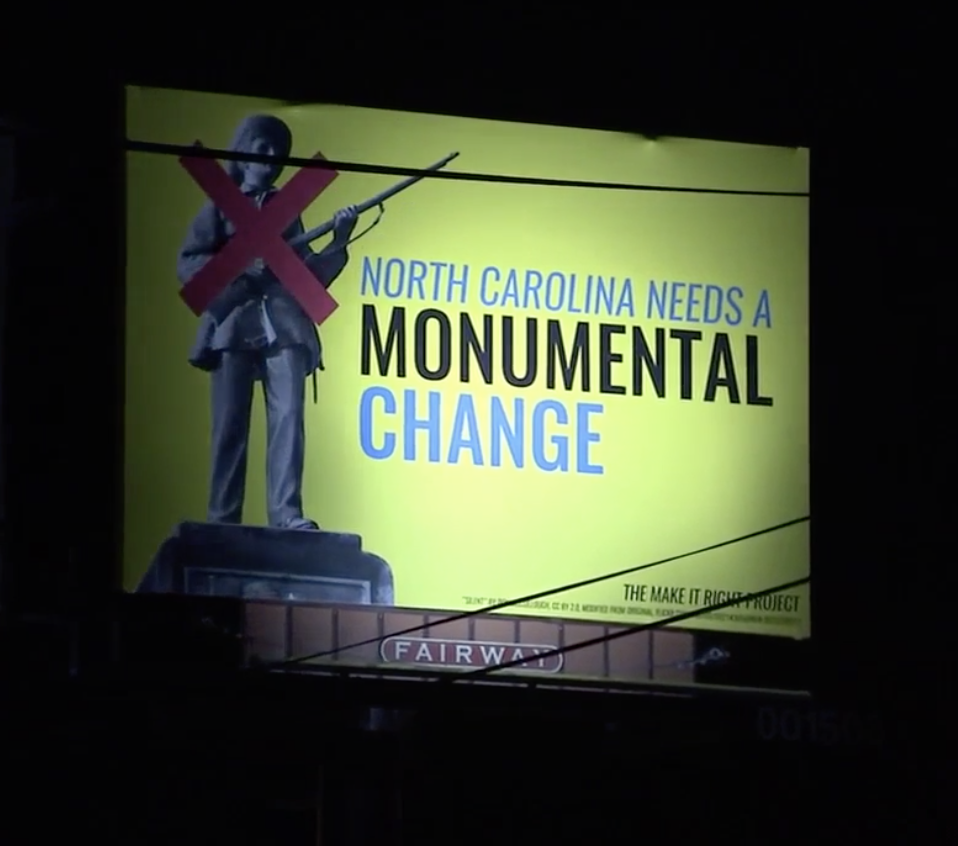 The Make It Right Project purchases space on two billboards in Raleigh supporting the removal of the Confederate Silent Sam monument. The billboards contain a photo of the Confederate statue on the Chapel Hill campus covered by a red X. The billboard states that, "North Carolina needs a monumental change."
Chapel Hill Hires Maurice Jones as Town Manager
July 10, 2018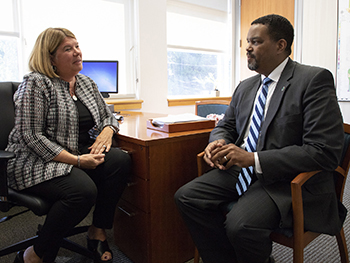 The Town of Chapel Hill hires Maurice Jones as the new Town Manager. Jones previously served as the Town Manager for Charlottesville, Virginia, but his contract was not renewed. He received criticism for his handling of the Unite the Right rally, which saw a woman killed by a white supremacist.
UNC Releases Cost Figure Associated with Silent Sam
July 16, 2018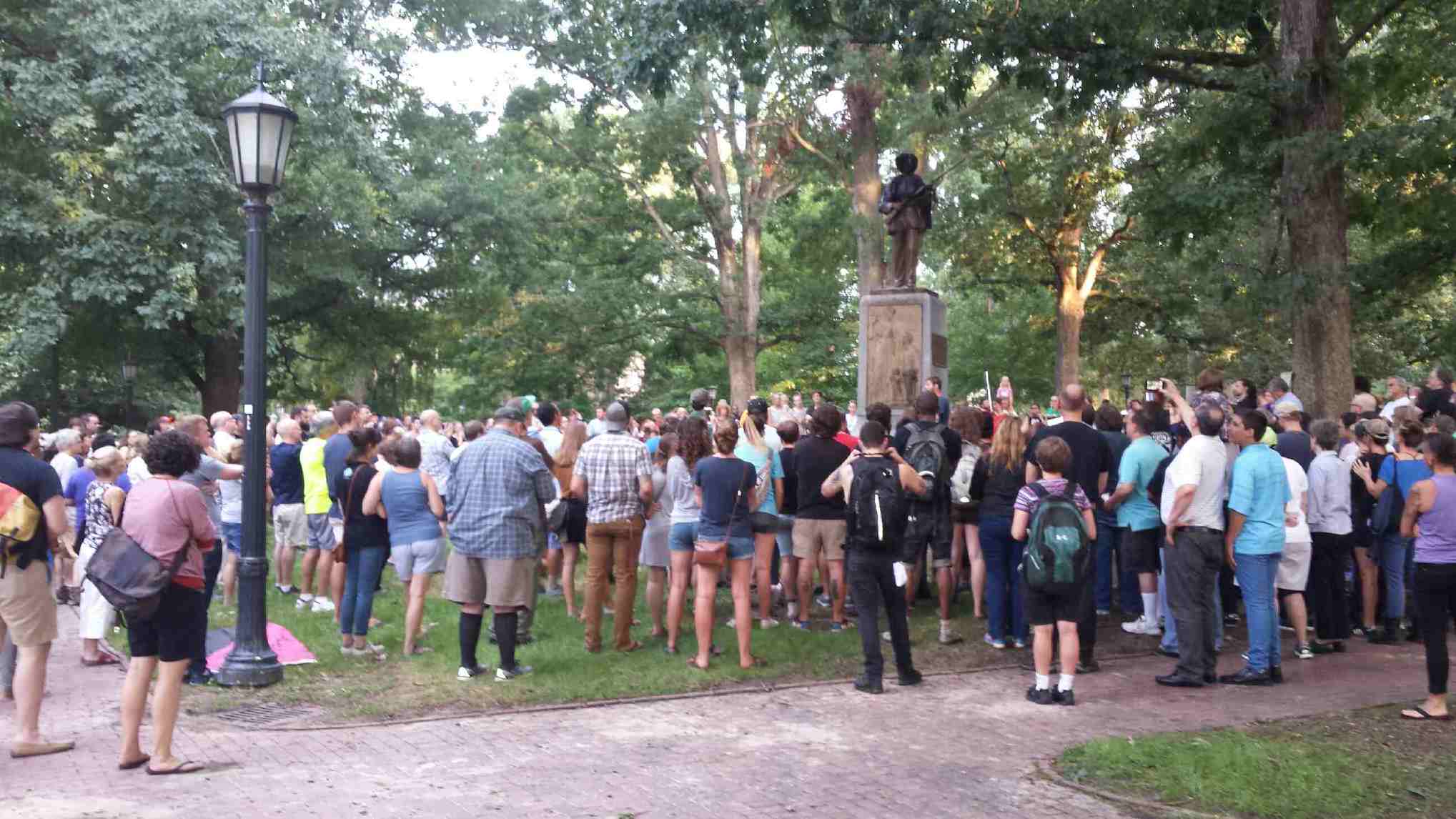 The News & Observer reports that UNC has spent $390,000 on an increased police presence around Silent Sam. The figure covers the fiscal year from July 2017 through June 2018. In addition to the $390,000 figure, the university reports approximately $3,000 in expenses to "clean the monument after vandalism during the fiscal year."
Future of Silent Sam Uncertain After Varying Comments from New UNC System Chair
July 30, 2018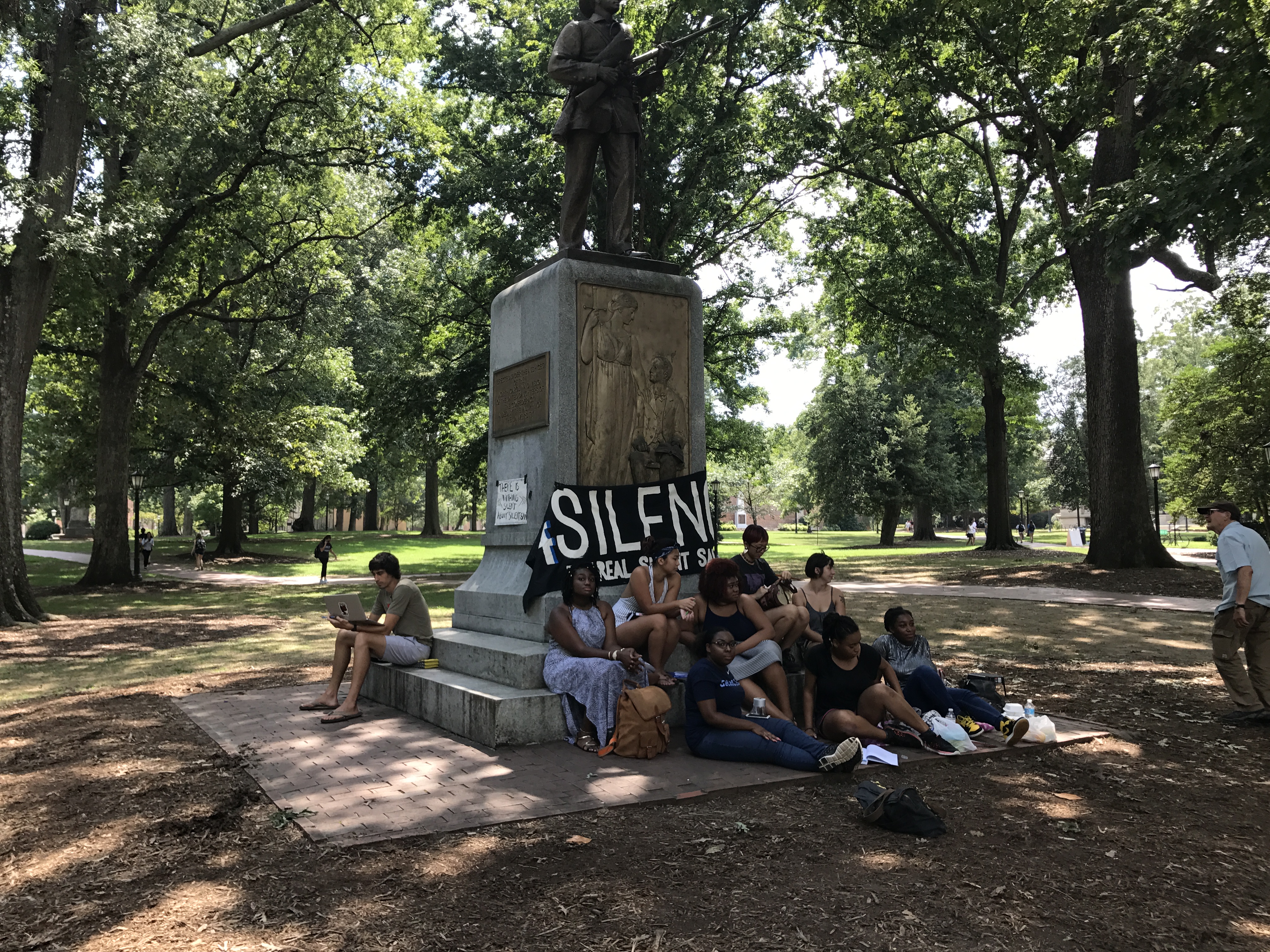 "At the end of the day, what I want to make sure is that we're not ignoring it," says Harry Smith. "And so that we're just not having public comment sessions and then we're moving on." The board currently has no plans to move the Silent Sam statue from campus.
Protesters Tear Down Silent Sam Statue
August 20, 2018

Students and protesters take to McCorkle Place on UNC's campus and tear down the Silent Sam statue from its pedestal. Loud cheers erupt as the Confederate monument falls and protesters pile dirt on the statue as well. Authorities would later remove the statue from the area in a tow truck.
UNC: Silent Sam to be Placed at On-Campus Facility
December 3, 2018

UNC officials recommend that Silent Sam be moved to a new $5.3 million on-campus facility. The decision comes after months of discussion from the Board of Trustees. The Board reiterated that the ideal situation would be to move the statue off campus, but the current law does not allow it.
UNC Board of Governors Rejects Silent Sam Proposal
December 14, 2018

The UNC Board of Governors rejects a proposal calling for the Silent Sam monument to be moved to an on-campus facility. A new proposal is due to the board by March 15, 2019. "The goal here is to simply get it right," UNC Board of Governors chair Harry Smith says afterwards.
UNC-Chapel Hill Chancellor Carol Folt Resigns
January 14, 2019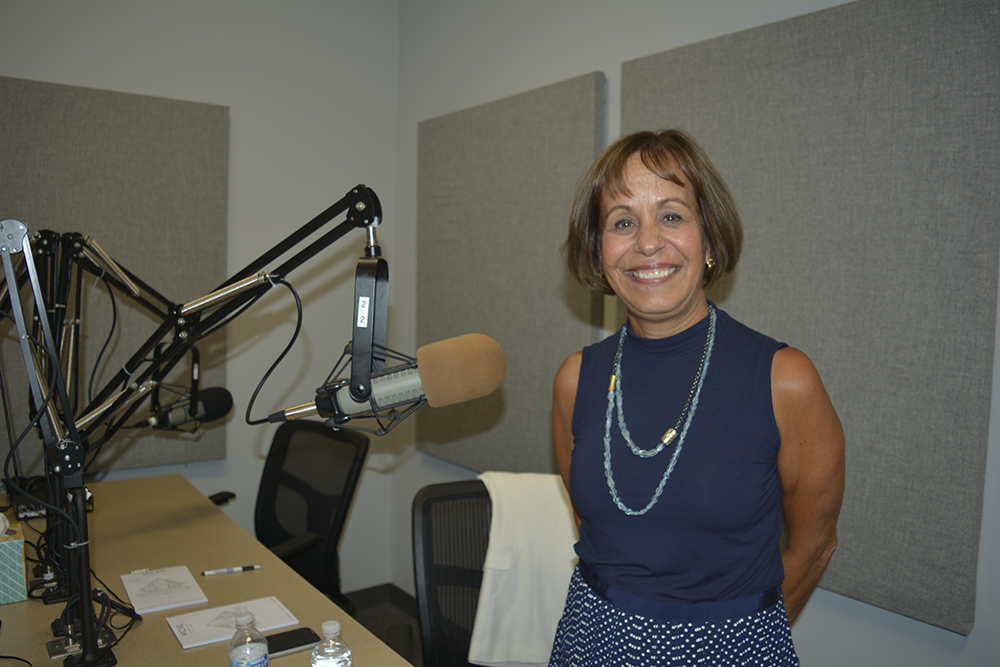 UNC-Chancellor Carol Folt announces her resignation, saying "it is the privilege of my life to serve as chancellor of this great university." In her resignation letter, Folt says that she has authorized the removal of the remainder of the monument which once held Silent Sam from McCorkle Place on campus.
After Tumultuous Academic Year, UNC Board Still Divided on Silent Sam
May 23, 2019

The initial March 2019 deadline for a new plan for Silent Sam statue had been pushed back to May, but the UNC Board of Governors announced it would not be discussing any plans at this meeting, and no new timeline was set. For now, the future of the controversial Confederate monument remains uncertain.
At the December 3 Board of Trustees meeting, Chancellor Carol Folt detailed a plan constructed by the Board for the preservation of the Silent Sam statue. According to the plan, the Board recommended that the Confederate monument be moved to a new $5.3 million on-campus facility dedicated to telling the "full story" of UNC.
However, the UNC Board of Governors rejected this proposal at a December 14 meeting. The Board did not set a new timeline for a plan at a May 2019 meeting.
Complicating this process yet again is the resignation of Folt, who announced on January 14 that she would be stepping down as chancellor at the end of the academic year.
In her resignation letter, Folt also authorized the removal of the pedestal which once held Silent Sam, saying that the remainder of the Confederate monument "poses a continuing threat both to the personal safety and well-being of our community and to our ability to provide a stable, productive educational environment."