97.9FM WCHL
Welcome to Chapel Hill-Carrboro's News, Talk and Tar Heels station! For 63 years WCHL has been THE place for news, talk Tar Heel Sports and information for Chapel Hill, Carrboro and Orange County. For more than 40 years Ron Stutts has been waking up our community from 6am to 10am weekdays.
This week's Hometown Hero: Marin Lissy
"Making #MeToo Count" By Rachel Valentine These past few days have been heavy for...
Stevens and Lavelle watch the General Assembly; county commissioners discuss I-40 widening and a future county jail; Hemminger talks parking; Lavelle talks immigration.
A new PPP survey of North Carolinians shows a close race for President, a narrowing race for governor - and widespread bipartisan support for LGBT rights.
The Regulators are executed, New Hampshire ratifies the Constitution, Susan B. Anthony tries to vote - and in the present day, Aaron feels sorry for patent boards.
Anna discusses an upcoming book read on Reconstruction, and the ongoing debate over HB370 in the General Assembly.
In which Aaron suggests we can get Donald Trump to swear off bombing Iran forever if we remind him that John McCain once supported it.
All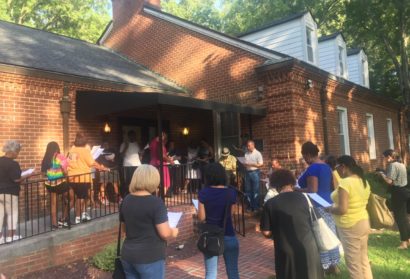 Members of the clergy from around Orange County gathered with concerned congregants at the steps...
Meg's moving on to a new position (don't worry, still in Chapel Hill!), so this is her final Downtown Rundown. (We still have fun.)
Chapel Hill's Movies Under the Stars series kicks off this week with "Frozen"! Susan and Aaron are joined by Matt Gladdek of the Downtown Partnership.
A discussion with Robert Morgan, North Carolina mountain native, admired author, and for more than 40 years a professor at Cornell University, about an amazing story of how the American Revolution was won in the Carolina's in 1780 and 81.
All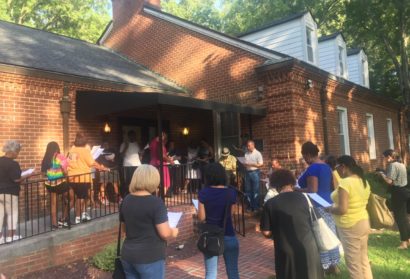 Members of the clergy from around Orange County gathered with concerned congregants at the steps...
Debby's still calling Toronto to win the NBA title. Also, the Women's World Cup gets under way, and UNC baseball is two wins from Omaha.
Climate change has been a political topic for years, but what has been or can be done at the local level to make an impact? Members of governing bodies in Orange County are working on a joint committee now to work on that answer.
Guest: Whit's Frozen Custard
Today Aaron was joined by Jean Bolduc, host of the Weekend Watercooler! KidsQ: If you were a teacher, what subject would you most like to teach and what subject would you least like to teach?
Guest: Ellen Roberts and Will Plattner
Ashley discusses her concerns with this year's Orange County budget proposal.