97.9FM WCHL
Welcome to Chapel Hill-Carrboro's News, Talk and Tar Heels station! For 63 years WCHL has been THE place for news, talk Tar Heel Sports and information for Chapel Hill, Carrboro and Orange County. For more than 40 years Ron Stutts has been waking up our community from 6am to 10am weekdays.
This week's Hometown Hero: Marin Lissy
"Making #MeToo Count" By Rachel Valentine These past few days have been heavy for...
Stevens and Lavelle watch the General Assembly; county commissioners discuss I-40 widening and a future county jail; Hemminger talks parking; Lavelle talks immigration.
A survey from Iowa and another from New Hampshire are showing the same order in the Democratic primary: Joe Biden in first, Bernie Sanders in second, Pete Buttigieg in third. Also, a look ahead at 2020 in North Carolina.
Scott and Aaron celebrate Voice Day! Also, Paul Revere rides through Boston, two Civil War generals meet at Bennett Place, and Connecticut finally ratifies the Bill of Rights...in 1939.
The Chapel Hill Town Council is about to consider zoning questions around the Greene Tract; Anna's hoping they stick to a plan set back in 2016.
Jean and Aaron discuss the Mueller report - until they're abruptly interrupted by severe weather.
All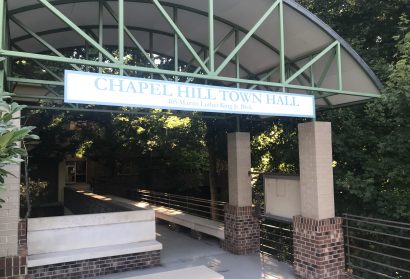 Chapel Hill's public housing program presented its updated master plan during the town...
Meg's moving on to a new position (don't worry, still in Chapel Hill!), so this is her final Downtown Rundown. (We still have fun.)
Susan and Aaron are joined by artist/puppeteer Tarish Pipkins, aka "Jeghetto," who's taking over a space on East Franklin Street for a pop-up gallery this weekend.
Charles Frazier, the acclaimed author of "Cold Mountain," "Thirteen Moons," and "Nightwoods," talks about his latest book "Varina", and the joys of talking to the world about it. A paperback version of Varina will be published shortly
All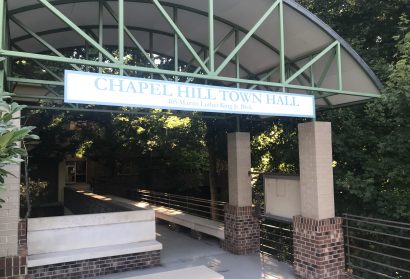 Chapel Hill's public housing program presented its updated master plan during the town...
Debby and Aaron reflect on Tiger Woods' Masters victory: what it means for the business of golf, and where it falls in the history of American sports.
Climate change has been a political topic for years, but what has been or can be done at the local level to make an impact? Members of governing bodies in Orange County are working on a joint committee now to work on that answer.
Guest: Kevin Gunn with Lightspire Design
Today Aaron was joined by 97.9 The Hill's Victor and AJ! KidsQ: If you could choose to give any animal the power of flight, what animal would you choose and what would its wings look like?
The Supreme Court considers partisan gerrymandering; a controversial speaker comes to Orange County.