Story by Chapel Fowler, Photos by Trent Brow — via UNC Media Hub
After they exchanged their rings and said their "I dos" and spent their first few moments as husband and wife, Matt Williams and Susan McElroy had one more surprise waiting for them.
"Close your eyes," Emily Williams, Matt's sister, told the couple. "I bought you guys a chinchilla."
She guided them by hand from the porch of the Horace Williams House in Chapel Hill through the backyard and, finally, to the gravel parking lot. Williams and McElroy were thoroughly confused.
But as they walked, they developed an educated guess: the "chinchilla" was really just Riley, the Williams family dog, leashed to a tree and decked out in some sort of dog-appropriate wedding garb. Maybe with a gift in tow.
After the craziness of the past weeks, when coronavirus news had changed their wedding plans by the day and reduced their wedding party to 10 total people (including them), it would have been a simple yet welcome surprise.
It's also exactly what Emily Williams hoped for.
She'd spent a week hatching this plan in secret from the bride and groom. Everything was place. Nobody had blown their cover. And they were here now, at the middle of the parking lot, with Williams and McElroy clueless while everyone waited on Emily's signal.
"OK," she said. "You can open your eyes."
And with that, the champagne popped, the confetti flew and dozens of car horns filled the air with celebratory honks, one after another, chain-reaction style, for Chapel Hill's newest married couple.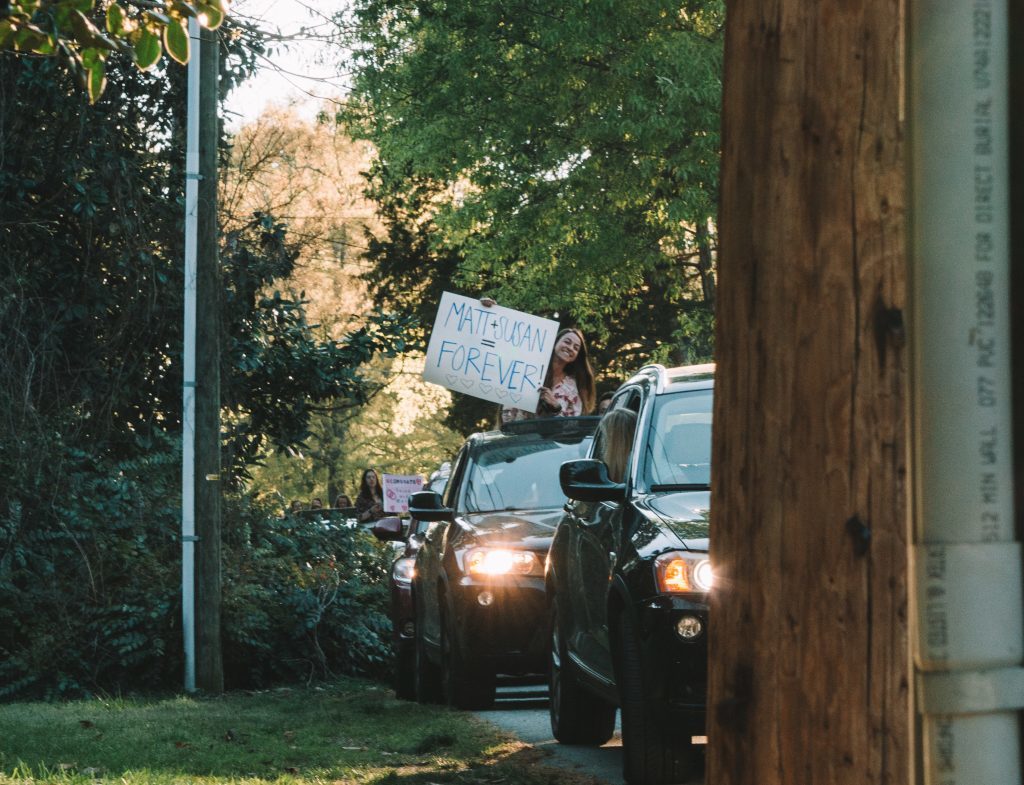 'On my radar'
They credit breakfast food, a minor-league baseball team and two of the world's best boxers for bringing them to where they are today, laughing on a joint Zoom call as they figure out who's going to tell what parts of the story of how they met.
"I'll start," Williams said.
He was a year above McElroy at the University of North Carolina at Chapel Hill, where they first knew of each other through Reformed University Fellowship, a campus ministry organization. But the connection was surface-level.
Until late 2017.
Williams was a sophomore, McElroy was a freshman and they both ended up at the same table when a larger group of friends took a trip to Waffle House on Franklin Street. Through small talk, McElroy mentioned she was from Birmingham, Alabama, and Williams, who grew up in Greenville, North Carolina, mentioned he'd traveled there the previous summer.
Soon enough, they deduced they'd been at the same stadium on the same day in 2016 to watch the minor-league Birmingham Barons play a game.
"That's what put her on my radar," Williams said. "That's what put me on her radar."
A few months later, in fall 2017, Emily was in her first semester at UNC when she bumped into McElroy on a walk back to her dorm. They knew each other through a mutual friend and agreed on grabbing lunch soon. When they did, Emily asked McElroy — for kicks — if she thought Matt was cute.
"You don't have to tell this part," McElroy said. "I do think he's cute."
Armed with this "new information" from his sister, Williams invited McElroy to a watch party at his house for the much-anticipated Floyd Mayweather Jr.-Conor McGregor fight on Aug. 26. Even though he could have invited her through Facebook, he insisted on getting her number instead.
"She talked to Matt all night," Emily said.
Williams, a junior, and McElroy, a sophomore, officially started dating two weeks later. After about two years, he proposed to her on a July 2019 trip to Asheville.
Spoiler alert: she said yes.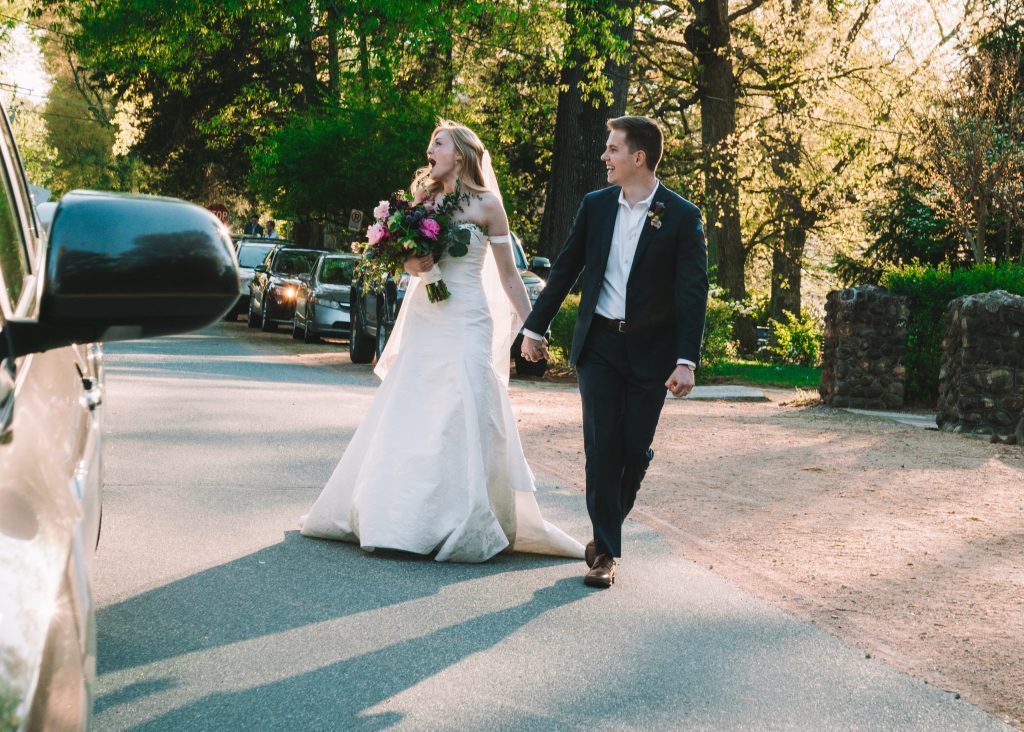 'Thursday works'
McElroy remembers UNC's cancelation of in-person classes on March 11 as the turning point.
As her housemates started heading home and shelter-in-place rumors started swirling, she realized her wedding date, May 30, was no longer a sure thing.
And the final straw, she said, was a point made by her mother: they wanted their guests to be as comfortable as possible at the wedding — not nervous. For that to happen, they needed to postpone.
"We didn't want anybody to be anxious," McElroy said. "We wanted everybody to be able to dance together, give each other hugs, eat food together, have elderly people there."
She and Williams agreed it made sense to hold off. Pretty soon, they agreed on another point: nothing was holding them back from getting married sooner. Williams graduated from UNC last year, and McElroy graduated in December. Her remaining work in Chapel Hill at the Morehead-Cain Foundation been canceled, too.
The new date: April 18.
That changed, too, as counties across North Carolina started implementing stay-at-home orders. Their potential date — not to mention how many people could attend, and countless other details — changed on the fly. By Sunday, March 29, Williams and McElroy were down to a final option: a socially distanced wedding with 10 or fewer people.
"So we literally went through," Williams said. "Monday? That's a little rushed. Tuesday? I had something big for work. Wednesday? It was raining. And Thursday? It was like, 'Oh, Thursday works.'"
'Imperfect but really beautiful'
Credit Sandy — Matt and Emily's mother — for first introducing the idea.
Scrolling through Facebook in the week ahead of the wedding, she came across a video of a similar drive-by celebration and asked her daughter: "Why not arrange this for the bridal party?"
Emily took it a step further, creating an initial group text of 30 to 40 close friends of the couple with instructions to add "every single person we ever knew who brushed hands with Matt and Susan."
"This," the text began, "is the biggest secret you'll ever keep in your entire life."
In a chat that grew so large she had to move it from iMessage to GroupMe, Emily detailed the master plan to a tee: safety protocols, poster instructions, how and when and where to park. And, of course, absolute confidentiality.
Ahead of the wedding, Williams and McElroy texted a livestreaming link to dozens of friends. Everyone played dumb, thanking them and wishing them well from afar.
"Just talked to Matt," Emily texted in the days leading up to April 2. "He and Susan are sad their people won't be there. This is excellent. The plan is unfolding precisely as we wanted."
At 6 p.m. that afternoon, the quarantine wedding began.
Emily played the viola. Maggie Morse, McElroy's best friend from Alabama, took photos. The bride and groom's immediate families sat in white folding chairs six feet apart from one another.
The wedding itself, Williams says, was "pretty traditional." Simon Stokes, their friend and the campus pastor of UNC's Reformed Fellowship United chapter, officiated the ceremony and pronounced them husband and wife around 6:30 p.m.
Minutes later, Emily's promise of a chinchilla had lured Williams and McElroy down to the parking lot.
"OK," she said. "You can open your eyes."
On her signal, about 30 cars' worth of friends and acquaintances started honking, screaming and cheering.
They'd filed into place at 5:55 p.m. sharp — a few in the parking lot and most lining the sides of the street — and livestreamed the wedding on their cell phones. Now, they were hanging out of windows, peeking through sunroofs and creating a red-carpet walk of sorts with a friend (or four) at each stop.
"It felt like we were just floating," McElroy said.
They walked up through the parking lot and then to the left, onto East Rosemary Street. People brandished posters, sprayed bottles of champagne and threw handfuls of glitter and bird seed (a logical alternative to rice in the midst of a global pandemic).
"It was really fun, the set-up, because we made our way to each person, had a moment with each person," said McElroy, who was joyfully bawling the whole time. "I'm pretty sure I saw someone throw Epsom salt, too."
For friends like Lauren Gilbert, a current UNC sophomore who made a near 10-hour drive from her Birmingham home to Chapel Hill on Thursday morning, the couple's reactions were all worth it.
"It was the easiest drive I've ever had," she said.
In the weeks since their socially distanced wedding, Williams, 23, and McElroy, 21, have gone semi-viral. A clip of their celebration has made its rounds on social media, popping up on the Daily Mail's website and an episode of NBC's The Today Show. (The morning it aired, they woke up to 10 missed calls.)
And speaking from their new home in Winston-Salem — where they'll both work as interns for Reformed University Fellowship's Wake Forest chapter — they were still riding the high of the moment.
"It was just a really special day," McElroy said. "Imperfect, but really beautiful."
"We even said as we were trying to pull things together last minute," Williams said, "this is going to be a really good story in a little bit."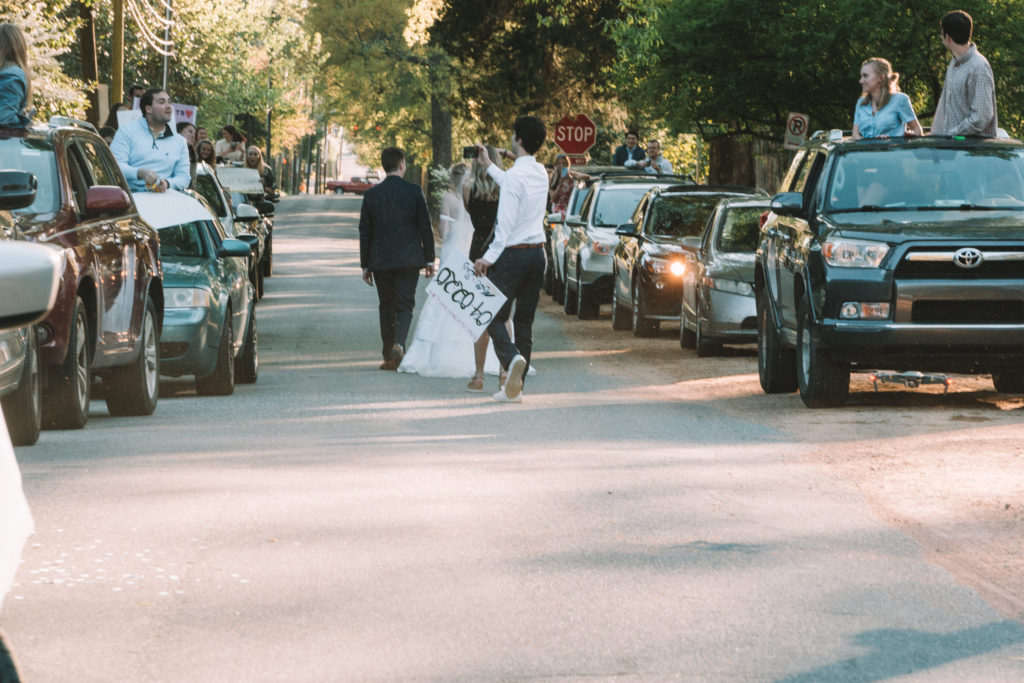 ---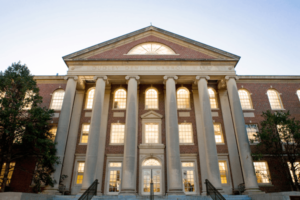 Stories from the UNC Media Hub are written by senior students from various concentrations in the Hussman School of Journalism and Media working together to find, produce and market unique stories — all designed to capture multiple angles and perspectives from across North Carolina.